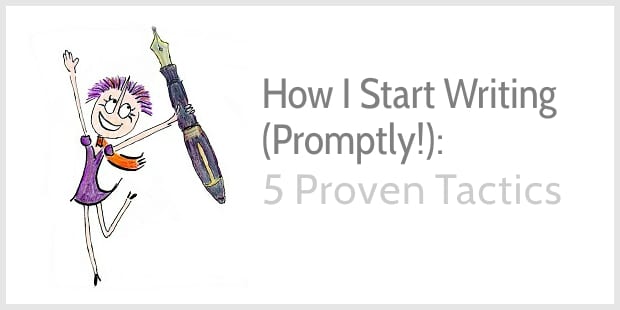 I used to be a champion procrastinator.
I wanted to write. I loved writing.
But still …
I'd do anything to delay writing.
Until a deadline came close.
And then adrenaline would fuel a writing session, often late at night.
It was stressful, and I hated myself for all the delays. Why was I wasting so much time?
Some people say: Just put your bum on a seat and write. Just summon your willpower.
If only life was that simple!
It didn't work for me.
Yet, over the years, step by step, I've found hope.
I made peace with my inner critic, and I discovered several tactics that help me start writing more promptly.
I became more productive, and writing has become less stressful, more joyful.
Want to know more?
1. Build a bridge to tomorrow
I built bridges in two ways.
First, I avoid writing until I'm empty.
When I have some enthusiasm left in my tank, it's easier to start writing the next day.
Because enthusiasm carries momentum forward.
Next, I know how to continue the next day. I may have an outline for writing a first draft. Or I have a first draft I want to revise.
Or, when I'm working on a bigger project, I know what the next section should contain.
As Hemingway said:
The best way is always to stop when you are going good and when you know what will happen next.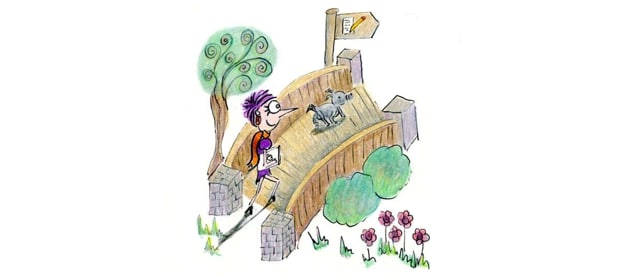 And when I start a new article?
I always pick an idea one or more days before I plan to write a first draft. During a walk, I mull that idea over in my mind. Then, I let it go.
Building bridges boosts productivity because our brains continue processing and consolidating ideas, even when we don't focus on those ideas. This is called diffuse-mode thinking, and the ultimate opportunity for diffuse-mode thinking is sleep.
So, after I sleep on an idea, I often wake up knowing what to include in an article and how to structure it. Having such a starting point makes a big difference …
The blank page feels less intimidating, and I feel eager to start writing. Such joy.
Walking and sleeping are my favorite productivity tools.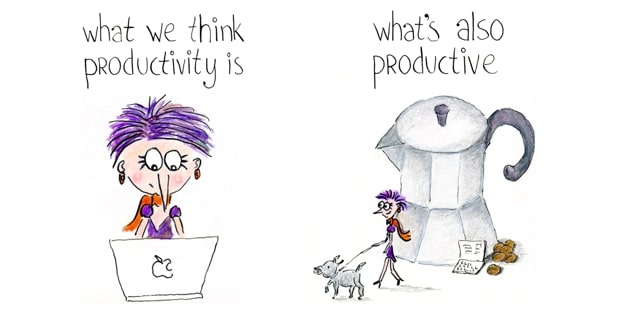 2. Forget big, hairy goals
Want to write a book or course?
Or would you like to start a regular newsletter or popular blog?
Fab!
Set your goal, and then forget about it.
Instead, focus relentlessly on the task at hand.
I've never really thought about writing a regular blog. I've never visualized success. I laugh at the idea of leaving a legacy.
I just wrote my first blog post in November 2012, and then started the next.
And now, somehow, very quietly, there's a body of work here for anyone to enjoy and improve their writing skills. It arrived sentence by sentence, blog post by blog post.
Whether I'm writing a book, a course, or one blog post, I take it one step at a time.
I focus on the work in front of me.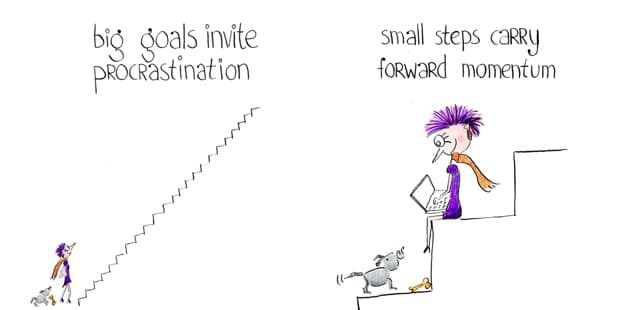 3. Make writing a choice
Does writing feel like a chore?
Like most people I don't like doing chores.
And when I tell myself I SHOULD do something, my resistance to doing it grows.
There's a surprisingly simple solution:
Stop telling yourself you SHOULD write. Instead, make writing a choice. Rub your hands together, and tell yourself:
Today, I want to write.
I feel lucky I can write today.
I choose to start my day with writing.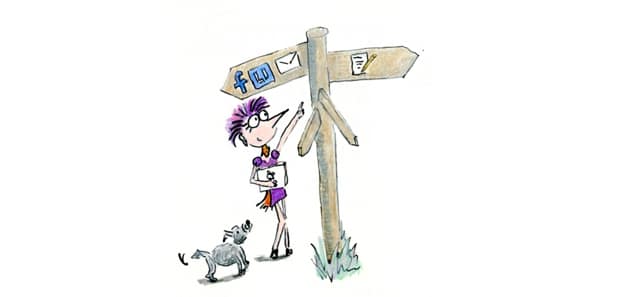 The more I've moved away from SHOULDs, the more joyful writing has become and the keener I am to write.
Writing has become my favorite activity of the day, and I've even learned to embrace the challenges and messiness of writing.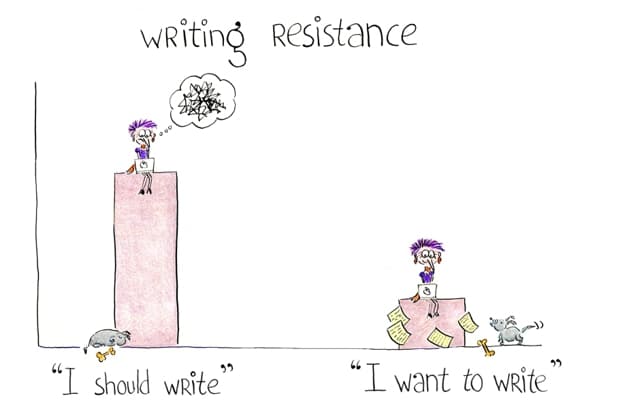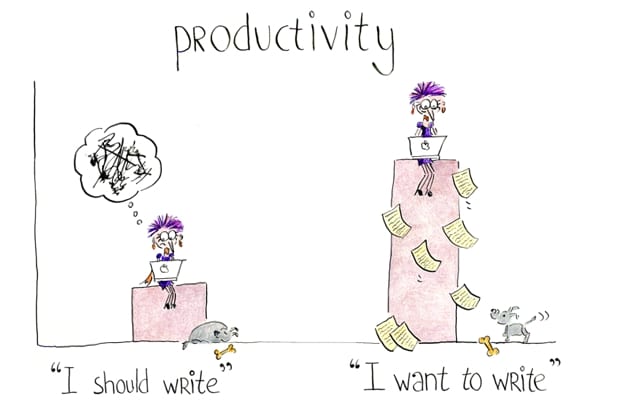 4. Create a ritual
You've probably heard of pre-game rituals in sports.
The athlete who listens to a rap song before each game. The tennis player who bounces the ball 11 times before each service. A runner wearing their lucky underpants.
Some say these rituals are superstitious. But they serve a real purpose: To trigger a state of intense focus so athletes can perform at the top of their game.
Research in sports psychology suggests rituals boost confidence and improve motivation. When you feel anxious, a ritual can also calm you down so you can focus on your next task.
A ritual can be fairly simple:
Pour coffee into your favorite writer's mug, close the door, and start writing.
Put your headphones on, start your favorite playlist, and start writing.
Wrap your favorite orange scarf around your neck, brew a cup of tea, set a timer, and start writing.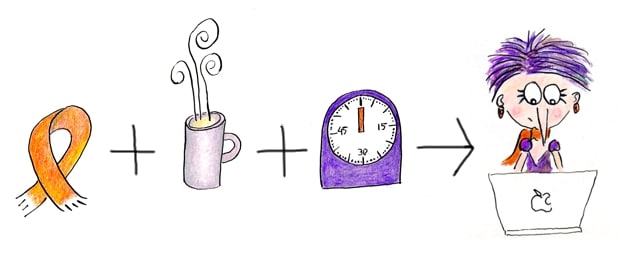 I used to think that I had to feel inspired to write.
But I've learned that's the wrong way around.
Motivation and inspiration often follow action.
So, I switch on my computer; I brew a cup of peppermint tea; I set my timer; and my brain jumps into writing mode.
A ritual on its own doesn't work for me. It works best if I've built a bridge (I know what to work on) and if I choose to write (no SHOULDs!).
Even when I feel demotivated, I know that deep down, I want to write because when I write I feel most alive. I just have to get going.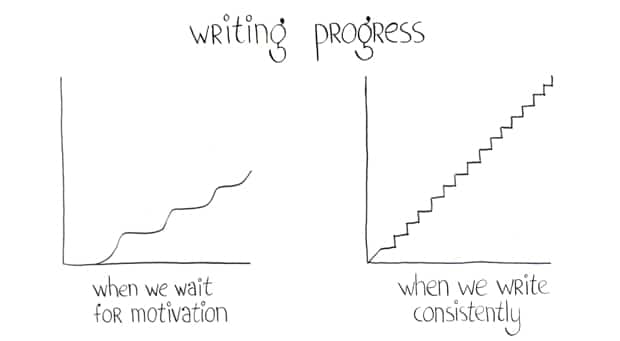 5. Acknowledge your fears
I used to fight my inner critic.
Until I didn't have the energy to fight anymore.
Now, when my inner critic tries to block my writing intentions, I acknowledge what she's telling me. I acknowledge that she's afraid that I might fail or get criticized.
Next, I pay attention to the reaction in my body. Where's the tension? Do I feel a knot in my stomach? Is a headache coming up?
When I acknowledge my fears and observe the reaction in my body, my inner critic starts quietening down. Instead of using my energy to fight her, I now use my energy to write.
I know what I want to write matters to me, so I get to work.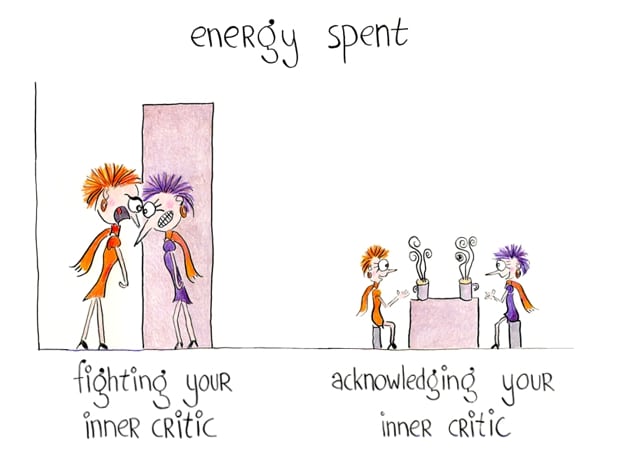 Today I feel lucky to write
I can't tell you writing is easy.
Writing is challenging. It can be hard. It can be messy.
But writing also helps me connect with myself.
It teaches me to formulate my thoughts, and it shows me what matters to me.
So, I accept any discomfort.
And I feel lucky to write.
Happy writing, my friend!