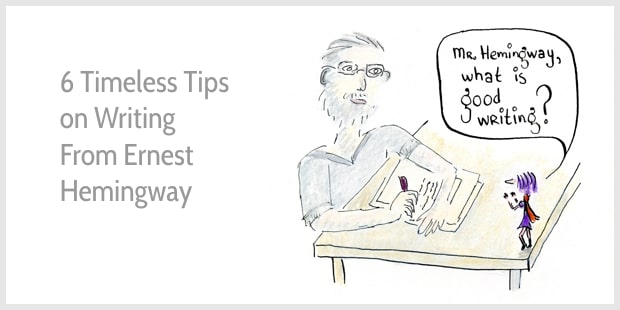 Henrietta wonders …
Is there's a secret trick to writing better?
She's revising her blog post, and she's pulling out her hair.
She seems to have written a bunch of crappy paragraphs with only a couple of good sentences in between.
Henrietta wonders whether great writers produce such crappy drafts, too. And what if she could ask Ernest Hemingway for advice?
Hemingway's The Old Man and the Sea is one of Henrietta's favorite books. Wouldn't it be great if she could call Hemingway in writers' heaven for a quick interview on writing?
Unfortunately, I can't arrange that telephone call.
But I've designed another experiment. Henrietta asked me her 6 most pressing questions on writing, and I've dug through the book Hemingway on Writing to find the answers of the master himself.
Want to know what Hemingway can tell us about good writing, too?
1. Mr. Hemingway, do you ever write something less than perfect?
Hemingway laughs:
I write one page of masterpiece to ninety one pages of shit. I try to put the shit in the wastebasket.

From a letter to F. Scott Fitzgerald, 1934
~§~
It's easy to think that the writing greats have a natural talent.
Don't they write with ease?
When we read a good article or a great book, we have no idea how hard a writer has worked. We don't see their revisions. We can't see them hitting writer's block. We can't sense their despair, and we can't know how much writing they chucked into the bin.
Hemingway's quote is a good reminder that writing is hard work, and if you're finding it a struggle, it's probably a sign you're doing it right.
As Hemingway writes in another letter: "Sometimes [writing] is like drilling rock and then blasting it out with charges."
2. Mr. Hemingway, how many words do you write each day?
Hemingway answers:
[If] I only had 320 [words] I felt good.

From a letter to Maxwell Perkins, 1944
~§~
In a letter to his editor Maxwell Perkins, Hemingway complains Charlie Scribner (his publisher) is ridiculing his daily word count. He suggests Scribner doesn't understand him nor writing.
Hemingway's usual pace is 400 to 600 words per day, but if it's slightly less, that's fine with him, too.
Sometimes writing can feel like a competition. Who can write the most words in one day?
But writing as many words as you can doesn't necessarily increase your productivity.
For instance, when author Mark Manson joined a writing group, they all tried to outdo each other and write more. It's like binge writing. But as Manson found, most of his quickly written work was poor. When he slowed down and limited his writing to two hours a day, he produced his book way faster because he didn't need to spend so much time revising.
Setting a daily word count as a goal can help overcome procrastination so you can write faster. But be careful. Too high a word count can work counterproductive, and many people find it easier to set a time target—writing for 20 minutes or 2 hours per day.
Do what works for you, and don't let others ridicule your writing pace.
3. Mr. Hemingway, I find it hard to start writing in the morning. How can I make it easier?
Hemingway suggests:
The best way is always to stop when you are going good and when you know what will happen next.

From: By-Line: Ernest Hemingway, pp. 216–217
~§~
This is a fabulous trick to prevent procrastination. When you stop writing before you're empty, starting the next day is so much easier because you already know what you want to write next.
And what's more …
While you weren't writing, your subconscious continued working on your ideas, so new ideas pop up, making writing even easier the next day.
Twyla Tharp calls it building a bridge to tomorrow, and it has reduced my writing stress and multiplied my productivity.
4. Mr. Hemingway, do you ever hit writer's block?
Yes, even Hemingway gets stuck sometimes:
I would stand and look out over the roofs of Paris and think, "Do not worry. You have always written before and you will write now. All you have to do is write one true sentence. Write the truest sentence that you know."

From: A Moveable Feast, p. 12
~§~
Isn't it reassuring even a writer like Hemingway suffers from writer's block?
Writer's block isn't an unmovable block. It's more a hesitation to write, usually fueled by fear. A fear that we're not good enough, a fear that we've lost our mojo, or that we can never write anything as good as that one masterpiece again.
And the solution to that hesitation to write?
Exactly as Hemingway suggests—to make our next writing task as small as possible. Hemingway suggests writing one true sentence. But when I struggle to get into writing mode, I don't even care whether that first sentence is true. I simply have to get my fingers moving on the keyboard. Write any sentence and the words will flow again.
5. Mr Hemingway, what is good writing?
Hemingway answers:
Good writing is true writing.

From: By-Line: Ernest Hemingway, p. 215
~§~
I was a little surprised by this statement.
Isn't Hemingway's The Old Man and the Sea a made up story?
Yes, but it's based on Hemingway's own fishing experiences combined with fishing stories from his Cuban friend Carlos, as his publisher writes in a foreword to the book. The details feel real, and these details help us, as readers, imagine and experience the story as if we're on the fishing trip with the old man.
And it's a lack of detail that often makes writing bland. If you leave out all details from a story or tutorial, readers sense you don't know what you're writing about.
That doesn't mean you need to be an expert to write a blog post. You can share what you're learning while you're learning—that's how I'm blogging, too.
As Hemingway writes in another letter, "whatever success I have had has been through writing what I know about."
6. And what is the biggest mistake bad writers make?
Hemingway answers:
[All] bad writers are in love with the epic.

From: Death in the Afternoon, p. 54
~§~
We only have to read The Old Man and the Sea to know how much Hemingway appreciated simple language. He acknowledges it's taken his whole life to write in such simple, concise prose.
But it's a lesson we do well to remember.
Because we don't write to impress.
We write to entertain, to educate, to share our stories, to connect, and to comfort our readers.
Book mentioned in this post
Hemingway on Writing
by Larry W. Phillips (Editor) is a collection of Hemingway's reflections on writing from his novels, stories, letters, interviews, and articles. I highly recommend it.
Combine with Bird by Bird by Ann Lamott and Stephen King's On Writing for more insight on the writing process of bestselling authors.
The links above are Amazon affiliate links. If possible, please support your local bookstore.