Hemingway's writing style is widely admired. But what makes it so good?

Write like Hemingway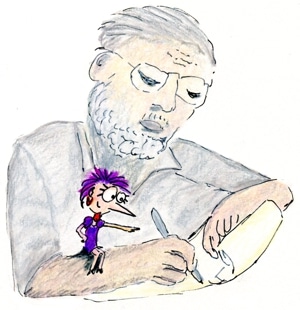 Can business writers learn from Hemingway?
The idea may seem crazy.
Hemingway was a journalist and novelist. A storyteller. He's one of the great writers of literature. In 1953, he won the Pulitzer Prize for "The Old Man and the Sea." In 1954, he won the Nobel Prize for literature.
Isn't it pretentious for business writers to try learning from Hemingway?
But Hemingway takes up a special place in writing.
This Nobel Prize winner writes in such simple prose he can even entertain 10 year olds. And you and I both know, he doesn't dumb down his texts. He shares profound wisdom using simple language. And that's an amazing skill. Because simple writing helps engage a wider audience—young and old, educated and less educated, native and non-native speakers.
Simple language makes your content more accessible.
But how does Hemingway write so simply? And can we apply his style to business writing?
I'm clear enough in the head, he thought. Too clear. I am as clear as the stars that are my brothers.

From: "The Old Man and the Sea," by Ernest Hemingway
A statistical fact on readability
A simple tool exists to measure how readable a text is. This tool is the Flesch-Kincaid score, and it's available in Microsoft Word and various online tools.
The readability score uses average sentence length and the number of syllables per word to work out how simple a text is. The shorter the sentences and words, the lower the readability score. A score of 7, for instance, means the writing is suitable to 7th graders—pupils of 12 to 13 years old.
I checked the Flesch-Kincaid score for "The Old Man and the Sea" and it's a mighty low score of 3.9. The readability score for "The Sun Also Rises" is 4.2 (as statistician Ben Blatt reports in his book "Nabokov's Favorite Word Is Mauve").
Think about this … Ernest Hemingway was a Nobel Prize winning author, and his books are suitable for 4th graders—pupils of 9 or 10 years old.
Why you shouldn't shorten every sentence
Shortening your sentences may seem like an easy trick
You can use the free Hemingway App to spot your longest sentences, and simply chop them all in two.
But that would be a mistake.
Not every sentence should be short.
Hemingway writes long sentences, too:
He looked at the sky and saw the white cumulus built like friendly piles of ice cream and high above were the thin feathers of the cirrus against the high September sky.
Too many short sentences kill the rhythm of your writing, making your writing tiring to read. So, mix short and long sentences, and read your text aloud to listen how the words flow:
You are killing me, fish, the old man thought. But you have a right to. Never have I seen a greater, or more beautiful, or a calmer or more noble thing than you, brother. Come on and kill me. I do not care who kills who.
Another statistical fact: Use fewer -ly words
One more statistical fact about Hemingway's writing style …
Statistician Ben Blatt analyzed all Hemingway's novels, and found he uses only 80 -ly adverbs per 10,000 words.
That's fewer than almost any other writer. The only exception Blatt found is Toni Morrison. She uses 76 -ly adverbs per 10,000 words.
Scrapping your -ly adverbs is another way to simplify your writing, and Blatt's analysis shows that the writing greats tend to use fewer adverbs. However, it's not a strict rule, and exceptions exist. Nobel Prize winner Sinclair Lewis, for instance, uses an average of 142 -ly adverbs per 10,000 words.
Still, Blatt concludes:
The best books—the greats of the greats—do use a lower rate of -ly adverbs. (…) an overuse of adverbs has resulted in "great" books at a far scarcer frequency.
And:
The novels that sell well in bookstores come in with 25% fewer adverbs than the average novel that amateur writers post online.
Want to remove the adverbs from your writing?
Upload your content to the Hemingway App, and it'll tell you exactly which words are adverbs. Then, it's up to you to decide: Keep it, change it, or delete it.
Even Hemingway uses -ly adverbs, so you don't have to delete them all:
Slowly and conscientiously he ate all of the wedge-shaped strips of fish.
Weigh up whether a word is necessary or not. Does the meaning of a sentence change when you scrap an adverb?
How to write like Hemingway for business
Business writing tends to be full of buzzwords and gobbledygook.
But some business texts are surprisingly simple. For instance, the Dropbox team writes, at times, with simple clarity. The examples below are from the tour of their new design:
Your recent items—always within reach
Here you'll find files, folders, and Paper docs you recently viewed.
All your files are just a click away
The Files page shows all the files and folders you have in Dropbox.
And from their About page:
What we value
We create products that are easy to use and are built on trust. When people put their files in Dropbox, they can trust they're secure and their data is their own.
And Evernote writes straightforward user instructions:
If a thief steals a device you have Evernote installed on, they will be able to access your Evernote data as easily as your email, photos, and other applications on that device. To protect yourself against this situation, you should enable the security controls available to you in your device's operating system. These include setting a screen or passcode lock, screensaver or auto-lock timeout, and encrypting your device's storage.
And:
Hackers might try to lure you to log into a site that looks like Evernote, but isn't really Evernote. We call this password-stealing attack "phishing." Before entering your Evernote username and password into a site, be sure to verify that the URL in your browser starts with https://www.evernote.com/ or https://evernote.com.
Writing with simplicity doesn't mean dumbing down your words. Instead, you write clearly and precisely, so your content becomes easier to read and accessible to more people.
The secret to Hemingway's writing style
He looked across the sea and knew how alone he was now. But he could see the prisms in the deep dark water and the line stretching ahead and the strange undulation of the calm. The clouds were building up now for the trade wind and he looked ahead and saw a flight of wild ducks etching themselves against the sky over the water, then blurring, then etching again and he knew no man was ever alone on the sea.
Writing like Hemingway is about more than using short sentences and scrapping adverbs.
Hemingway makes each sentence about one tiny idea. Then he lets the next sentence build on that idea. His story unfolds in tiny, logical steps. For instance:
"I wish I had a stone for the knife," the old man said after he had checked the lashing on the oar butt. "I should have brought a stone." You should have brought many things, he thought. But you did not bring them, old man. Now is no time to think of what you do not have. Think of what you can do with what there is.
Communicating in simple language is a lifelong journey
Writing clearly is an exercise in thinking deeply.
It's about finding the essence of your idea and communicating it in simple words.
This is not just a matter of writing style.
It's about learning.
And sharing your wisdom.