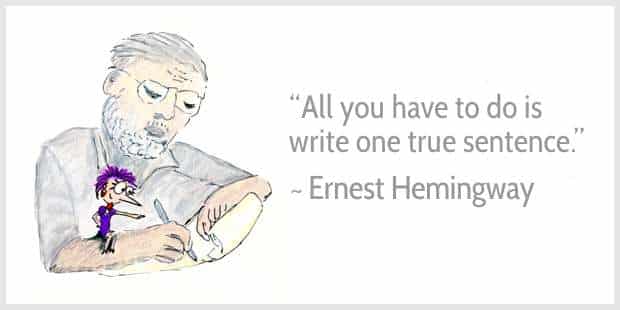 What's the foundation of good writing?
I used to think structure was the most important.
And it's true that a simple structure helps communicate your message best.
But …
In so-so content, perhaps an even bigger problem are bad sentences:
Sloppy sentences that lack rhythm and bury ideas
Filler sentences that take up space without furthering an argument
Overwrought sentences that try to impress rather than communicate
Such sentences sneak into my own writing, too. We're all bad writers. When editing, I try to chisel away the sloppiness, the filler, the writerliness.
And I keep learning from the masters …
"All you have to do is write one true sentence."
This blog post is inspired by the delightful book One True Sentence: Writers & Readers on Hemingway's Art, a collection of 38 interviews examining some of Hemingway's most interesting sentences.
(Thank you, Phil, for the book recommendation.)
When Hemingway faced writer's block, he told himself:
All you have to do is write one true sentence. Write the truest sentence that you know.
Once you write one true sentence, you can write another, then the next, and so on.
But what is a true sentence?
Let me show you 3 examples from Hemingway, and then we'll draw conclusions and look at examples from sales copy …
One true sentence by Hemingway
I love the third-to-last sentence from the story A Clean, Well-Lighted Place:
He would lie in the bed and finally, with daylight, he would go to sleep.
Try reading the sentence above aloud, and note how it slows down in the middle: "and finally, with daylight, he would go to sleep."
With just a few words and two commas, a whole night passes by in one sentence.
But how was that night passed?
As a reader you can fill in the details. You may imagine someone tossing and turning. You may sense some frustration and stress. Have you been there, too?
Hemingway calls this the iceberg principle of writing. Only one eighth of the iceberg is above the water. Yet, an iceberg moves with dignity because of the large part under water.
We often think of writers as being in charge of a story. But a good writer leaves space for interpretation.
A writer and a reader co-own a story. It's a collaboration.
Life and death in one sentence
If you want to learn how to write better sentences, there's probably no more useful book to study than Hemingway's The Old Man and the Sea.
As Hemingway suggests:
[The Old Man and the Sea] is the prose that I have been working for all my life that should read easily and simply and seem short and yet have all the dimensions of the visible world and the world of a man's spirit.
I could quote almost any sentence from The Old Man and the Sea but here's one favorite:
Then the fish came alive, with his death in him, and rose high out of the water showing all his great length and width and all his power and his beauty.
That feels like one moment frozen in time, right?
In the first sentence above, Hemingway described a whole night in one sentence (15 words), and here we have a longer sentence (31 words) describing just one moment.
As poet Brian Turner suggests, Hemingway freezes the time so we can look at and admire the fish in this one moment between life and death.
A cinematographic sentence
As writers, we only have words to make an impression on our readers.
Yet, chosen carefully, our words can paint pictures and make readers feel like they're watching a movie.
Here's an example—the 3rd sentence from A Movable Feast:
The leaves lay sodden in the rain and the wind drove the rain against the big green autobus at the terminal and the Café des Amateurs was crowded and the windows misted over from the heat and the smoke inside.
It's like a movie, right?
The camera moves from the green autobus at the terminal to Café des Amateurs, and then peeks into the café.
Hemingway uses specific details—like the big green autobus and the name of the café—to make the scene feel authentic. We accept the existence of the smokey atmosphere in the café as true. And we imagine the hubbub of conversations.
So, what's a true sentence?
A true sentence is:
Meaningful: It has a clear purpose.
Authentic: Thanks to specific details, a true sentence feels real, even if it's made up.
Easy to read: A true sentence can be short or long but its structure is simple.
Polished: Each word is carefully chosen, each comma well placed. There's no excess.
Well balanced: A true sentence has a pleasant rhythm.
These same principles work in any type of writing …
5 true sentences from sales copy and elsewhere
Here's a sentence from Apple's copy:
True Tone makes your display easier on the eyes by adjusting to the ambient light.
And here's a sentence by David Ogilvy:
At 60 miles an hour the loudest noise in this new Rolls-Royce comes from the electric clock.
And here's the headline on the home page of Dropbox:
Join over 700 million registered users who trust Dropbox
Outside of marketing, you'll also find true sentences. The UK government website is a useful website for studying simple, meaningful sentences. Here's an example on renewing your driving licence:
Your new licence will be valid from the date your application is approved, not from the expiry date of your current licence.
And from the charity MSF / Doctors Without Borders:
In a conflict situation, we don't take sides. We go where people's medical needs are greatest. In the ward of one MSF field hospital, you might find wounded civilians alongside injured soldiers from opposing sides. Hostilities and weapons have to be left at the gate.
Note how each sentence is simple and clear?
Each sentence matters.
How to write better sentences
When you read sloppy content, your writing becomes sloppy, too.
You are what you read.
So, to improve your writing, start by reading good, simple writing.
Next, review your own writing: Is the meaning of each sentence clear? Does the sentence actually communicate what you think it does? How can you simplify?
First drafts are usually sloppy. That's fine.
The magic happens in your editing.
Simplify and clarify.
Happy writing!