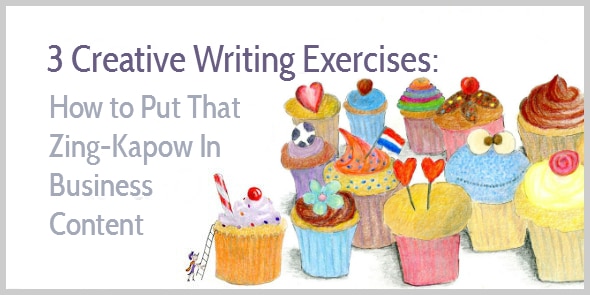 Uh..oh…
Ever read your draft content and feel it lacks a spark?
Let's be honest. A lot of business content is rather meh. It sounds boring. It lacks a human voice. It feels like anyone in any marketing department could have written it.
And that's not what we want, eh?
You and I want to connect with our audience. We want to write with personality, so people "hear" our voice. We prefer a cozy conversation to a corporate pitch.
But somehow, when writing, we lose our voice.
Maybe you think you don't have the talent to write well. Or even worse… you may think you're not interesting enough.
I've been there, too.
You might not believe me, but it's true … I've never thought of myself as a writer. I used to think I was too boring to be a storyteller. I didn't think I was creative enough to write more than a few emails to friends.
But I've figured out that creativity is not for the chosen few. And when you nurture a sense of play, anyone can add personality to their writing voice.
Want to turn humdrum business writing into sparkling content?
Let's have some fun today, shall we?
Creative writing exercise #1: Play with words
Settling for the first word that comes up in your mind?
That's usually a word commonly used. To add a splash of personality, try to come up with a slightly more unusual or more precise word; experiment with emotional or sensory words.
This exercise works best for a single sentence, so write a tweet, choose an email subject line, or consider a blog title. Now, try rephrasing it in as many ways you can—using different words. Consulting a thesaurus is allowed.
Here's an example:
3 Ways to Add a Splash of Creativity to Ho-Hum Business Content
Drab Business Content? Here's How to Add a Splash of Fun and Personality
Ho-Hum Content? Try These 3 Writing Exercises to Add Sparkle
New Blog Post: How to Turn Ho-Hum Writing Into Tantalizingly Seductive Content
Lack of Personality? Try These 3 Fun Writing Exercises
Boring Writing Voice? Ignite Your Creativity With These 3 Exercises
Dull Corporate Voice? Here's How to Seduce Readers With Your Enchanting Voice
Lackluster Content? Here's How to Make Your Words Sparkle
3 Creative Ways to Stop Boring Business Readers to Tears
3 Creative Ways to Quit Boring the Boots Off Your Audience
Meh Content? Here's How to Stand Out in a Sea of Grey Content
Wishy-Washy Writing? Here's How to Make Your Words Dazzle and Dance
Crappy Boooooring Content? Here's How to Enthrall Your Readers Instead
3 Ways to Add a Splash of Vibrant Color to Colorless Content
Spiritless Writing? These 3 Exercises Add Pizzazz to Dull Content
Whoa! 3 Creative Exercises to Put That Zing-Kapow in Boring Business Content
Yee-Haw! Here's How to Get Rid of Boring Business Content (Once and For All)
Which version do you fancy?
Be warned: This exercise is quite addictive, and may take longer than you think. Have fun!
Creative writing exercise #2: Add a splash of personality
This exercise helps you express your personality by using tiny details.
On About pages, for instance, you often read boring sentences like So-and-so loves travelling, photography, and spending time with her two kids.
Why is this boring? Because you can't visualize such sentences. They're too generic.
When readers can picture your words, your writing instantly becomes more fascinating. To allow your readers to visualize your words, simply select a few details.
Choose a statement for your About page or social media profile. Then play with different details to add a splash of personality. For instance, instead of suggesting I love cooking, I could write:
She has spent years fine-tuning her signature dish: Beef Rendang—an Indonesian curry, slightly spicy, lightly sweetened, and amazingly fragrant
On a Saturday afternoon, you may find her in her steamy kitchen, grinding spices, chopping onions, and tasting her favorite curry with a smile on her face
Her perfect night out is staying in—cooking for her husband and one or two friends, chatting, and nipping a glass of wine
Note how each sentence gives you a glimpse of personality?
Creative writing exercise #3: Exercise your metaphoric muscles
Metaphors are simply connections between two unrelated topics—and with a little practice anyone can create them. No creative genes required. No talent necessary.
Let's give it a try, shall we?
Start with picking an important point you want to make in a blog post. Let's take the key point of this post as an example: to add sparkle and personality to your writing you must nurture a sense of play and experiment a little.
For instance:
Imagine being a kid and you're given permission to decorate a table full of cup cakes. You'd play with different ideas and make each one a little different, wouldn't you?
With writing, you want to nurture a similar sense of experimentation. Try different words. Play with tiny details. How does it change your voice?
Or how about:
Adding sparkle to your content is like cooking peanut sauce. First, you cook the sauce, then you taste whether you need to add a little more lemon juice, sweet soy sauce, or ground coriander. Keep tasting and adding ingredients until you have the perfect taste.
Writing works the same. Write a first draft quickly, and then add different ingredients to make your content tantalizingly tasty. How about a few extra power words here? Or a metaphor there? How does that sound? If in doubt, ask a friend for a second opinion.
Nurture your sense of play
As kids, we knew how to tell stories and draw pictures. Without worrying about results. Without worrying about what other people would think.
We got into a creative flow without that distracting inner critic.
As adults, we need to get back into that innocent creative flow. Is your inner voice telling you you're not creative enough? Ask him to go out for a half-hour walk. Then embrace your inner child and have half an hour of fun. No pressure. Results don't matter.
Choose the exercise that appeals to you most. Grab a drink, a sheet of paper and pen, and give yourself some time to play. Don't rush.
Have fun!