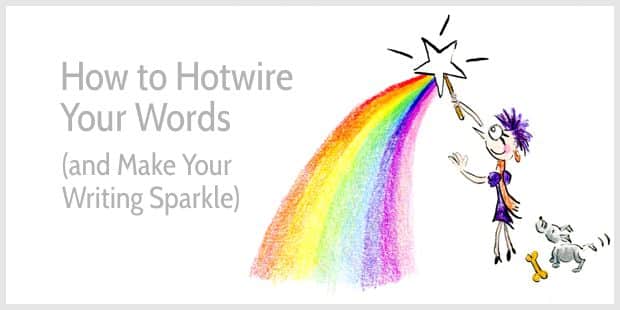 Do you ever read a text and wonder …
Why can't I use words like that?
Some writers have a knack for dreaming up words that perfectly sketch an idea and paint a vivid image.
How do they do it?
Where does their creativity come from?
Learning from other writers
I recently read Jeff Tweedy's book How to Write One Song. I'm not into songwriting but I was interested in his writing process.
Whether we're writing songs or sales copy, novels or blog posts, writing is writing, and all writers can learn from each other.
What could I learn from Tweedy?
This is the idea that struck me most:
(…) most of my favorite songwriters consciously stick to common, simple, and precise language, but they don't use it in a common and simple way within a song or melody.
Too often, writers use words to impress their audience. I can't help myself sometimes and add a little flourish—a couple of words that aren't necessary. It's hard to escape our wish to make a dazzling impression.
Inspired by Tweedy, I decided to check my favorite song lyrics to see whether the language is indeed simple and precise. These are my favorite lines from Leonard Cohen:
There is a crack, a crack in everything
That's how the light gets in
And:
Like a bird on the wire
Like a drunk in a midnight choir
I have tried in my way to be free
The words are all simple words, right?
Yet, Cohen paints vivid pictures with his words. In an interview with Paul Zollo, Cohen suggests that his songs all start with an image, the meaning comes later. It's no wonder the imagery feels strong.
I asked my husband for his favorite song lines, and the first lines that came up in his mind were from David Bowie:
I think I saw you in an ice cream parlor
Drinking milkshakes cold and long
Smiling and waving and looking so fine
Don't think you knew you were in this song
Same thing, right?
Simple words. Vivid, yet precise imagery. That last line—Don't think you knew you were in this song—surprises.
How to be more creative with words
Our word choice is often habitual. We follow the same patterns. Fresh bread smells delicious, old bread is stale. Hikers roam, shoppers stroll.
How can we break through such patterns?
Tweedy suggests a 4-step creative exercise to break through our normal word patterns. He calls it hotwiring our language. Just like you can start a car by sparking the starter wire against the battery cable, we can create new word connections, too. We can use simple words, and still make our writing sparkle.
Step 1. Write a list of 10 verbs related to one topic
I picked swimming:
Swim
Dive
Sink
Splash
Paddle
Float
Crawl
Skinny-dip
Flail around
Come up for air
Step 2. List 10 nouns related to a different topic
As I'm writing here about word choice, I choose word-related words:
Word
Sentence
Paragraph
Text
Voice
Reader
Noun
Verb
Blogger
Letter
Step 3. Connect the verbs with the nouns
You can do this randomly or choose the combinations that seem to make most sense. Here's what I did:
Step 4. Write a paragraph or a poem using the verb and noun combinations
I tried it:
A blogger skinny-dips in a sea of words.
The letters are flailing around, in panic.
But then the words come up for air.
The nouns are floating,
The verbs are crawling freestyle,
The blogger's voice makes a splash.
A reader dives in,
Paddling through the paragraphs,
Without sinking into long sentences.
The blogger and reader are swimming together through the text.
To be honest, I'm not impressed with my result. It feels forced.
But I'm not the only one with such a result. As Tweedy suggests, this exercise doesn't instantly produce song texts. He also comes up with awkward lines. But the exercise jump-starts his brain so "language and words have [his] full attention again."
That chimes with my experience. What I liked most about this exercise is that it made me focus on verbs and nouns. I realized how much you can communicate by picking your verbs and nouns with care. Verbs and nouns can shimmer and sparkle.
Writing in verbs and nouns
I was also reading Chuck Palahniuk's book The Invention of Sound.
And with my mind tuned into verbs and nouns, it struck me how few adjectives and adverbs, Palahniuk uses. He relies mostly on verbs and nouns to paint vivid imagery. Here's the first sentence of The Invention of Sound:
An ambulance wailed through the streets, and every dog howled.
And a couple of pages later:
In the office building across the street, a single window glowed. Framed behind it, a man stared at a computer screen, his face washed by the shifting light of moving images. This light danced on his eyeglasses and shimmered on the tears running down his cheek.
It's easy to think we need adjectives and adverbs to paint more vibrant pictures.
But as Palahniuk shows, we can simplify our writing and paint vibrant pictures using mostly verbs and nouns—just like songwriters do.
I don't want to suggest that adjectives and adverbs are always bad. Adjectives and adverbs can add precision and nuance, too. For instance, Helen Macdonald's writing is full of adjectives. Here's the description of her hawk from her book H is for Hawk:
In the half-light through the drawn curtains she sits on her perch, relaxed, hooded, extraordinary. Formidable talons, wicked, curved black beak, sleek, café-au-lait front streaked thickly with cocoa-coloured teardrops, looking for all the world like some cappuccino samurai.
After reading song texts for a while, that paragraph feels extravagant to me. But I still like it. It's a different style from Palahniuk's writing—it sparkles in a different way.
Which words you use and how many words you use is a choice of writing style, a personal preference.
How to add sparkle to your words
Writing apps may tell us to delete all adverbs; and writing teachers may suggest to eliminate all needless words.
But writing is not so simple.
When is a word really redundant?
It's up to us as writers to decide which word stays, which word goes, and which words get replaced. The words we choose define our style and create the rhythm of our writing.
What's key is to choose our words with care, to realize that each word matters, and to embrace the beauty of words.
Happy writing, my friends.
Books mentioned in this post:
The links below are Amazon affiliate links. If possible, please support your local bookstore.