Copywriting techniques help you persuade readers to take action: To buy your product, hire you, request a quote, or sign up to your newsletter.

7 copywriting techniques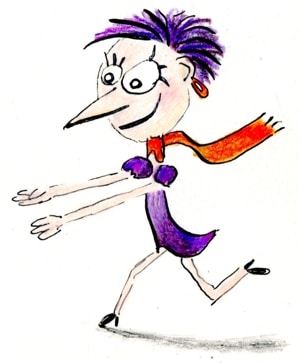 "I feel overwhelmed," he emailed me.
"There's so much information on your website. Where should I start? What are the basic writing techniques I should learn?"
I knew he was right.
In five years, my blog has grown, and grown, and grown.
An unwieldy collection of tips, do's and don'ts, warnings, checklists, stories, case studies and more.
No wonder new web visitors feel bewildered.
So, my friendly emailer suggested an article about basic copywriting techniques—for anyone starting out, who's feeling overwhelmed or looking for a quick refresher.
Sound good?
Copywriting technique #1: Sneak into your reader's mind
You may think writing is about structuring sentences and choosing words.
But that's only the polish. The final touch.
The real job of a copywriter is to sneak into a client's mind and find out what he's struggling with, how that makes him feel, and how you can help.
For example, on his sales page for the online course "How to Talk to Anybody," Ramit Sethi instantly gets into the mind of his target audience by empathizing with their feelings of social awkwardness:
"I was tired of feeling awkward"
And:
I was socially awkward. I would say the wrong thing at the wrong time. Everyone around me would stare at me silently. And later, I would beat myself up about saying the wrong thing. This went on for years.
When readers feel you understand their problems, they become keen to learn more about your solution.
So, before you start writing, ask your target audience what they're struggling with and how you can help. Read comments in forums and on blogs, and participate in Facebook groups.
And in your copy, repeat those comments back to readers, using their words. Because that's how you can be sure your message will resonate.
Copywriting technique #2: Match features with benefits
Persuasive copy requires a balance between features and benefits.
A feature is an aspect of a product or service, while a benefit explains what's in it for the customers—how it makes them feel better.
Benefits sell your product or service because benefits connect with your readers' desires. But you need features to help customers justify the purchase.
Here's how Sethi combines features and benefits on his sales page "How to Talk to Anybody:"
The powerful "Invisibility Cloak Method" (feature) to break through moments of shyness among strangers (benefit)
And:
My "SETHI Technique" (feature) to systematically improve your body language and 10x the impact of message… without changing a single word (benefit)
And:
My tested system for curating and cultivating your own "Story Toolbox" (feature) to tell stories people can't stop listening to (benefit)
Wanna be sure readers buy from you rather than elsewhere?
Give your tools, methods, and techniques a name (like Sethi does above) to exude a sense of exclusivity. You know anywhere else where you can learn about the "Invisibility Cloak Method?" That's one reason why people buy Sethi's courses—because they can't find his personal methods somewhere else.
Copywriting technique #3: Be specific
Specificity is perhaps the most underrated technique in copywriting.
And it's where most beginners fail. I see this problem every year in my copywriting course.
Specificity works on multiple levels. For instance, the concept of feeling socially awkward is vague, so Sethi gives specific examples of social awkwardness. For instance:
Going to an event filled with interesting people, then staying in the corner and checking my email for 20 minutes
And he gives specific details on what he delivers:
Over 8 hours of conversation frameworks, tested tactics, word-for-word scripts, scenario plans, and field challenges to practice in real life — all on video, all fully transcribed, all downloadable in audio/video formats
And he explains specifically when this course isn't right for you:
How to Talk to Anybody is NOT for you if…

You're looking for magic words or a quick fix to instantly transform your social skills
You're looking to mislead or deceive people so they "like" you
You're looking to read material but not implement it. Please go away
You can't commit at least 1-2 hours a week improving your social skills and conversations
Without specificity your copy becomes bland, and it'll fail to persuade.
So, keep asking yourself: Is this concrete? Do readers know exactly what I mean? Can they picture it? Do I need to add an example?
Copywriting technique #4: Get people to believe you
The question pops up in most readers' minds: Does this stuff really work?
As business owners, it's hard for us to answer that question. It's like saying: Just take my word for it.
So, let others show why people can believe you and why you're as good as you suggest. This is what testimonials are for. Like this one from Carolynn Ananian on Sethi's page:
"My social skills are much better than they were. I stopped rambling, learned how to listen to people and how to pitch, how to find people who could teach me to dress. Now I know how to test something, when to change direction (or abandon something)."
Want your testimonials to do the selling for you?
Be sure to get testimonials that are specific rather than sugary. "She's wonderful" doesn't build your credibility. Readers want to know how and why exactly you're wonderful, and what that might mean for them.
Copywriting technique #5: Overcome objections
Selling a course on social awkwardness is a tough job because most people believe you're either born confident or you're born awkward. And who believes a course can fundamentally change who you are?
This is why Sethi dedicates half of his sales page to overcoming this specific objection. Here's a snippet:
We all start at different levels, but everyone can improve their social skills. The uncomfortable truth is that socially skilled people get more practice—more interactions, more people wanting to talk to them — resulting in a virtuous circle of becoming better and better.
How hesitant are your readers to buy? What's stopping them?
Copywriting technique #6: Nudge
You've shown readers you understand their problems. You've explained how you can help. You've overcome their objections, but still …
Will people buy?
Buyers suffer from inertia—an unwillingness to take action and a resistance to open their wallets. So, the nudge is an encouragement to readers to buy now.
Taking a course on social awkwardness can feel scary. What if the course actually confirms you're awkward and will remain so for the rest of your life? Is it better not to find out?
To overcome this inertia, Sethi offers a moneyback guarantee, but he also explains why to take action right now. Here's a snippet:
What life-changing opportunities have you already missed because you didn't have the conversational skills to make something happen? That girl or guy you didn't talk to at the bar?

That chance encounter you were so excited about that never turned into anything? That job you interviewed for that fell through?

We all have a "What if…?" regret in our lives. Some people have them again and again—but they never take the time to understand why it keeps happening to them.
The nudge is your secret weapon to get people to commit right now and not delay their purchase until later. Because when they delay, they may never buy from you.
Copywriting technique #7: The call to action
A good call to action reduces friction, making people feel it's easy to get started. No complicated forms. No endless registration process. Just a transparent price.
Sethi's call to action is simple:
Get Started Now For Just 12 Monthly Payments of $29
And then a button:
Get Instant Access
Make spending money as painless as possible.
Good copywriting has nothing to do with sleazy selling techniques
And writing persuasive sales copy is less about playing with words, and more about becoming an outstanding psychologist …
Understand your reader so well that you can talk his talk, think his thoughts, dream his dreams, feel his fears.
Because that's the only way you can persuade the right readers to buy from you.
No sleaziness required.
Just honest and persuasive copy.
PS I do not know Ramit Sethi's courses, so this blog post isn't an endorsement. I've quoted from his sales copy to help you understand what good copy is.