Aswipe file is a collection of writing examples that helps you improve your writing skills and to write cope faster as you follow proven techniques and structures.

How to create a swipe file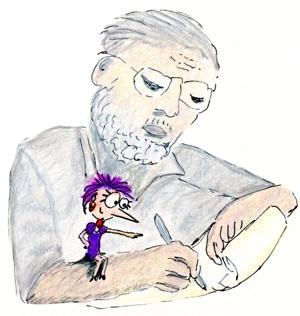 Do you ever read someone's work and wonder …
I wish I could write like that.
So engaging. So persuasive. So full of personality.
How does she do it?
All writing gurus tell you: read a lot and write a lot, and you'll become a better writer.
But does that advice make you shake your head in frustration?
Because it doesn't quite work?
Joining a writing course or hiring a coach is a faster way to improve your writing skills.
But creating a swipe file is free, and it's the learning method most pro writers use to improve their writing. They study other people's content and create a collection with proven writing examples.
Shall I show you how?
The idea of "swiping" is well known across different creative pursuits
In his book Steal Like an Artist, Austin Kleon shares the following examples:
The Beatles started as a cover band.
Kobe Bryant watched tapes of his heroes and copied their moves.
Comedian Conan O'Brien tried to copy David Letterman.
And I've written before how Picasso studied a 17th century painting by Diego Velázquez and created 44 new paintings based on that one painting.
What is a swipe file?
A swipe file is a collection of writing examples. These examples can be anything from headlines to blog post openings, and from sales emails to landing pages. Pro writers use swipe files to inspire their content and improve their skills.
How does a swipe file help improve your writing skills?
A swipe file helps you understand writing techniques as you can see how others write. It also provides templates for your own writing. A swipe file can even help you overcome writer's block and save time, as it provides suggestions for headlines, email subject lines, content structures, and more.
How to use a swipe file without plagiarizing
The purpose of a swipe file is to study techniques and templates. Never use it to paraphrase ideas, let alone copy sentences word by word. To avoid plagiarizing, you may prefer studying texts outside your niche.
How to create your own swipe file
The examples in your swipe file are only useful if you understand why a piece of content was written in a certain way.
So, to create a swipe file stop reading and start analyzing content. Try figuring out why a piece of content is engaging or not, why it's persuasive or not, why it's inspirational or not.
In the old days, swipe files were paper folders with printed sales letters and adverts torn from magazines. These days, professional writers keep their files digitally. You can set up a series of folders on your computer and dedicate each folder to a specific type of content such as landing pages, about pages, sales emails, or blog newsletters.
You can also use an app like Evernote to organize your swipe file. Evernote allows you to use tags and / or folders, and you can add new content to your swipe file from your smartphone, tablet, or computer.
Only add pieces of writing to your swipe file that demonstrate good writing.
What's in a copywriting swipe file?
A copywriting swipe file can include home pages, about pages, sales pages, service pages, and adverts.
You don't need to include all. What is your focus?
For instance, if you specialize in writing sales pages, you only need to put sales pages in your swipe file. If you want to learn more about writing sales pages for the food and drink sector, add only sales pages from that sector to your swipe file.
What to look for when studying copy:
What is the purpose of this page? What action should the reader take? Is that action clear?
What arguments are provided for taking that action?
How are features and benefits communicated?
How does the page build credibility and trust? Why do you believe the content?
How is the information arranged? Is the most important information communicated first? And the least important information last?
What's in my copywriting swipe file?
What's in an email swipe file?
An email swipe file can include welcome emails, educational emails, blog newsletters, and sales emails.
By studying and emulating good email examples you can get more opens and clicks.
What to look for when studying emails:
Why does the subject line entice you to open the email?
What is the purpose of the email?
Is all the information relevant or can the email be shortened?
What is the first line? How does it engage you so you want to read on?
How does the writer entice you to click through? Do they make you curious? Do they promise you'll learn something?
What to put in your email swipe file:
What's in a swipe file for bloggers?
A blog post consists of several elements: a headline, an opening paragraph, subheads, the main body of the post, and a closing paragraph.
You may want to study each of these elements separately, and include them separately in a swipe file
Consider the following questions when analyzing blog posts:
What is the big idea in the article? Which problem does it try to solve?
Does the structure of the article work? How would you improve it?
Why does the headline grab your attention? Why does it make you curious?
Why does the opening paragraph pull you into the article? Or why doesn't it?
How does the closing paragraph inspire you? Or does the article fizzle out?
Do the subheads make you read on? Why or why not?
What to put in your blog swipe file:
Use a swipe file to fine-tune your writing style
A swipe file can even help you understand the different elements that influence writing style.
Which writers do you admire most? Why do you like their style so much?
Look for these elements when analyzing writing styles:
Does the writing have a pleasant rhythm? Are sentences long or short?
Is the word choice formal or informal? Which emotional or sensory words are used?
How abstract or vivid is the writing?
Which creative writing techniques—such as analogies, imagery, and word repetition—are used?
What to put in your swipe file for writing style:
Take charge of your learning
I've read piles of books about copywriting.
Books are useful to help understand writing techniques.
But books are often not practical enough. So, complement your learning by studying content because this allows you to understand how techniques are applied in practice.
This is the exact method I followed to become a writer: First, understand the techniques by reading text books. Then, understand the practical application by studying real life content.
Don't try to study everything in one go. It's overwhelming. Where do you think you can improve most? Which type of content is most important for your business now?
Focus on one type of content or one writing technique at a time.
Experiment and play
The fun of learning a skill is that we can always get better.
Whether we're learning to write, dance, play the piano, or illustrate, we can experiment with our style. We can observe how others work and integrate their techniques into our work.
We can play with different words. We can explore writing techniques. We can experiment.
This is the beauty of creativity.
Enjoy!