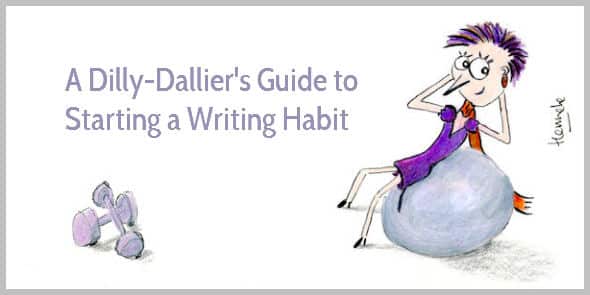 Would you love to write more regularly?
But struggling to find time?
Sometimes it feels like unknown forces are conspiring against us.
We start the year with good intentions, but before the end of January we've given up. We don't have enough time. We don't have enough energy. We've quickly run out of blog post ideas, lacking inspiration.
When I was in a corporate job, I didn't understand the concept of procrastination. I got things done.
But since starting to work from home, Procrastination has become an unexpected good friend. Together we've spent hours on Twitter, we've kept up to date with the latest news (minute by minute!), we've messed about for days trying to avoid difficult tasks.
Initially, Procrastination and I were good friends. After all, I was meant to take it easy. Didn't I deserve some time off?
But irritation crept up
I wanted to do something valuable. Learn something new. Create stuff.
I didn't want to spend my time aimlessly wandering around the web, destroying my motivation and feeling bad about myself.
Since the end of 2012, I've been writing regularly. In the beginning, it was a struggle.
And these days, my friend Procrastination still joins me occasionally for a cup of tea and some aimless internet browsing. But she now spends most of her time with her best mate—Mr Writer's Block. I don't want to join their party anymore. I have better things to do than listening to their chitchat. I'd rather get work done or go out for a walk.
Want to do the same? And start a solid writing habit, too?
Let me explain how I learned to stop self-sabotaging my writing efforts (most of the time) …
How to start a writing habit
Busy-ness is a major threat to developing a new habit. Your diary is already full, and trying to cram in more work is setting yourself up for failure.
Todd Henry shared a tiny productivity tool on his blog last week. To become more productive, write down on a post-it:
More: …
Less: …
If you want to write more, what are you going to do less? Can you spend less time on Facebook? Less time watching TV?
Monitor and write down how you spend your time for two or three days. Then decide what activity you can cut to make time for writing.
Next, note down how writing will contribute to your goals this year. Do you want to find more clients? Grow your email list? Deepen your understanding of a topic? Inspire more people with your advice?
Do you believe more writing will help you realize your goals?
Starting a writing habit begins with a clear commitment:
You decide your priorities. Make writing a high priority. It requires more brain power than answering emails, so do it while you're still energetic.

I'm a night owl, and I struggle to get started in the morning. I don't drink coffee. So I kickstart my body (and my brain!) by going out for a brisk walk in the morning.

Create your own ritual. Before I go out for my walk, I switch my computer on. If it's already on, I close all browsers. The only document left open is what I have to write. When I get home from my walk, I make a cup of tea, and I start writing.

You might want to put on your writing shirt or your crazy hat. You might want to listen to your favorite song while drinking your favorite tea. Create a ritual to prepare your brain, so you know you have to start writing as soon as your ritual is done.

Get rid of distractions. I used to think I had enough willpower to focus on my writing. But that's not true. So, put your phone on flight mode, lock the door, and focus on writing.
Commit to a regular schedule. When you joined my newsletter, I told you to expect an email every Tuesday, because that was the only way to force myself to publish.

You don't have to write a blog post weekly. But creating regular deadlines helps you stick to a writing habit. No excuses.

Allocate time in your diary. When you don't block time for writing and editing, it won't happen.
Starting a new habit is tough. So start with a small commitment.
If 25 minutes every morning sounds like too much, then begin with 15 minutes or 5 minutes. To start a new habit make the habit tiny—like flossing one tooth.
Build your habit step by step. And celebrate your tiny successes.
When you screw up …
I used to get angry with myself. I thought I lacked willpower. No discipline.
But relying on willpower is dumb.
Instead, find out what is railroading your writing efforts. For instance, I noticed that each time I wanted to check an online thesaurus, I got distracted. I couldn't stop myself from checking my email and Twitter. And before I knew it 10 minutes were gone, and I didn't even remember what word I needed to look up.
Now, I keep only one tab open in my browser. Having to open a new tab to check my email is a big enough hurdle not to do it. So I can check the thesaurus without getting distracted by email or Twitter.
Don't forget that developing a new habit takes time. Be kind to yourself. Celebrate your tiny successes by keeping a track record—make a mark every day you've kept to your commitment. And when you screw up for one day, accept it. Don't throw in the towel. Tomorrow, you'll do better.
When you don't know what to write …
You might want to write.
But what if you can't think of a topic to write about?
Keep an idea book. I prefer a old-fashioned paper notebook, but Evernote is perfect for this, too. When something you read inspires you, make a note. When a client asks you a question, make a note. When you receive an email with a question, write it down.

When you listen to your readers and clients, you never run out of ideas.

Dedicate 30 minutes to brainstorming blog post ideas. When you're desperate to write a post, you'll find it more difficult to come up with a good idea. But when you challenge yourself to generate 30 (or 50!) ideas in one go, your inspiration will magically start to flow.
When you keep writing, a strange thing happens. You might think your well of inspiration slowly dries up. Instead, the opposite happens. The more you write, the more ideas you get.
When I started writing, I didn't know what to write. But in the last year or so, I've never run out of ideas (touch wood!).
When you're staring at a blank sheet …
You're trying hard to write …
But your mind keeps wandering off. You feel you can't do this. Where should you start?
Often we need to trick our mind into getting started. As soon as we write our first sentence, writing becomes easier.
Writing is a process. Don't put so much pressure on yourself. Your first draft is meant to be crappy. You can polish your writing later.
Start typing that first word. Writing any words is better than writing none. Try writing as quickly as you can to shut up your inner critic. And if she starts nagging you, tell her she'll get a chance to help when you start editing your first draft.
I often use a timer. It seems like a silly tool. But even bestselling writers like Daniel Pink use a timer to write. I set my timer at 25 minutes. I try to write as fast as you can. I try to stop caring whether my writing is any good. At the end of the 25 minutes, I allow myself a 5-minute break—which often becomes a little longer.
To keep your mind fresh, taking breaks is essential. And when you take breaks in the middle of your flow (even half-way a sentence), you find it easier to get started after your short break.
When you feel overwhelmed …
Don't feel you have to write a whole blog post in one go.
A blog post consists of parts. A title. An opening paragraph. A main body. A final paragraph. Start with the part you find easiest to write–quite often this not the opening paragraph.
Here's how I usually write my blog posts:
Start with a big idea. How will a blog post help readers?
Write a working headline
Outline the main body of the post
Write the main body
Write the closing paragraph
Write the opening paragraph
Draw a picture
Edit
Play with the headline, and choose a final one
Format the post in WordPress
Prepare a weekly plan to write your post in the time available to you. If you can't blog weekly, publish every other week. If you can't write long blog posts, write shorter ones instead.
Keep writing
You might want to build a popular blog.
You might want to become a bestselling author.
Or you might simply want to learn how to express your ideas.
But lofty goals don't help you create a writing habit.
Instead, put in the work. Word by word. Sentence by sentence.
Build your stamina. Grow your confidence. Paragraph by paragraph. Blog post by blog post.
Keep writing.
And enjoy playing with words.