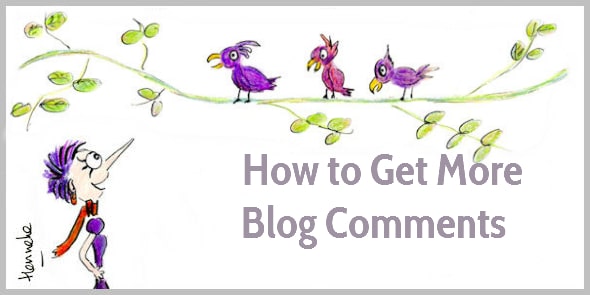 I admit it.
When I launched my blog in November 2012, I was a nervous wreck.
I worried about being a lonely voice whispering in the vast ocean of pixels.
Do you feel the same?
Do you get frustrated by a lack of comments?
I had built a list of about 300 email subscribers.
But still I was worried.
Would people read my first post?
Would people leave a comment?
Comments are, of course, social proof
Boatloads of comments suggest a blog is popular, or that at least a specific blog post resonated with an audience.
After last week's commenting rush, I realized a specific type of posts get more comments. These are my top three:
5 Warning Signs You're a Blogging Wimp (115 comments)
Here's How to Find the Courage to Choose Your Own Business Path (103 comments)
11 Ways to Sabotage Your Happiness (and What to Do Instead) (93 comments)
While the majority of my blog posts are about blogging and copywriting, the few posts about struggling with running my own business seem to resonate most.
When you show your vulnerability and touch readers emotionally, they're more likely to comment. When you portray yourself as a know-it-all, readers are less likely to comment. That's quite logical, isn't it?
You can try several other tactics to get more comments:
Write in a conversational style, because it makes commenting feel more natural
Don't provide a complete tutorial, so commenters can fill in the gaps
Try controversial topics to stir up a debate
Link to other bloggers to encourage them to comment as a thank you (Kevin Duncan is the king of this tactic)
Set up a commenting group with bloggers and promise to comment on each other's posts
Avoid commenting obstacles like Disqus, Livefyre and social commenting systems (see more about commenting systems in this article by Dustin W. Stout)
Be timely in replying to all comments and provide thoughtful replies
Let commenters know you've replied—I use the ReplyMe plugin for this
And, last but not least, grow your audience
The tactics above all work.
But how much effort should you put into generating more comments?
Several popular blogs switched off commenting last year, because managing comments had become too much hassle, and because conversations took place elsewhere (so they said). You can read more about why Chris Brogan, Michael Hyatt and Copyblogger switched off commenting.
Are comments not a sign of business success?
Let's look at a quick comparison between my two latest posts:
How to Write a Sparkling Sentence
Page views in the first week: 3,535
Total comments: 54
Comments excluding my replies: 27
% of comments / page views: 0.8%
Number of signups within 7 days: 17*
Here's How to Find the Courage to Choose Your Own Business Path
Page views in the first week: 2,741
Total comments: 103
Comments excluding my replies: 53
% of comments / page views: 1.9%
Number of signups within 7 days: 4*
*Signups to the snackable course via the top banner only
Which blog post was the most successful?
The post with the most page views? The post with the most comments? Or the post with the most email signups?
You might have thought that the post about finding the courage to choose your own business path was more successful, because it received a high number of comments.
But when you look at the figures as a rational business person, the post about writing sparkling sentences is clearly more successful because not only did it receive 29% more views, it also generated over 4 times as many subscribers.
Blog posts with copywriting tips may not get the most comments, but they consistently get most clicks from my emails.
While blog posts about copywriting engage more Enchanting Marketing readers, the posts about self-doubt seem to engage a smaller number readers at a deeper level, creating more interaction.
The tricky truth about comments
As a business owner, I can't measure business success by the number of comments a post receives. Most of the people buying my courses, for instance, have never commented on my blog prior to purchasing the course.
But for me, blogging isn't purely about the economics of running a business.
Of course, my blog drives my business growth. My blog allows me to make a living, to sell my course and my books.
But blogging is about much more. It's about having a voice, a creative outlet. Blogging is about connecting with readers. About inspiring people and making a difference.
Each comment is an opportunity to learn more about you, a chance to engage and have a conversation.
And that conversation is the most rewarding part of blogging.
Reader Interactions