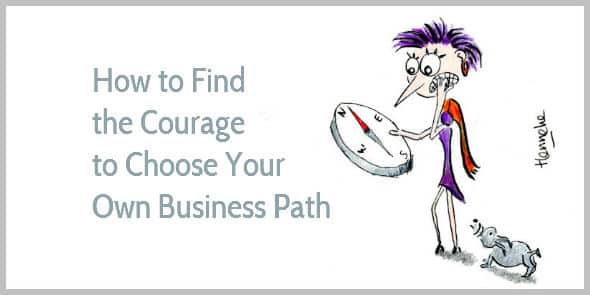 Ridiculous.
That's what I thought when I read her email.
She doesn't know what she's talking about.
How can she refer to me as an example of someone creating fearlessly authentic content?
Me??? Fearless???
Hmmm.
The idea was bugging me.
And after a while I began wondering—perhaps it looks different from the outside?
You don't see me hesitating to press the publish button. You don't see me endlessly polishing my text because I'm scared it's not good enough. You don't see the shock on my face when I realize my subject line contains a typo. You don't hear me berating my stupidity when I send out an email by accident to more than 1,000 subscribers.
The truth is I'm not so confident. I sometimes feel stupid. And embarrassed.
When you look at other bloggers, do you admire their confidence? Do you perhaps feel intimidated by their success?
Often we don't see other people's mistakes. And if we do witness their missteps, we consider it part of their learning curve.
But when we make a mistake?
Missteps crush our confidence, sending us into the dark pit of self-doubt and embarrassment.
Why do we forgive others but not ourselves?
Why does our self-image crumble each time we make a tiny mistake?
We get things wrong anyway
Since starting my business, I've done my fair share of stupid things.
And things haven't always looked sunny.
Early 2014, I put all client work on hold. I reduced my guest blogging commitments. And I spent 3 precious months to develop a business blogging course. Full time.
I tested the course with 3 people. I made a few changes based on their feedback.
I knew the course was good.
But when I launched my course, my marketing was a shambles. I had poured all my energy in developing the course, not in marketing it. The course should have been my main source of income, but only 9 people signed up.
Initially, I felt I had wasted 3 precious months to develop this course.
How stupid of me!
And I considered drastic changes—like cutting the course down so I could make it cheaper, or making a self-study version.
But I listened to people taking the course. I learned why they signed up and why they thought the course was so good. I sharpened my product launching skills. I improved the syllabus. I changed my launch emails and sales copy.
And this time?
Within one hour of registration opening, 10 people signed up. The 24 places sold out well before the deadline. I even had to disappoint people because the course was already full.
When we make a mistake in one part of our business, it doesn't mean our whole business sucks.
And making mistakes doesn't mean we suck.
Our business path doesn't have GPS coordinates
We like to have a blueprint and know exactly what we need to do and how.
We like certainties.
But running a business is not like getting on a flight to Washington, taking the train to London, or driving to the supermarket.
In business, we can't know exactly who our audience will be. We can't know exactly what they'll like to buy and how much they'll pay for it.
To move forward in business, we have to embrace uncertainty. We have to accept a trial-and-error approach.
Do you think uncertainty is risky?
Uncertainty also means unexpected opportunities.
A testimonial can help write better sales copy. A blog comment can give you an idea for your next book. An email from a reader may give you an idea for your next course.
When you see running a business as an ongoing learning experience, you become open for new opportunities, and more forgiving of your mistakes.
I wish I could tell you about a magic switch. Flip the switch, and at once you become kinder to yourself. You accept your mistakes. You learn to enjoy the journey.
But the truth is … changing your mindset is hard work. Learning to be kind to yourself is difficult.
A few things have helped me …
Realize how much energy I'm wasting by getting frustrated with myself. What would I rather do with this energy?
Take better care of myself. Eat well. Sleep well. Take more breaks.
Find like-minded people to support me.
I don't feel at home in the world of internet marketing
Too gung-ho. Too commercial. Too slick. Too much chasing more money.
But I've noticed recently that I've given up trying to fit in.
I've tried to fit in my whole life and it doesn't work. Too difficult. Too exhausting. Too soul-destroying.
So slowly and quietly, and almost by accident, I've been building my own tribe. With you. With people who care. With people who feel inspiring one reader is more important than a handful of likes or an extra sale.
Find your own tribe
As a small business owner, you have a huge advantage. You don't need to appeal to everyone.
When you work with the people who share your attitude, work becomes more rewarding, more energizing, and more fun.
So build your business on your strengths. Your beliefs. Your personality.
Believe in yourself.
And be kind to yourself.
Special thanks to Sonia whose email inspired this post.