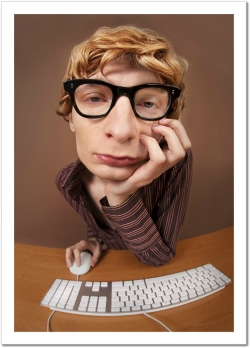 I admit it.
My first business blog was lackluster. Without sparkle. No fun.
Well, that was in the beginning.
Haven't we all been there?
Writing posts, because you're supposed to write something. Struggling to make boring stuff interesting. Worrying about finding time to keep your blog going.
Or just sitting in front of your computer unable to write your next post. Completely stuck. And full of doubt.
Does it make sense to spend time writing a business blog? Will your efforts pay off? Will your blog generate business?
Feeling like you want to give up is normal. Almost everyone wants to give up after six or twelve months of blogging. But giving up just before your blog is going to be successful is one of the biggest blogging mistakes you can make.
Blogging mistake #1: Not starting a blog or giving up too soon
Let's be honest. Creating a blog is tough.
Blogging requires writing skills; enthusiasm about your company; and industry expertise. It requires energy, creativity, and perseverance.
You can't expect your blog to produce results straightaway. Depending on your industry and online competition, it may take three to six months, or sometimes even longer to generate results.
Let's have a quick look why you should create and continue your blog:
Increase your web traffic because you enhance your visibility in Google;
Generate leads at relatively low cost (source: Hubspot);
Provide quality content for lead nurturing;
Share your expertise; build your authority and influence;
Add a human face to your brand;
Support your email and social media marketing with shareable content;
Connect with influencers – bloggers, journalists, social media power users, and industry experts;
Provide a basis for your online PR.
Don't give up. Keep blogging and celebrate your blog successes—even small achievements.
Blogging mistake #2: Publishing old-style press releases
Old-style press releases are written for journalists and editors, who—if you're lucky—translate your press release into engaging information for their readers.
Old-style press releases are full of gobbledygook and wishy-washy talk.
Your blog is written for and read by potential buyers. So skip the gobbledygook. Cut the wishy-washiness. And turn self-congratulatory text into fascinating news stories.
Blogging mistake #3: Writing your blog for SEO
Worrying about Google kills your creativity, destroys your blog personality, and slaughters your passion.
Write your blog for your customers rather than for Google:
Use the same words and phrases your customers use
Answer your customers' questions
Help your customers make buying decisions
Answer just one question or discuss one problem in each blog post
Publish high-quality content
Google wants you to provide helpful information to your customers. Observe the 5 rules outlined above, and you'll have most of your on-page SEO requirements covered. You'll make Google happy.
Stop worrying about Google. Start writing for your target audience.
Blogging mistake #4: Being corporate and faceless
Come on. Put that zing into your writing.
Be passionate. Use strong emotional words. Stand for something and share your opinion.
Your blog should show the human side of your company and make you more approachable.
Nobody likes reading your corporate blurb. Loosen up and have some fun!
Blogging mistake #5: Publishing sleazy sales talk
Writing directly to your buyers doesn't mean you should turn into a sleazy salesman.
Don't keep rambling on about your wonderful products, fantastic features, and awesome specifications. Instead, address your customers' problems, discuss their pain points, and show the benefits of your products.
Don't gloss over your negatives. Customers can read about them somewhere on the web, so why not be honest?
Don't sell. Provide genuine buying advice. Help your customers make purchasing decisions.
Blogging mistake #6: Being self-indulgent
Your business blog should help build your authority online. But if you just write about your own products, your own achievements, and your own company, how can your readers learn to trust you?
To become a credible source of information you need to widen the scope of your business blog. Don't be a windbag. Comment on industry events, share your thoughts on industry news, or analyze the latest trends. Become a trusted source of industry information.
Blogging mistake #7: Making your blog a daily chore
Who said you need to blog daily?
Publish weekly, or only monthly. Decide on the frequency you can cope with and be consistent.
Quality content provided monthly easily beats an incessant stream of daily drab posts that recycle the same stuff again, and again.
Blogging mistake #8: Underestimating the power of images
Images add pizzazz to your posts. They make your web pages more attractive and inviting. But there's more:
Visuals can illustrate your text or become the main feature of your post. Visuals can be serious or fun:
Poke fun of your industry with cartoons
Create an info-doodle or sketchnote from a presentation
Show diagrams of how your products work, or pictures of how they're made
Display flow charts of the buying process
Turn an instruction manual into a visual how-to
And why not interview industry experts or create client testimonials on video?
Blogging mistake #9: Not promoting your blog
Don't launch your blog and expect people to turn up to read it. That's like launching a newspaper and keeping it secret.
Don't rely solely on search engine optimization for web traffic. That's like launching a book and expecting it to become a bestseller by putting it in your local bookstore.
A few ideas for promoting your blog:
Mention your blog in your printed brochure;
Include a link to your latest blog post in your email signature or e-newsletter;
Show the headlines of your latest blog post(s) on your home page;
Refer to relevant blog posts on other web pages;
Share your posts on social networks;
Comment on other blogs;
Write guest posts for other blogs;
No time to promote your blog? Start writing less often and make time to promote. A few popular posts are more valuable than an archive full of posts nobody is reading.
Blogging mistake #10: Committing crimes against readability
Why discourage your web visitors from reading?
Make your content enticing and avoid these dumb design mistakes:
Long lines feel cumbersome because they require readers to move their heads as if they're watching a tennis match. Use a maximum length of 600 pixels.
Tiny fonts strain your readers' eyes. Increase your font size to at least 16px.
Blocks of texts kill your readers' interest. Use short paragraphs, bullet points, and sub headlines to introduce white space.
Promote readability and make your posts more inviting, attractive, and seductive.
Blogging mistake #11: Tolerating stinky blog posts
Stinky blog posts?
Yep, stale information. Like blog posts about discontinued products or old promotions; and out-dated advice. Makes your blog look like a hoarder's house full of old newspapers, magazines, and other useless stuff.
If you've been writing a blog for 12 months, start your audit now. Audit your content once a year or plan a running audit: review a selection of old posts each month.
Don't just write new posts. Spring-clean your smelly old posts, too.
Blogging mistake #12: Failing to measure results
Why are you writing your blog?
Define your objective and measure how well you're performing. A few examples:
If your objective is to reduce cost per lead (compared to other marketing activities), then measure the cost of leads. For a fair comparison include the cost of staff hours, too.
If you're objective is to grow brand awareness, measure non-branded organic traffic;
If you want to increase leads, define what a lead is and measure your number of leads (e.g. email subscribers, webinar participants, or white paper downloads).
Measure how you're doing on a monthly or quarterly basis. Analyze which posts perform best, and which perform less well. Learn what your target audience is looking for. Improve your blog. And celebrate getting more readers, more leads, and more business.
Blogging mistake #13: Creating dead ends
Potential customers are finding your posts. That's great.
Potential customers are reading your posts. That's even better.
But what's happening next?
You need to tell your readers exactly what they should do next. Otherwise, they'll just click away; and you'll lose them.
You need a call-to-action. You need to encourage your readers to take the next step. A few options:
Read related posts;
Subscribe to an email newsletter
Sign up for a webinar
Download a brochure, specification sheet, or white paper
Be as clear as possible. Have one super-obvious call-to-action and ensure other calls-to-action look less important.
The truth about blogging for business
Instead of waiting for your blog to become successful, get to work.
Become the most comprehensive source of information in your industry. Build your authority. Share your expertise. Answer all questions you've been asked by customers. Be helpful.
Add personality to your blog. Share a strong opinion. Tell stories.
And most importantly, ensure your blog posts are engaging.