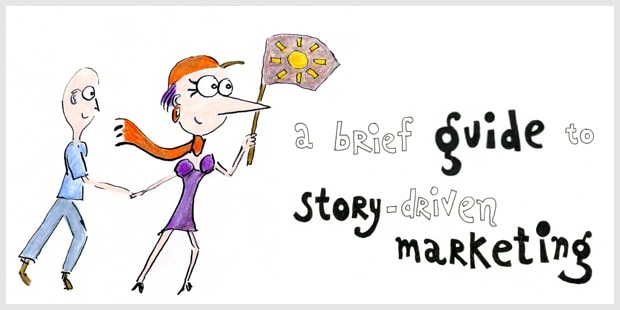 Does the idea of marketing your business make you cringe?
Do you hate promoting yourself?
Self-promotion and marketing have always felt alien to me. I don't want to tell people: "Hey, listen to me. I'm awesome. Hire me, please." It feels icky.
But I've learned that marketing doesn't have to be pushy.
The opposite is true.
You can promote your business with grace, and still sell bucket-loads. I've done this now for several years, and I've sold out all my courses.
How?
Stop putting the spotlight on yourself. Stop thinking of yourself as the center of your marketing. Instead, make potential clients feel they're the heart of your story. Let them bask in glory.
Shall I explain?
The story-driven approach to marketing
When were you last fully engrossed in a story?
When we read stories, we root for its key character. The amateur sleuth trying to solve a murder mystery. The refugee trying to make a living abroad. The action man rescuing his ex-wife and falling in love again.
We support these heroes in their quest for freedom, love, or justice, and we identify ourselves with them.
There is nothing more powerful in a Story than having a lead character desperately pursuing something. The reader or viewer cannot help but attach himself to that character because he has objects of desire too. If the lead character in a Story gets what he wants, our brains are wired to believe that we can too.

~ Shawn Coyne (From: The Story Grid: What Good Editors Know)
And this is exactly why stories are so powerful in marketing. We make readers believe that their desires can be fulfilled … with our help.
A simple story plot for marketing
In his book "The Story Grid," Shawn Coyne describes the arch plot as the most popular story plot.
The arch plot is a quest in which the hero aims to achieve an object of his desire. This "object" can be external: find a prince to marry, discover the holy grail, or conquer the enemy to achieve glory. The desired "object" can also be internal: overcome grief, find inner peace, become confident.
The arch plot fits marketing perfectly because our products and services also help our clients solve their problems and transform their lives—no matter how big or small these changes are.
And just like in fiction, plots in marketing stories often combine an internal with an external quest.
In one of the most powerful advertising campaigns in history, Apple showed a simple, hip, fun character who just wanted to take photos and listen to music and write books next to a not-so-hip tech nerd who wanted to talk about the inner workings of his operating system. The campaign positioned Apple Computers as the company to go to if you wanted to enjoy life and express yourself but felt intimidated by all the tech talk. What was the internal problem Apple identified? It was the sense of intimidation most people felt about computers.

~ Donald Miller (From: Building a StoryBrand: Clarify Your Message So Customers Will Listen)
When you think about your marketing story, start by defining who your hero is—who is your favorite client? Then consider which problem you help him solve or how you transform his life. What's the internal and what's the external transformation?
As a Yoga instructor, for instance, you may help clients move more graciously and feel calmer. Or as a nutritionist, you can help people lose weight and nurture self-love. As a marketing coach, you may help your clients make more money while they also gain confidence as entrepreneurs.
How does your story start?
In a fiction story, the opening scene gives readers a first glimpse of the battle ahead. That's how you hook your readers—they want to know who will win the battle.
But in marketing storytelling, we don't think in scenes. We have less time to engage our readers. So, the start of the story is simpler: Our hero realizes he wants to solve a problem. He has worked out what he desires.
By mentioning this problem or desire in a headline, we connect with readers and draw them into our marketing story.
For instance, as a mindfulness coach, your headline may be:
Find Inner Peace and Balance in a Crazy-Busy World
One-on-One Coaching for Stressed Entrepreneurs
Or:
Stop Feeling Overloaded, Overwhelmed, and Stressed
Mindfulness Coaching for Busy Entrepreneurs
It's a mistake to think that, as marketer, you create desire. Instead, you connect with a desire already swirling around in your client's mind.
So, the aim of your marketing is to make your reader feel confident that you can help him achieve this existing aim. You invite him to join you on a journey.
Your role in your marketing story
When you position yourself as the hero in your marketing, your sales pitch becomes pushy.
Your role is important, but you're not the lead character—that's your client. Your role is to be his guide and to help him on his transformational journey.
Your client's transformational journey starts with the realization he wants to solve a problem. And the journey ends at a sunny destination where the client feels happier, more at peace, or better off. He has gained the object of his desire.
Whether you offer coaching, a course, or offer a service like web design or copywriting, your role as a guide is to offer a clear plan or blueprint to help your client achieve his aims, to reach the sunny destination. You promise you can help him out and you tell him exactly how you'll do this.
So, to create a persuasive sales pitch, describe the process you go through with your clients. How do you work? What do you deliver? And how will your customer feel at the end of the journey?
How your content serves your storytelling
Each piece of content helps tell your marketing story.
You demonstrate your role as guide, boost your credibility, and, above all, you explain how you help your clients reach their aims and transform their lives.
For instance:
Your home page explains what problem you solve for whom and how—it's a summary of the transformational journey
Each service page or product description explains the transformation journey specifically for that service or product
Your business manifesto summarizes your values—your promise of how you will treat a customer during his journey
Testimonials (or case studies) explain how clients experience their journey and how their life has been transformed
Blog posts help establish your credibility as a guide—in each post, you show readers a tiny piece of the transformational journey
Each piece of your content reinforces and explains your role as a guide on your client's journey. You give readers the belief that he can transform his life, with your help.
From storytelling to selling
A story ends when you've painted the picture of your hero's transformation, when his quest for the object of his desire ends.
But you can't let your marketing story end like that.
The purpose of your marketing is to begin a relationship with your reader, and ultimately you want to sell your service or product.
So, there's an important task left. At the end of your story, it's time for a clear call to action:
Is your reader ready to buy? Your call to action can be to buy or to contact you for a quote.
Is he not ready to buy yet? Your call to action is to download a report or an ebook. My favorite option to start a relationship with a reader is to invite him to join a educational email series, so you can show him your credentials as a good guide.
In his book "Building a StoryBrand," Donald Miller summarizes stories eloquently:
Here is nearly every story you see or hear in a nutshell: A CHARACTER who wants something encounters a PROBLEM before they can get it. At the peak of their despair, a GUIDE steps into their lives, gives them a PLAN, and CALLS THEM TO ACTION. That action helps them avoid FAILURE and ends in a SUCCESS.
Marketing isn't about you
Marketing is about your customer.
So, stop thinking about marketing as self-promotion.
Instead, think of your client as the hero.
How do you transform his life?