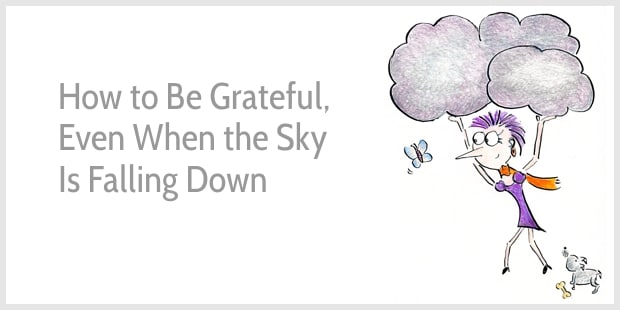 How has 2019 been for you?
In the last few years, it's become my habit to write a personal review at the end of the year.
And rather than ask myself what I've achieved, I like to consider what I've learned.
I'm less interested in achievements.
Perhaps because I never quite achieve in a year what I planned. Or perhaps because achievements are so fleeting. Achievements are often the outward signs of success, and, for me, they're rarely a real measure of personal success and happiness.
As David Cain wrote last week, "most accomplishments are invisible."
So, what have I learned this year?
As I was pondering this question over the last few weeks, my mind turned to gratitude.
I used to feel a strong antipathy against practicing gratitude.
Of course, the principle of gratitude is beautiful. But, to my irreverent self, gratitude felt like misplaced or insincere piousness—as if we have to be grateful for the bad things that happen to us. I resisted that idea. Misfortune should be fought against.
A few years ago, as I was struggling to recover from a traumatic car crash, I realized you can't always fight against misfortune, and I decided to give gratitude a try. I purchased The 5-Minute Journal and every morning, I wrote down 3 things I was grateful for.
I've never been a journal writer, but I thought I could crack this simple exercise and science suggested it would make me happier.
As written in The Five-Minute Journal:
A 2003 study by Emmons and McCullough found that keeping a daily gratitude journal leads to better sleep, reductions of physical pain, a greater sense of well-being, and a better ability to handle change.
(Wow!)
I diligently kept my journal for a few months.
But resistance slowly built up.
And one day, a flash of insight hit me while walking in the woods. It wasn't a good day. My body was hurting. I was feeling exhausted. The sky was grey, and I kept repeating to myself the things I should be grateful for. Could life not be a whole lot worse?
I suddenly realized how much I hated the whole gratitude thing. It was a failure. It wasn't working for me.
The problem was that the exercise had turned into observing what I thought I should be grateful for.
But I didn't feel that gratitude, and trying to make myself more grateful actually made me more miserable.
So, I rebelled.
I quit my gratitude journal
But I kept practicing mindfulness.
And over the years of practicing mindfulness, I discovered a better, more subtle version of gratitude.
I learned that gratitude lives in the moment. It's an experience. It does not flourish in a few words written down in a journal.
When I come home after a cold walk in the rain, I open the door, and a feeling of warmth flows through my soul. No matter how angry the storms outdoors, a feeling of safety embraces me. That's when I feel grateful.
Or in the morning, I make my first cup of tea and I watch the tits at the feeders, a robin perched on a rock smugly observing the scene, while our family of sparrows is fluttering back and forth. That's when I feel thankful to be alive.
Or sipping a cup of herbal tea and letting its warmth comfort me. Nestling in the coziness of a duvet. Reading a book and having an unexpected sense of connection with the author. The sense of lightness and freedom when cycling. Finishing a piece of writing. A hug. A kiss. An embrace. The feeling of being worthy of love. A good conversation with a friend. Feeling understood and appreciated. That one moment during meditation, months ago, when my body and mind at last are quiet, and I feel at peace.
Gratitude often lives in the small moments, rather than in big achievements. And over time, the everyday moments of gratitude have made me more contented with my life. It's not a magic pill. It's a lifelong practice.
2019 was a difficult year for me
My energy plummeted to a new low. After 5 years of chronic pain and fatigue, my mental health was suffering. I needed to use my precious energy to take care of myself. My business staggered on, while I was barely working two hours a day. On top of all that, the increasingly negative rhetoric on migrants like me made me feel unwelcome in the country I've called home for over 17 years.
But I found that a feeling of gratitude can co-exist with feelings of sadness, anger, or despair.
I can feel unmoored by Brexit but I can still nurture the feeling of being at home. I can despair that I don't know how to live in my body anymore. Still, I can listen to my body, feel a little more at ease in my skin, and be grateful for how hard my body is working to heal.
I used to think I had to fight feelings of anger, sadness, pain, exhaustion, or disappointment. Am I not supposed to be optimistic? To get as much out of life as I possibly can?
Yet, I found that fighting only makes negative feelings grow. Instead, I can let my sadness be and let it co-exist with sparks of joy, peace, and love.
Looking back on 2019, it's easy to be negative. My business has gone downhill. There are no notable achievements.
But I have achieved something more precious
I have learned to be more patient with myself. To get less frustrated by what I can't do, and to enjoy what I can do more.
I've learned to savor what is here, to be more content, to be more at home with myself, to be more grateful.
Gratefulness appears when we stop trying so hard, when we're quiet, when we listen, when we're in the moment.
Thank you for reading, my friend. I'll be back in the new year, hopefully with a more regular publishing schedule.
Happy holidays!