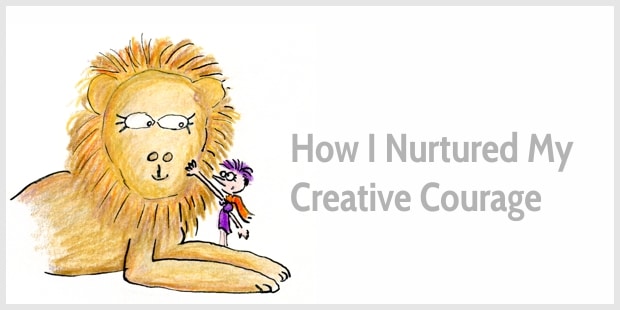 When you look back on 2017, what do you think of?
Which of your achievements are you most proud of?
As I was reviewing my 2017, I got anxious about writing this "end of year" post.
It's kind of ironic.
I've been more anxious about writing this post than anything else I've written this year.
And yet, this post is about creative courage.
Crazy, eh?
Something weird was happening in my mind
At the end of 2016, I wrote a post about learning to be me. And as the end of 2017 approaches, I've tortured myself with the question:
How can I write something as good?
As I look back on 2017, all I can think of are the crappy things.
Again, I've not launched a book or self-study course. And that's despite reducing my blogging schedule. I'm so slow!
I think of the email deliverability issues that have plagued me since the summer, but that I was slow to pick up on. I don't know whether I'm too late to revive a bunch of inactive subscribers (who may not have received my emails for months).
I worry I don't publish often enough, and that that may have impacted my open rates, too. Or is it because I have written fewer personal posts?
By dwelling on the crappy things, it's easy to talk myself into thinking my business is falling apart.
But we can choose what stories we tell ourselves
In 3 years of chronic illness, I've learned to focus on the tiny signs of progress, such as: I find it easier to get out of a car. I can breathe more freely, with both my left and right lung. I get panicky less often.
Every time I despair at my slow recovery, and when I feel overwhelmed by exhaustion or my body screams at me, I remind myself of the bright spots. Things ARE getting better. My body IS getting more resilient.
So, why are my business stories so negative?
I told myself to look at the bright spots here, too, and to feel proud that I'm running my own business. I reminded myself how good it is to see the people in my writing courses thrive.
And I might not have launched a new product this year, but I've re-organized my copywriting course (and it's better than ever!).
How about you?
When you think about the past year, do you get frustrated by the things you haven't done yet? Or do you feel proud of what you have achieved?
Have you listed everything you've done this year? How many things had you almost forgotten?
When I listed what I've done this year, I realized that one of my proudest moments was the publication of my first infographic on Inc.com.
My friend Sonia Thompson is an Inc contributor. We had discussed my infographic in a Skype call, but when I emailed her a link, I made it as easy as possible to say "no" to featuring it:
I'm still apprehensive whether Henrietta looks good enough for sites like Inc.com (…) If you're uncomfortable with the design, then feel free to say so.
I'm grateful for friends who believe in my work, even when I don't believe in it myself, and I feel extraordinarily lucky with a supportive community here on Enchanting Marketing. You help me dig deeper, learn more, and be proud of my work.
I've never seen myself as an artist
Even typing the word "artist" here makes me cringe.
But there is an artist in all of us.
In 2011, I would have told you, I can't write. As recently as 2013, I would have told you I can't draw.
But in November 2012, I started this blog, and I published my first hand-drawn illustration in January 2014.
Publishing my work, week in week out, has slowly built my creative confidence.
I don't think it's the act of drawing and writing that built my confidence. It's the act of sharing my work despite my doubts.
Creative work is scary
A couple of months ago, I read the book "The Upside of Stress" by Kelly McGonigal.
McGonigal describes how as a society we see stress as a negative, but she argues that a "meaningful life is a stressful life." How can we grow as creators without getting out of our comfort zone? How can we grow as entrepreneurs and human beings without stress?
As McGonigal writes:
Rather than being a sign that something is wrong with your life, feeling stressed can be a barometer for how engaged you are in activities and relationships that are personally meaningful.
Creative work is stressful.
Because it feels personal and it's wrapped in uncertainty.
I never know how my work will turn out. The vision in my mind never becomes reality. But that's okay.
I've learned to focus on doing the work. When I worry less about the result, I can enjoy my creative process more, I become more productive, and, somehow, I produce a better piece of writing.
I'm also finally learning that everyone walks their own creative journey. I compare my work less with others. I know where I am in my journey, and that is okay.
Creative courage is not the absence of fear
Creative courage means doing our work despite our doubts and fears.
I don't always feel confident. I'm not immune to harsh criticism either. I'm not fearless. Far from it.
But I know how to re-build my confidence when I waver. I pay attention to the stories I tell myself, and I change them. I keep plugging away. I write. I draw. I publish my work.
More than ever, I feel excited about the journey ahead. And that's why I dare to say, I've found my creative confidence. I look forward to new writing and drawing adventures.
And that fear about writing this post?
The doubts that this post is not good enough or too "needy" are still there.
But they have worn off a little because I decided I've done my best.
I might hesitate, and re-read my post one more time.
But I'll press the "publish" button, yet again.
Here goes.