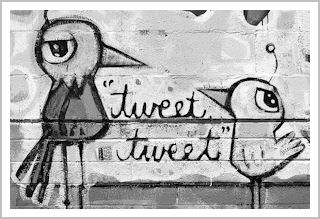 Millions of Twitter users.
Billions of tweets. Each week.
How can you stand out?
How can your tweets get noticed in the endless stream of twitter and chatter?
How do you enchant your followers? And get retweeted?

First, you need to ensure you don't sound like a boring old sod or a sleazy salesman. Follow these 7 tips…
How to avoid being boring as heck
Use Buffer to schedule your tweets, but also turn up in real time to reply, to retweet, and to engage. Real time conversations are more fun than delayed replies.
Avoid automatic cross-posting from other social networks because it's like phoning someone each time you email them to check they've received your email one minute ago. Occasional cross-posting is fine, but make sure you don't just take up space.
Tweet your own posts a maximum of three times, and write a different tweet each time you tweet it. When you endlessly repeat the same tweets to promote your own posts, people start thinking you have nothing useful to add.
Stop using Paperli. Just tweet links to interesting articles. Why complicate matters with an extra click?
Use one or two hashtags, or none. Too many hashtags bury your message.
Take a break if you feel like it. Sometimes I get tired of all the chatter and just disappear for a day or two.
Avoid automatic DMs. You don't walk through your high street and shove a note like me or circle me under people's noses, do you?
How to be enchanting on Twitter
Sometimes the endless stream of tweets feels like one-way traffic.
But there are precious opportunities to connect.
Twitter isn't a sales platform, it's a giant networking event. So, don't mindlessly promote affiliate links on Twitter. Instead, engage and connect with people.
Follow these 12 tips to engage followers and attract new ones:
Find people whose tweets you enjoy. Use Hootsuite or another tool to create lists so you can keep an eye on their tweets; and keep your lists updated.
Show a clear picture of your face. People connect with people, not with cartoons or logos.
Have something to say. Nobody is interested in learning that you're bored out of your mind, or tired, or going to sleep. Dan Zarrella has proven it.
Don't mindlessly click tweet buttons on blog posts all the time because that's what most people do. To stand out tweet a quote from the post or rewrite the headline to make it even more powerful.
Share your opinion. Add a valuable remark to a retweet rather than lazily clicking retweet.
Use a thank you as an opportunity to connect, not as a meaningless obligation for each and every retweet. Ask a question or add a comment.

As an alternative thank you, consider following someone or retweeting one of their tweets.

Use Twitter handles to acknowledge a blogger. Most Twitter sharing plug-ins don't include the Twitter handle of the blogger automatically.

Including a blogger's Twitter handle is like saying thank you for writing plus it's an opportunity to engage. You earn extra brownie points for looking up a guest writer's Twitter handle.

Use the power of the period. When you reply to someone, use a period before their Twitter handle if you want more people to see your reply.
Try a cc. When you think someone is really really super-interested in a blog post and you want to make sure they see it, use a cc with their Twitter handle at the end of your tweet.
Try to keep your tweets to fewer than 120 characters, because it makes it easier to retweet.
Use a hat tip.When you like an article someone tweeted, but don't like their tweet, write your own tweet and acknowledge the original tweeter with a hat tip: add HT plus their Twitter handle at the end of your tweet.
Don't talk about what you're doing. Talk about what fascinates you.
How to write tweets that get noticed
Writing tweets is fantastic practice to improve your writing skills.
Be concise. Grab attention with power words. And learn to develop your own voice.
Develop your own style. Mix it up, experiment, and find out what works.
Start a tweet with New blog post, when you've published a new post. Because people are attracted to new stuff (source and source).
Use your own favorite phrases, because it adds personality to your tweets.
Be enthusiastic about what you're sharing because it shows. Don't make tweeting a chore.
Ask questions. It shows you're interested and occasionally it may spark an interesting debate.
Try using the word you, because it feels more like a real conversation. And tweets with the word you get retweeted more often.
Wink, smile, or try a big grin. Use emoticons, because it makes you more human.
Use unusual words because they attract attention and create a sense of novelty (source).
Write your tweets as if each word matters, because it does.
The truth about wooing your Twitter followers
Plenty of stats exist that tell you how to become more popular on Twitter.
Use the most retweeted words. Don't use the least retweeted words. Use links in a specific percentage of tweets. Put a link in the middle. Etc.
But if we all follow the stats, don't we all start to sound the same?
Like with all types of conversation, you need to find out what works for you. Learn how to show your enthusiasm. Consider how to demonstrate your expertise. Decide whether you're comfortable with personal tweets or not.
Twitter will be most successful for your business if you let your personality shine through. Be you. And have fun.
Image credit (adapted):
Cobalt123
(via Flickr)