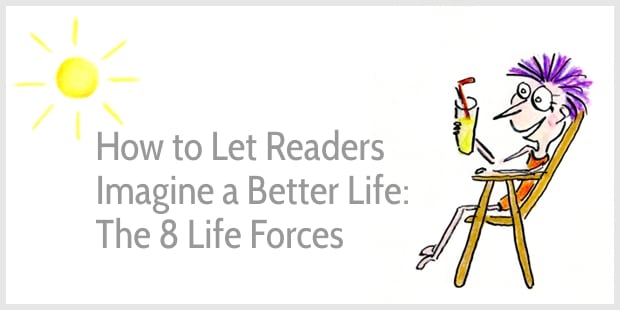 Imagine this …
Henrietta is reading your sales copy.
One paragraph, two paragraphs, three paragraphs, and onwards.
She feels a butterfly fluttering in her stomach as she pictures a better life in front of her.
Eagerly, she clicks the Buy button.
Another web visitor arrives, reads, clicks.
And another, and another, and another.
And you?
Ka-ching.
You hear the tills ringing. Another sale. Yay!
You start dreaming about buying a new bicycle, going on an exotic holiday, paying off your mortgage. Freedom calls.
Let's hold on for a second here …
Did you see what just happened?
Did you notice how we went from a web visitor reading your copy to exotic holidays in just a couple of sentences?
Perhaps, you don't fancy that exotic holiday. You might just want to be free from money worries. Or you're competitive, and want to do better than your friends and impress your neighbors with a shiny new electric car. Or you may just want to live in peace and good health.
What is it that you're looking for?
Often, sales copy remains superficial.
Yes, most copy explains the features and benefits of a product or service. The features explain what a product does; and the benefits explain how a product improves customers' lives.
But often those benefits remain superficial. They don't stir people's emotions, and that's what one of the 8 life forces can do.
Shall I explain?
What are the 8 life forces?
Despite its awful title, the book CA$HVERTISING is a useful guide to copywriting by Drew Eric Whitman.
Whitman suggests that the strongest, most persuasive sales copy appeals to at least one of the 8 life forces. He describes these 8 life forces as follows:
Survival, enjoyment of life, life extension.
Enjoyment of food and beverages.
Freedom from fear, pain, and danger.
Sexual companionship.
Comfortable living conditions.
To be superior, winning, keeping up with the Joneses.
Care and protection of loved ones.
Social approval.
So, to stir a reader's imagination and make them eager to buy, Drewman suggests weaving at least one of these 8 life forces into your copy. That's how you connect emotionally.
This is not about exaggerating the benefits of your product. Sometimes, you help readers take a first step. For instance, you can't deliver a life free from fear but you can help readers cope with their fears a little better.
Shall we look at some examples?
Example 1: Life's enjoyment
Here's how J. Peterman sells a sweater:
Nantucket

Indians named it Nantucket, meaning "faraway land."

And that is what it still is.

In winter, the population drops down to 7,000, sometimes to 3,000. The little summer roses that cross the tops of cottages are gone. The wind blows the waves back.

In winter, you breathe the lost sea smell.

Winter is the time to come, I think.

Try a small hotel. Bring books, good walking shoes. Give the fire in the fireplace the attention it deserves. Read, drink a little wine, eat thick chowder. Wander 15 miles up one side of the island and 15 miles back down the other side.

I did exactly those things 19 years ago.

Bought a good sweater there. I'd say it's got another 19 years in it.

Nantucket Sweater (No. 6543). Just located somebody to duplicate it; same uncomplicated cotton. Same fresh sea smell. Same odd construction, same mood as the original. Made without shortcuts. People often ask me where I got it. They're probably going to ask you too. Imported.
Lovely, right?
The life forces at play here are enjoyment of life (#1) and comfortable living conditions (#5).
But, of course, it's not just the connection to a life force that makes this product description so powerful.
The sensory details transport you to a different world. You can feel the wind. You can smell the sea.
And then you can imagine yourself checking into a small hotel, sitting at the fireplace with a book, a glass of wine, and anticipating your next walk along the coast.
And all of that while wearing a comfy sweater.
That sweater becomes far more than a piece of clothing, it becomes a symbol of a good life.
Feel like wearing it?
Example 2: Winning
Ramit Sethi is an entrepreneur and financial advisor. He wrote the New York Times bestseller I Will Teach You to Be Rich. That title appeals to life force #6: To be superior, winning, keeping up with the Joneses.
Sethi sells a series of online courses on business, careers, money, and productivity.
Can you guess which life force is most prominent?
Indeed. Life force #6.
Here's the headline of his Top Performers Package:
What does it take to launch a business, become an expert, or get promoted? Let me show you the 3 most overlooked skills to crush the competition
There you go … crush the competition. It's not so much about keeping up with the Joneses, more like beating them to get ahead.
The course Success Triggers has a similar appeal:
Master the psychological "Success Triggers" that top performers use to shift their negative thinking into peak performance, natural confidence, and lasting happiness
A variation of life force #6, right? It's less about crushing the competition, and more about becoming part of the circle of elite performers. It's still about winning.
And this is from Sethi's bundle with 50 proven email scripts:
Use my private email techniques and get the actual emails that have built relationships, generated millions of dollars, and saved me thousands of hours. Don't reinvent the wheel. Don't wonder what words to say. Know for sure using tested email scripts for your business and personal life.
Still life force #6, eh?
Perhaps a little more subtle, but it's again about getting ahead and winning, whether that's in terms of relationships, making money, or saving time.
Sethi's copy may not appeal to you. I don't get excited about crushing the competition and getting ahead. I think there's enough place for everyone in this world, and I'm more interested in becoming a better human than trying to beat the competition. But that's just me. I'm sure this copy successfully appeals to a lot of people.
When you consider which life force your copy should appeal to, choose one that makes sense for your offer and for your audience.
What does your audience long for most?
What do you actually deliver?
Help your readers imagine a better life
A key objective of sales copy is to let readers imagine a better life.
In the Enchanting Copywriting course, I call this the sunny destination—a life where your reader feels happier, sexier, or more at peace with themselves.
Try to describe that sunny destination in your audience's words. How do they describe their aims, their dreams, their desires?
Once readers can imagine their sunny destination, you show them how you can guide them to that sunny destination. You explain how you work (or how your product works), you overcome any hesitations to buying, lay out your offer, and nudge readers to make up their mind to buy.
That's how you write persuasive copy.
Do you know what sunny destination your audience are dreaming of?