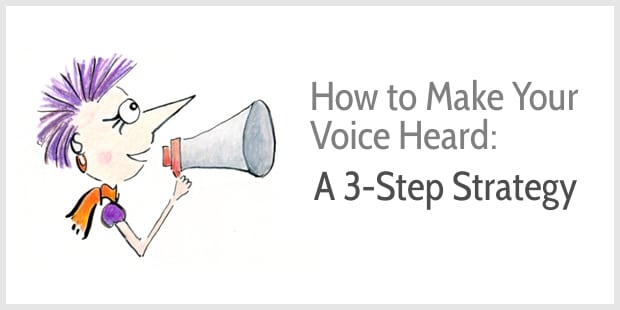 I get it.
Sometimes you want to scream to get people to listen.
HEY YOU.
LISTEN UP.
And, admittedly, sometimes it works.
But if your message doesn't fit in a 280-character tweet, it can be smarter to repackage your message to engage and inspire readers.
But how?
Let me show you the 3-pronged writing strategy of a #1 New York Times bestseller, so you can apply the same strategy to get people to listen to you.
1. Kindle an emotional connection
In his book How to Be an Antiracist, Ibram X. Kendi engages readers with personal stories. This is from his first chapter:
My father, all six foot three and two hundred pounds of him, emerged from my high school gym's entrance. He slowly walked onto the basketball court, flailing his long arms to get my attention—and embarrassing me before what we could call the "White judge." Classic Dad.
Stories pull readers in, and make an emotional connection. Then, the author uses the stories for self-reflection:
I thought I was a subpar student and was bombarded by messages—from Black people, White people, the media—that told me that the reason was rooted in my race … which made me more discouraged and less motivated as a student … which only further reinforced for me the racist idea that Black people just weren't very studious … which made me feel even more despair or indifference … and on it went.
I'm impressed by Kendi's frank self-reflections. Sharing his own lessons makes it easier for me, as reader, to be open-minded and reflect on my own views and behavior, too.
Examining our own racist views is uncomfortable because most of us like to see ourselves as kind, open-minded people who treat everyone equally. By showing his own vulnerability, Kendi reassures us and shows us color-blindness doesn't exist. We can choose to be racist or anti-racist:
(…) the good news is that racist and antiracist are not fixed identities. We can be a racist one minute and an antiracist the next. What we say about race, what we do about race, in each moment, determines what—not who—we are.
2. Connect to the bigger picture
Stories connect us as human beings. They allow us to imagine what's it like to be someone else, to live someone else's life, to experience someone else's struggles. Stories might make us more empathetic.
Sometimes, telling a story is enough to connect with our audience and get our message heard.
But one story, no matter how powerful, is only one story of one person. When we connect that story to the bigger picture—to trends, data, history—our message cuts through with extra power.
Kendi connects his personal story to the bigger picture. For instance:
Racial inequity is when two or more racial groups are not standing on approximately equal footing. Here's an example of racial inequity: 71 percent of White families lived in owner-occupied homes in 2014, compared to 45 percent of Latinx families and 41 percent of Black families.
And:
White lives matter to the tune of 3.5 additional years over Black lives in the United States, which is just the most glaring of a host of health disparities, starting from infancy, where Black infants die at twice the rate of White infants.
Kendi is a professor of history, and in his book, he puts current racist views, behavior, and policies in historical context:
Racist voting policy has evolved from disenfranchising by Jim Crow voting laws to disenfranchising by mass incarceration and voter-ID laws. Sometimes these efforts are so blatant that they are struck down: North Carolina enacted one of these targeted voter-ID laws, but in July 2016 the Court of Appeals for the Fourth Circuit struck it down, ruling that its various provisions "target African Americans with almost surgical precision." But others have remained and been successful. Wisconsin's strict voter-ID law suppressed approximately two hundred thousand votes—again primarily targeting voters of color—in the 2016 election.
Stories help readers connect emotionally, and the historical facts and research data sketch the bigger picture. But there's a third ingredient to make your message heard …
3. Explain clearly
This is Kendi's core message:
What's the problem with being "not racist"? It is a claim that signifies neutrality: "I am not a racist, but neither am I aggressively against racism." But there is no neutrality in the racism struggle. The opposite of "racist" isn't "not racist." It is "anti-racist." What's the difference? One endorses either the idea of a racial hierarchy as a racist, or racial equality as an antiracist. One either believes problems are rooted in groups of people, as a racist, or locates the roots of problems in power and policies, as an anti-racist. One either allows racial inequities to persevere, as a racist, or confronts racial inequities, as an antiracist. There is no in-between safe space of "not racist."
Racism and antiracism are multifaceted concepts, intersecting with issues such as class, sexuality, and power structures. Kendi disentangles the complexity, and explains the various concepts in plain English, chapter by chapter. But his writing never becomes a dry text book because his explanations are clear and his stories engage. Almost all chapters start with and end with stories, making us eager to read on.
Stories help us connect
Stories help us connect as human beings.
We learn what life is like for someone else.
So, let's share and listen to each other's stories.
Because that's the only way to build a more equal society for us all.
Book mentioned in this post:
The link above is an Amazon affiliate link. If possible, please support your local bookstore.