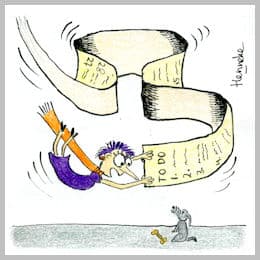 Arrrgh.
At 9pm, you're updating your to-do list. Your last job for the day.
You've ticked off the action points you've completed; and you moved the uncompleted to-do's to tomorrow.
Sigh.
Your list becomes longer and longer. You already know that some to-do's will shift from tomorrow to next week, and then to next month.
Is there a way to stop feeling guilty about the stuff you're not doing? And to quit feeling frustrated about the opportunities you're missing?
I'll get to that in a moment, but let's first tell you a short story …
Once upon a time a young web designer set up his own business
He cold-called local companies. He networked in LinkedIn groups. He asked his university buddies for referrals.
Business was good. He loved it.
But he always felt he wasn't doing enough.
So he started tweeting more regularly. He attended local networking events. And he learned how to manage Google Adwords.
He made enough money to care for his wife and his new-born son. He calculated he could pay off his mortgage in less than 10 years.
Then he heard from a friend how he gained business on YouTube. His neighbor explained how Pinterest had transformed her business. And his marketing coach suggested he should start a SlideShare account.
Sound vaguely familiar?
One of the hardest challenges we face in this overcrowded, hyperactive, and distracted world, is to shake off this feeling we're never doing enough.
Do you wonder which opportunities you're missing, by not having an Instagram account or not being active on Google Plus?
We live in a more society
Do more. Try more. Win more.
We get tempted by new opportunities all the time. Our online success is measured by numbers. Web visitors. Followers. Blog comments. Social media shares.
But instead of wondering what else we should do, shouldn't we consider how we can do less and still meet our goals?
Which marketing activities can we drop? How can we do fewer short-term activities and spend more time generating future business? How can we contract out tasks so we can spend more time doing the work we're good at? How can we find better-paying clients rather than juggle more clients?
In his book 80/20 Sales and Marketing, Perry Marshall explains how 80% of your income comes from 20% of your clients. The 80/20 rule also applies to the price people are prepared to pay:
[If] 10 people will pay $1 for a cup of coffee, two of the 10 will pay $4 for a better cup of coffee. (…) At any given price point, 20 per cent of the people will spend four times the money.
If you're selling an app, how can you offer a premium version for your top customers? If you're selling a service, how can you specialize to create higher-value?
The 80/20 rule also applies to the hours in your day
Marshall suggests you generate 80% of your value in 20% of your time. That's why he advocates outsourcing.
Marshall's approach is pure economics, which shouldn't – in my opinion – be the sole driver of managing a business. Some work can't be outsourced because you can't subcontract out your voice. Talents, passion, interest, and personality all have a role to play.
But it's true that we'll do better when we focus on a small number of activities, and when we achieve excellence in the few things we're already good at.
Rather than build a LinkedIn, SlideShare, Pinterest, Instagram, and Twitter following, why not focus on one social media channel first?
Today I'd like to celebrate the things we're not doing. By choosing a smaller number of tasks and doing them well, we don't neglect opportunities. We maximize our opportunities.
Which activities could you drop? Or stop feeling guilty about?
Here's my list …
I don't have a Facebook profile
I don't do PPC
I've not done any LinkedIn advertising
My website is not optimized for local search
I don't go to local networking events
I don't advertise in the local newspaper
I don't have slick-looking images on my website
I'm not on YouTube, which is the second biggest search engine
I've only uploaded my e-course program to my SlideShare account and nothing else
I'm not on Instagram
I've never made a selfie
I've not made an infographic yet
I've not marketed my books on iBooks
I still don't have a print version of my books
I've not done any webinars
I'm not marketing my e-course through affiliates
I never email people to ask them to promote my blog posts
I never share my own blog posts in LinkedIn groups
I've not published an article on LinkedIn yet
…
I could go on forever, but I don't want to bore you with the full list of 97 don't-do's.
What's on your list?
The simple truth about marketing opportunities
You always miss marketing opportunities. It's a fact.
Stop feeling guilty about the things you're not doing.
Remove a few to-do's from your list. Focus on the stuff that energizes you.
Let's do less. And do it better.