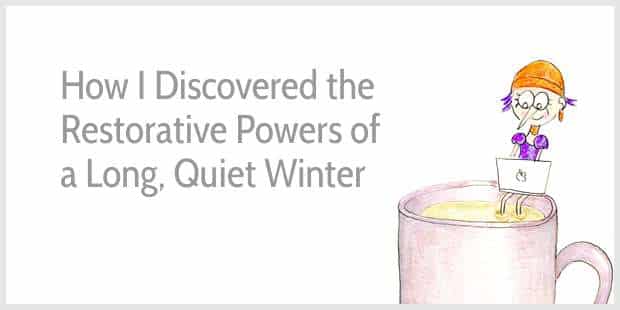 An ordinary Thursday morning, the 1st of December.
It's still dark.
As I wake up, I notice an unusual sense of lightness, as if a burden has lifted.
I'm writing this a few days later, and I'm glad you can't see me.
It's cold, and I'm wearing a dressing gown over my clothes. I briefly interrupt my typing to wrap my fingers around a hot cup of tea.
I'm surprised I'm coping with the cold.
I am not a winter person
Most of summer, I wear a fleece to keep warm. The northwest of England doesn't get much sunshine, and on a dreary day in June or July, I sometimes switch on the heating.
But this year, I've surprised myself.
I resist switching on the heating. We're saving energy.
Living with chronic pain has taught me how to be comfortable with discomfort.
I've learned to be curious about the pain in my body, and I can apply that same curiosity to the cold, too. The cold creeps up from my feet to my knees. My fingers feel stiff but I can still type.
Pain used to trigger many emotions. Frustration. Fear. Worry. Stress. Panic.
What if this pain indicates another setback? What if the pain gets too much? What if just thinking about the pain makes it worse?
I learned to observe my emotions and then let them drift away. Without emotions, pain becomes just pain. No suffering.
I keep practicing, and every year, the emotions triggered by pain lessen. I carry my pain more lightly.
Being cold is not much different. I don't need to fight the cold. I can welcome the cold, lean into it, and live with it.
But tiredness seems different …
In March 2021, in a Skype call, I discuss healing from trauma with C., a psychotherapist.
What do you find most difficult?, she asks me.
I remember it well. I didn't hesitate to answer: Being exhausted. I am always exhausted.
I was surprised to hear the frustration in my voice. Hadn't I learned to enjoy a slower pace of life? Wasn't I doing quite well? Why was being tired so hard for me?
Our society celebrates busyness. We have to do more, work more, party more, hustle more. If you're not busy, there's something wrong with you, right?
I came to realize that I can accept pain but not tiredness.
A fallow period
In her book Wintering, Katherine May writes about the fallow periods in our lives.
I know the concept of fallow land when farmland is left idle for one growing season so it can restore its fertility for the next season.
Similarly, a fallow period is a quiet time. Maybe a time where we're grieving or depressed or ill. Maybe we feel blocked or sidelined or rejected. May invites us to reframe such a period. No matter what season of the year it is, we're wintering:
Plants and animals don't fight the winter; they don't pretend it's not happening and attempt to carry on living the same lives that they lived in the summer. They prepare. They adapt. They perform extraordinary acts of metamorphosis to get them through. Winter is a time of withdrawing from the world, maximising scant resources, carrying out acts of brutal efficiency and vanishing from sight; but that's where the transformation occurs. Winter is not the death of the life cycle, but its crucible.
A crucible is a trial that creates something new. Wintering is such a trial—a period when we reflect and reinvent ourselves.
I'd like to tell you that I was a good student, that I embraced May's words of wisdom, that I quickly learned how to welcome my winter and give myself time to recuperate.
But it took me nearly two years …
I have many negative associations with tiredness.
Tiredness is for the sick and elderly. Not for me. Tiredness is about being weak and unproductive. Tiredness is nothing if you just push through.
Buried deep inside me, I find a deep shame about being tired, about not keeping up. Tiredness makes me feel less worthy.
I have to face my shame before I can accept May's wisdom, before I can learn to hibernate, before I can invite this winter in.
But I am learning. Just like I can sit with pain or coldness, I can sit with my tiredness, too. Just like I can let go of my fear of pain, I can let go of my shame, too.
I can listen to my body. I can lean into my tiredness. I can even learn to be grateful for this period of reflection and the wisdom it might bring. As May writes:
Wintering brings about some of the most profound and insightful moments of our human experience, and wisdom resides in those who have wintered.
Winter wisdom
On that chilly, dark morning, the 1st of December, I finally feel it in my bones: I am enough. I don't need to try harder. I am loved just like I am.
The burden of "should do more" has lifted. I feel lighter. I feel joy.
In the darkness, I squeeze my husband's hand. I enjoy the warmth of the duvet a bit longer.
I know, no matter what, things will be okay.
Maybe spring will arrive soon.
And if spring doesn't arrive, I know how to enjoy the quietness of winter.

Thank you for reading.
This is my last blog post for 2022, and I'd like to wish you a joyful Christmas and a happy, healthy, and creative new year. Take good care of yourself.
See you in 2023?
Book mentioned in this post:
The link below is an Amazon affiliate link. If possible, please support your local bookstore.