Looking to hire a copywriter?
Or want to improve your own writing skills so you can win more clients?
I can help.
Learn how to write persuasive content
Enchanting Marketing features free resources to improve your writing, so you can win more clients:
…the more I see of Henneke's work the more impressed I am with her. Her energy and even her irreverence is what more business writers need.

~ Cheryl Conner, Founder of Snapp Conner PR, Forbes Contributor, and WSJ Guest Contributor
Hire me as a copywriter
I occasionally take on freelance copywriting projects.
Projects start at US$1,500 (or £1,000).
Please beware:
I ask a lot of questions so I can enchant your ideal customers and help you grow your business.
I don't like to do as I'm told–expect honest feedback to your suggestions.
I don't polish existing text–you get most out of working with me when you involve me from the start of your project.
I hate gobbledygook, and refuse to write phrases like market-leading, best-in-class, and state-of-the-art–hire me to write simple content that converts.
I don't offer quick solutions–expect to wait 4 to 12 weeks before I can take on your project.My schedule is currently jam-packed, and I'm unable to squeeze in any new projects.
Happy to work with an irreverent copywriter?
Email me: Henneke [at] EnchantingMarketing.com or complete the form below.
I usually reply within 48 hours–often much faster.
I look forward to hearing from you!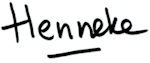 PS Don't forget to join my snackable writing course (it's free!).