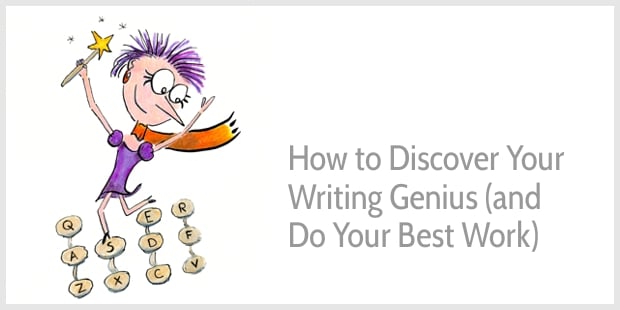 How can you do your best writing?
It's a big question, and my answer might surprise you.
Because it's not just about improving your writing skills.
Some other things matter more.
Shall I explain?
Recently, my muse disappeared
My writing felt labored.
I felt disconnected and demotivated. I was down. Everything felt like too much work.
Some might say I should just wait patiently for my muse to return.
But I wanted to feel better.
I wanted to get back to writing. I didn't want to be patient …
Could I invite my muse back?
Early in my writing career, negative thoughts often prevented me from doing my best work.
My inner critic would whisper in my ear that my writing wasn't good enough, that I wasn't creative enough, that the blog post I was working on would flop.
I used to get angry with my inner critic and frustrated with myself. It took ages to get my thoughts down on paper, and I never felt it was good enough.
But over the years, I've learned to be friends with my inner critic. I know she's only trying to help me avoid disappointment and failure. So, I take care of her and reassure her, and she lets me do my work.
So, if my inner critic hadn't chased my muse away this time, what had happened?
For over a year, I had been working on the Enchanting Copywriting course.
I had not made time to play
I wasn't trying out new ideas. I wasn't drawing. I paid little attention to my creative input.
By focusing almost solely on producing my course, I had depleted my creative energy. I started to struggle to concentrate on reading a good book. Instead, I was doomscrolling.
So, in recent weeks, I took a step back.
I challenged myself to walk more to blow the cobwebs away, and I started a fun drawing project to reconnect with my muse.
This post is the result of that fun challenge to create something different.
How to (re)discover your writing genius
Remember, even when you feel empty, you still have ideas, experiences, and stories to share.
Your voice deserves to be heard.
When you feel lost or struggle to write, answer the 8 questions below to invite your muse back and do your best work …
Grab the embed code below to display the image on your website:
How to Discover Your Writing Genius and Do Your Best Work, courtesy of Henneke at Enchanting Marketing
The following heroes inspired this post