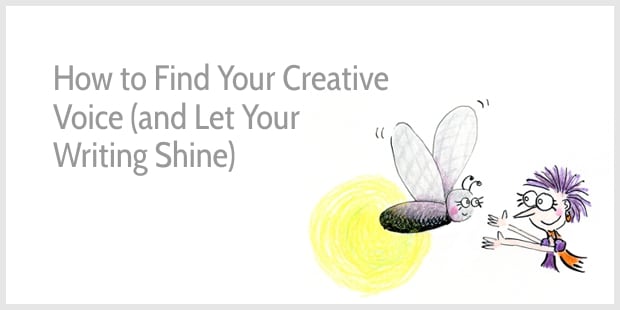 May I tell you?
It upsets me a little.
When people talk about creative writing, they often refer to writing fiction, poetry, or memoirs. Somehow, writing for your business isn't seen as creative.
Why? Oh why?
Sure, some people blog as if they're robots. They compose boring blog posts without a hint of personality.
But to truly connect with your readers, you can't just simply share your tips. If you want to make an impact, if you want to get comments, if you want people to come back for more, then you need to make your writing human.
And that requires creativity and finding your unique voice.
But how?
A dream about fireflies
Songwriter and musician Ben Folds starts his memoir by sharing a childhood dream. In his dream he sees lightning bugs but no one else can see them. So, he picks up the bugs, puts them in jar, and shows them around so others can admire the glow, too.
As Folds writes:
(…) the dream reflects the way I see artistry and the role of an artist. At its most basic, making art is about following what's luminous to you and putting it in a jar, to share with others.
I like this story so much because we often think of creativity as something inside us, something we need to find and allow to escape.
But soul-searching alone won't help us be creative. As Austin Kleon has pointed out in his book All Artists Steal:
All creative work builds on what came before.
We learn by imitating our heroes. By mixing styles from different heroes and by imitating badly, we find our own unique voices.
When I started blogging, I was nervous about my lack of writing skills. So, I studied other bloggers to see what I could learn from them. How do they structure a blog post? How do they write an opening? What clincher sentences do they write? How do they weave stories into their writing?
I didn't even worry about finding a voice. I simply wanted to write better.
To find your voice, think about this:
Who are your heroes?
And what can you learn from them?
Creative output requires creative input
A voice is about style but also about ideas. It's about what you write and how you write it, about the recurring themes in your work.
Initially, I found my blogging input from conversations with clients, questions in your inbox, blog comments or forum discussions. But over time, I found more inspiration in non-fiction books at the edge of my topic, such as books about creativity, empathy, courage, and habits. More recently, I'm mostly inspired by fiction and memoirs.
I'm not suggesting this as a blueprint for you to follow. See it instead as an encouragement to look outside your niche and to see where your curiosity leads you to. You can find your inspiration everywhere.
And a unique mix of inspirational sources will help you develop your voice. Maybe you're more inspired by song texts, poetry, speeches, movies, heroic sports stories, overheard conversations in the train or supermarket, or even marketing material.
To find your creative voice, think about this:
Which ideas seem most luminous to you?
Which questions would you love to answer?
What does your heart tell you to write?
Use your voice
Of course, we can't just find our voice by reading and listening.
We also have to use our voice.
When I started writing, I didn't think I had a story to tell, and I was afraid I didn't have enough ideas.
But writing taught me I was wrong.
By writing regularly, I learned what matters to me. I started to weave more personal stories into my writing, and I allowed myself, occasionally, to be vulnerable in my writing—to share my doubts and my mistakes.
Over time, I learned to write from the heart, and that's when I found a more authentic voice.
You won't find your voice by searching for it.
You'll find your voice by using it.
So, get to work. We all have ideas, stories, and experiences to share. We just have to pick up the courage to start writing and to keep writing.
Everyone's voice matters.
What's stopping you?
What's stopping you from writing more?
What's stopping you from writing from your heart?
Creative work can feel scary, and sharing our work can be petrifying.
Most of us have felt belittled as a child because something we had created wasn't appreciated by our parents or teachers.
When we start to create something new, we're reminded of that time we felt ashamed because we had created something unworthy. What if we're just not good enough? What if we're too ordinary? What if we're too boring?
To create something new requires us to sit with our doubts. We have to remind ourselves our self-worth isn't tied to how this piece of writing will turn out—whether it's a success or a failure or something in between. Each piece of writing is part of our journey to find our voice and to write better.
We can't find our voice by sticking to the known paths. We have to find the courage to embrace uncertainty and be vulnerable. As Brené Brown suggests in her book Daring Greatly:
Vulnerability is the birthplace of love, belonging, joy, courage, empathy, and creativity. It is the source of hope, empathy, accountability, and authenticity. If we want greater clarity in our purpose or deeper and more meaningful spiritual lives, vulnerability is the path.
The more I write, the more I realize that the doubts never disappear. The vulnerability is always there. I've simply learned to accept my vulnerability as part of the writing process and to keep writing.
Let your voice shine
As I was writing this blog post, I wondered why and how fireflies glow.
On the National Geographic site, I found this explanation:
Fireflies have dedicated light organs that are located under their abdomens. The insects take in oxygen and, inside special cells, combine it with a substance called luciferin to produce light with almost no heat.
Isn't that amazing? Isn't that exactly what creativity is about? Find your input and mix it with something you know already.
And just like creativity, we don't quite know how fireflies glow:
Firefly light is usually intermittent, and flashes in patterns that are unique to each species. Each blinking pattern is an optical signal that helps fireflies find potential mates. Scientists are not sure how the insects regulate this process to turn their lights on and off.
So, my friend, don't worry if you're not sure where you're going with your writing.
Keep studying your heroes. Keep looking for inspiration. Keep doing the work.
And your voice will glow, glimmer, and shine.