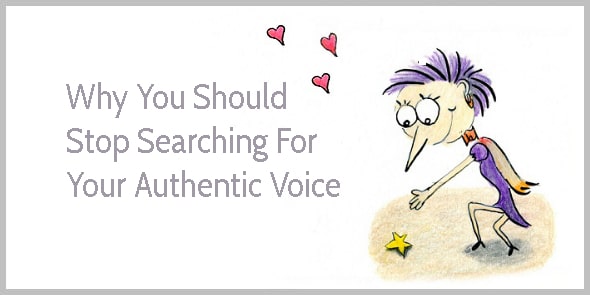 Have you ever wondered what it means to be your authentic self?
What is authenticity?
When we talk about authentic Chinese cuisine, it's quite clear what we mean. We refer to real Chinese food you can eat in China. It's genuinely Chinese, not a mishmash of food adapted to Western taste buds.
Similarly, authentic antique is genuine, not fake.
But what does it mean to write in an authentic, genuine voice, true to yourself?
Is it a trick question?
What if you liberate yourself from your search for authenticity?
Could you find a voice resonating strongly with your audience because you focus on your readers instead of yourself?
Let's explore …
The myth of your authentic voice
Imagine meeting the Queen on her 90th birthday.
What would you say? What would your voice be like?
Now, imagine phoning your 18-year old nephew. He has obtained his driving license and his mother has promised to buy him a car. What would you say? What would your voice be like?
Depending on our audience and the situation, we choose to perform different roles.
Each of us has myriad roles that often conflict, and there is no norm that can tell us how to navigate them.
~ Michael Puett
For instance, when I was a manager, I could be a compassionate boss empathizing with an employee's challenges and helping him perform better. But I also learned to dial up a colder, more analytical side—to think from the company's perspective rather than step into the employee's shoes.
When firing people, I had to take on a different role than in a team meeting.
We often think of our writing voice as innate, as fixed, as something that will reveal itself to us when we dig deep enough, when we look inside ourselves.
But what if we thought of our voice as more fluid? What if we had different voices that we could try out?
Think about it like this:
The most influential voice is the voice resonating with its audience.
Instead of a self-centered search for your innate voice, you can turn to your audience, start conversations, and develop your writing voice in interaction, over time.
Our voice isn't given
I used to think I was a workaholic.
That's what I'd been all my working life.
But workaholism and perfectionism were patterns I had fallen into. They were choices I made. Perhaps not consciously, but still … I could have made a different choice.
When I found myself struggling to recover from an injury from a car crash, I had to change my workaholic self because I couldn't cope with stress. I changed how I work, and how I react to people. I mellowed and relaxed. I turned from a Pyrenees-conquering cyclist into a meditating, yoga-practicing wimp (as the old Henneke would say).
And you might think these are different actions or behaviors, but they change how I am, how I listen, how I talk, and how I write, too. I've become less judgemental and kinder—to others and to myself. Rather than chasing success and money, I've learned to appreciate the small moments in life.
When we define our voice as a fixed asset, then we limit our opportunity to explore, to grow, to experiment.
The book The Path: A New Way to Think About Everything by Michael Puett inspired this blog post. It's a refreshing antidote to our quest for authenticity and the me-me-me social media culture:
[We] have to let go of the mentality of the "true self." Be sincere. Be authentic. Be true to who you are. These slogans of the modern age encourage us to look within. (…) The danger is that what we discover is only a snapshot of who we are at a particular time and place. We read self-help books, meditate, write in our journals, and then diagnose and label ourselves: I'm a free spirit. I'm a hothead. I'm a dreamer. I fear intimacy. I moved around too much as a child, and now I'm skittish when meeting new people. (…) By embracing these patterns, we allow them to harden.
Puett notes that a Confucian approach to changing ourselves is to note our patterns in interactions and then work to shift them. Change starts in small ways. In everyday life.
Your writing voice can change, too. You can play and experiment.
Want to find a voice that resonates with your audience?
When you stop searching for your innate voice, then you can focus on your audience instead:
1. Practice empathy
When we practice empathy and connect with our audience, our voice becomes stronger because we discover what resonates and what doesn't.
2. Allow ideas to germinate
You can have a detailed editorial calendar and plan how you'll monetize your blog before you start. It's a common and valid strategy.
But you can also start a journey. Connect with your audience and discover where it leads to. Over time, your ideas and your voice become stronger.
3. Improve your communication skills
When I started my blog, I didn't see myself as a creative writer.
Instead of searching for my voice, I tried to learn what good writing was, and that's how I found a voice. The basic requirements of good writing are:
Once you've covered the basics, you're ready to start experimenting. Learn how word choice, rhythm and punctuation define your voice. Start telling stories and use metaphors to make your writing more personal.
The best way to find your voice is to write more
Writing brings clarity, deepens our understanding, strengthens our ideas.
When we follow our curiosity and write from the heart, we discover our passions, the ideas we care about. These ideas aren't waiting for us inside us. We find them while writing, experimenting, and interacting.
So, focus on writing well first.
Then play with your words.