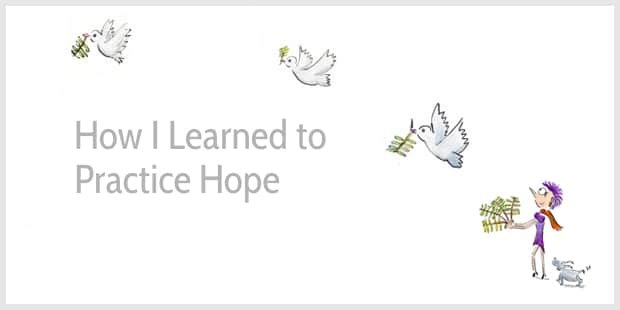 What is hope, really?
A few years ago, I read that hope stands in our way to live our life fully.
At first, it seemed a strange idea.
Doesn't hope help us look forward to the future?
Doesn't hope make us feel alive?
When I first came across the idea that hope can stop us from savoring life, I was struggling with low energy and chronic pain. I felt disappointed with my body.
I sometimes got angry I wasn't able to do things I was used to, such as working long hours, swimming, and going on long bike rides.
Why couldn't my body just heal?
I kept longing for a life that I considered normal—thriving on adrenaline, being busy, feeling the joyful exhaustion that comes after physical exercise.
The buddhist teacher Pema Chödrön tells us we're addicted to hope. We hope a babysitter will solve all our problems. Don't we all, at some stage of our lives, deserve a blissful time without problems and without pain?
This type of hope behaves a bit like anxiety.
Both anxiety and hope take us away from the present and make us live in the future—either a scary or a rose-tinted future.
But why would we let go of hope?
Hopelessness is the place to start …
In her book When Things Fall Apart, Pema Chödrön suggests that hopelessness is the beginning:
In Tibetan there's an interesting word: ye tang che. The ye part means "totally, completely," and the rest of it means "exhausted." Altogether, ye tang che means totally tired out. We might say "totally fed up." It describes an experience of complete hopelessness, of completely giving up hope. This is an important point. This is the beginning of the beginning. Without giving up hope—that there's somewhere better to be, that there's someone better to be—we will never relax with where we are or who we are.
I've been thinking about that for a long time.
Hopelessness means to let go of wishful thinking, to stop fantasizing about a blissful future, and to accept that no babysitter exists—we might never find that pot of gold at the end of the rainbow.
Hopelessness may seem bleak but it offers the possibility of nurturing a more muscular hope. A hope grounded in reality.
A practice of gratitude
A few years ago, I tried practicing gratitude.
I told myself I should be more grateful. Weren't there enough things in my life to be grateful for? I'm quite privileged. I have a loving husband. We have a small but lovely home. I love my work. I can manage my own time. There are so many things to be grateful for.
But the harder I tried to be grateful, the less grateful I felt. I couldn't feel gratitude in my bones, and I wondered what was wrong with me.
I quit my gratitude practice but I continued practicing mindfulness, and over time, I started to recognize small moments of gratefulness. The sun warming my face on an early Spring day. Waking up in a warm bed, the reassuring sound of soft snoring beside me. A phone call to catch up with a good friend, a meeting of kindred spirits.
This year, I even learned to feel grateful for my weary body. I started with practicing gratitude for my feet as they keep me grounded. Slowly, my gratitude expanded to my whole body, even my injured muscles. I'm still breathing. I'm still moving. I'm still writing.
I learned to appreciate how hard my body was working to heal. My body is only telling me when to slow down and rest. I made peace with doing less.
And then there was hope …
Practicing hope works the same way for me as practicing gratitude.
It's an embodied practice. I can't tell myself to be hopeful. I have to feel the hope in my body.
To practice hope, I learned to open my mind and to notice what gives me hope.
The flowers that bloom after a dark winter. The old couple doing crosswords on a park bench. The car driver who stops to let the ducks cross the road. The colorful drawing from a neighborhood kid.
The young people demanding climate action. The smart scientists developing vaccines. The community leaders. The helpers. The kind strangers.
Real hope is not toxic positivity
Toxic positivity is pretending all is fine when it clearly is not.
It's telling ourselves to cheer up and ignore negative feelings. It's plowing on when we need rest.
In contrast, practicing real hope is acknowledging pain and suffering, and still seeing signs of hope and taking action towards a better world.
Practicing hope is keeping the pilot light. It's taking care of ourselves so we can become our best selves. It's being compassionate with ourselves and others.
An overly optimistic hope is clinging to a rose-tinted future.
Real hope is held more lightly.
It's finding the courage to believe and take action to create a better future for all of us.
How to be hopeful
Pain and anxiety used to make my world shrink. It still happens sometimes. Boundaries contract and edges feels sharper.
To stay connected and open-minded, I practice curiosity, kindness, gratitude, and hope.
Curiosity helps open my mind and expand my world. Kindness helps connect with myself and my inner child, so I can build more meaningful relationships with others, too.
Gratitude brings calmness in my life—an appreciation for what's right here in front of me and an acknowledgement of the forces that brought me this far.
And hope is a deep-felt belief in the goodness of humans. Hope helps find the courage to move forward and take action—no matter how small—so that together we can make the world a better place.
Curiosity, kindness, gratitude and hope—they reinforce and strengthen each other. A force for good, for becoming a better human being.
I'll keep practicing.
And you?
This is my last post of 2021. Thank you for reading and keeping me company all year. I'm sending you my best wishes for a joyful and creative 2022. See you in the new year.