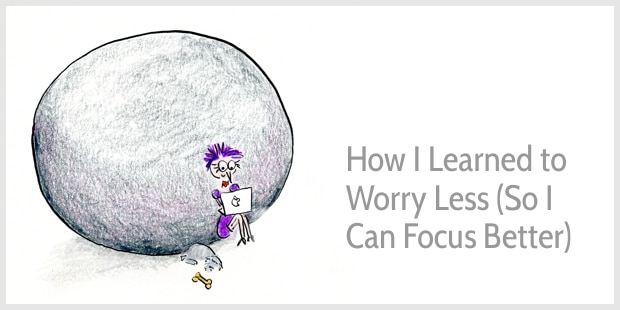 How are you coping, my friend?
We're living in strange times where most of us have seen our world turned upside down and routines disrupted.
Collectively, we're probably more worried and anxious than ever before.
We don't know how long this is going to take, and whether life will ever feel normal again. We're worried about our health, our loved ones, our finances, the future.
How do you cope with your worries?
I've always been a worrier
I used to ignore my worries as much as possible. My mantra was to keep my chin up and battle on.
But when I got injured in a car accident and when I had to deal with chronic pain and fatigue, my worries seemed to grow too big. I felt overwhelmed by trying to care for my injured body, and I didn't know how to cope, mentally and physically.
I'd like to share how I learned to let my worries go so I could find the mental space to write and still feel productive.
But this is not a post about productivity.
Because this is not a time for optimizing productivity. This is a time to be gentle with yourself.
A story about boulders
I was recently reminded of a classic Buddhist parable by the Burrito Bowl Diaries:
Three monks are out for a walk—one wise, old monk and two of his younger disciples. The older monk points at a large boulder and asks his disciples, "Is that boulder heavy?" The younger monks find it an unusual question. "Of course, that boulder is heavy!"
"But," says the old monk, "it's only heavy if you pick it up."
Think of that boulder as representing your worries. Worries feel heavy when we pick them up and carry them on our shoulders and in our souls.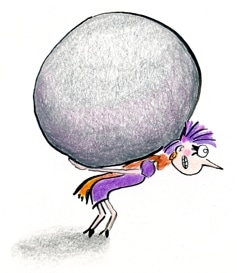 When I got ill, I lost my sense of normalcy. I was tired all the time. I was confused about my self-identity. Who was I when I could hardly work anymore?
To me, it's was not a matter of letting boulders lie. I was carrying those boulders already. They were crushing me. How could I put them down?
Boulders grow in uncertain times
We're living in a confusing time.
Fear, anger, worry, exhaustion, overwhelm, grief, and stress are wearing us down, and 24-hr news and social media make it even harder to concentrate, reminding us of our boulders all the time.
There's currently a lot we can't control …
Where the virus is already
How others are behaving
How long this will go on for
How on edge everyone is
What decisions our governments are taking
The conspiracy theories swirling around
But there are things I can control …
I can wash my hands
I can ration my social media usage
I can be kind to others and to myself
I can get back in touch with old friends
I can carve out space to do things that nurture my soul—like writing or drawing
What would be on your list of Can vs. Can't control?
Trying to keep what we can't control in check is a perfect recipe for heavy boulders, exhausted bodies, and bruised souls.
When we focus instead on the small things we can control, it becomes easier to put boulders down and concentrate on what we want to do.
Putting our boulders down doesn't mean we're ignoring or denying our feelings. The opposite is true. We acknowledge our feelings. We feel our feelings. We let them be, and then let go.
How to put your boulders down
When I feel too overwhelmed and distracted to write, I first brew a cup of tea.
I sit down and briefly focus on the soothing smell of my decaf green tea. Next, I take a moment to notice how restless my mind is. What thoughts are swirling around? I feel the anxiety and tension in my body. Then I let the feelings and thoughts be, and I set a timer to start writing.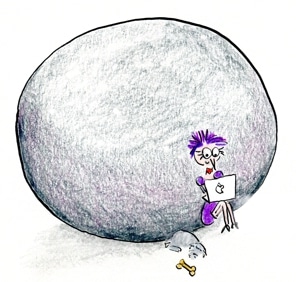 The productivity gurus tell us we must write for 25 minutes straight before we're allowed a 5-minute break. It's great if that works for you. I need to consider how tired, overwhelmed, or anxious I am, and I adapt my writing target based on that. Sometimes, I write for 10 minutes before taking a long break. Difficult times require us to adjust our targets.
But you know what?
I've learned I can be happy with writing for 10 minutes.
Boulders are heavy, and carrying them is exhausting
But putting them down—no matter how briefly—frees up energy to focus on something else—like writing, drawing, studying, helping your kids, or listening better to a friend.
And when you create the mental space to focus on activities that nurture your soul and make you feel alive, it becomes easier to put your worries in perspective.
Boulders are big and scary up close
When worries grow big and overwhelming, all you can see is the grey of the boulders. Everything feels heavy and worrisome.
However, when you practice putting boulders down, you learn to take a step back. You may notice that the boulder is smaller than you thought. You see that flower peeking around the boulder, and hear a bird singing.
When I look up, I see the clouds, and I know that this too shall pass.
Stay safe, my friend.