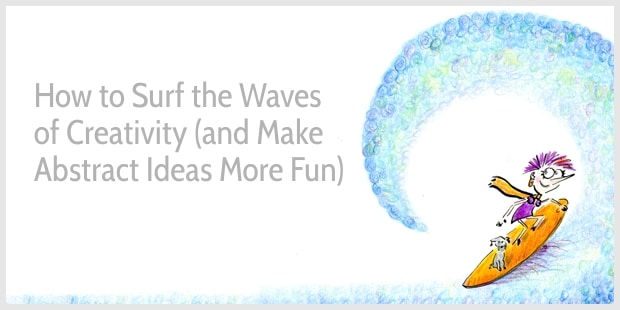 Do you ever try to explain abstract ideas?
Can be tricky, right?
Abstract concepts are difficult to grasp because we can't visualize or touch abstract ideas.
So, what to do?
In this blog post, I'll show you how to use metaphors to explain abstract ideas. Metaphors are the spices that add taste, color, and fragrance to your writing.
Metaphors:
Make abstract ideas concrete so they're easier to understand
Add fun and personality so your writing stands out
Evoke an emotion so your ideas become more memorable
Here's how …
Metaphor 1: How to surf time
I recently read Paul Loomans' excellent book Time Surfing.
Loomans proposes a Zen-inspired method of time management, and he calls this method time surfing.
Time surfing is a metaphor because we don't literally jump on a surfing board to navigate the waves of time. And just like a surfer can't control the waves of the ocean, we can't control time. Time passes by whether we like it or not.
The idea of time surfing appeals to me because it creates a sense of movement, fluidity, and freedom.
It makes me think of Easkey Britton's memoir on big wave surfing. Could Looman's method of time management make me as intuitive, focused, and calm as a her?
Metaphor 2: To do's as a string of beads
To consider a day's activities, Loomans suggests imagining a string of beads.
Some beads may be shiny, colorful, and appealing; other beads may be dull and rather ugly. Some beads are big; some are tiny.
When I look at my string of beads for today, I see a curry-colored, shiny, mid-sized bead that looks appealing to me: I'm cooking my favorite noodles tonight. Yum. I also see a grey and ugly bead: Bookkeeping. Ugh.
Loomans advises:
Choose one bead at a time, and trust your intuition to pick up the right bead at the right time.
Create space between the beads to give yourself a breather—an opportunity to reflect on a task you've just finished and to consider what task you'll choose next.
By choosing one bead at a time and by respecting the space between the beads, we can approach time more calmly. Instead of switching between tasks frantically, we can be more focused and effective.
Even though I mostly work like this already, thinking about the beads reinforces my approach of focusing on a single task at a time. It also helps me move further away from SHOULDs and lean more into my intuition to get work done.
Metaphor 3: The gnawing rats in our lives
We all have tasks that we resist, like filling in our tax returns, clearing the shed, or cleaning the bathroom.
Loomans calls such tasks gnawing rats, and he tells us a story about Mia, the pet rat of his daughter. Mia roams the house at daytime and steals cat food:
Although we can't see her, we can certainly hear her chewing. Once she's stashed away enough of the cat food in her secret spots around the house, she'll come over and climb onto your foot and up the leg of your trousers. The journey ends on your shoulder. At night, Mia has to go back in her cage, otherwise we wake up in the middle of the night to the sounds of crunching and gnawing under our bed as Mia works on her hidden cat food.
The idea of the gnawing rats is clear, eh? They're noisy; and their noise interrupts your sleep.
Tasks you're putting off can also keep you awake at night. They "eat away at you under the surface, demanding attention but not receiving it."
To deal with our gnawing rats, Loomans suggests:
Have an actual look at it if you can, or if not, then visualize it. Tell yourself you don't have to do the task right away. You're only going to get acquainted with it. You can then identify the reasons for your strained relationship with this task.
Identifying the problem with our gnawing rats is the first step in befriending them, so we can turn them into white sheep that follow us meekly without interrupting our sleep.
Sound good?
How metaphors explain abstract concepts
To use metaphors, compare like for like:
Managing time and surfing are both activities. So, you can surf the waves of the sea or the waves of time.
A list of to-do's and a string of beads are both series. So, you can string a series of activities together just like you can string beads together in an order of your choosing.
Gnawing rats and difficult tasks can keep you awake. So, you need to find a way to silence them.
Next, make sure the metaphor creates the right emotion or feeling:
Surfing time gives a sense of motion, fluidity, and freedom. It feels positive, inviting you to try it out.
The beads on the string create a mix of feelings, some are big and ugly, others are colorful, shiny, and smaller. Some tasks also invite resistance while others put a smile on our face.
Gnawing rats do not sound pleasant. Just typing the phrase makes me cringe. In contrast, white sheep are cuddly, making me instantly relax. So, the idea of turning gnawing rats into white sheep appeals to me.
Metaphors not only help explain abstract ideas—like time management—more clearly, they're also more vivid: They add emotion, color, and personality. They help shape your voice.
The persuasiveness of metaphors
As I learned about Time Surfing, I realized I am already an amateur time-surfer.
I already know how to befriend my gnawing rats. I already treat my to-do list as a checklist rather than a list of SHOULDs. The SHOULDs have mostly stopped bullying me.
I tend to focus on one task at a time but don't always follow my intuition when choosing.
Loomans' vivid metaphors invite me to surf a little more.
That's the power of good metaphors.