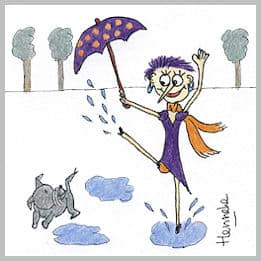 What phrases linger in your mind for days?
Which lines can you remember after months or even years?
Most people can quote a few nursery rhymes, one or two poems, some advertising slogans, and quite a few song lines.
Do you know what these texts have in common?
They use poetic techniques like rhyme, rhythm, and repetition. And they communicate the essence of an idea.
In modern lingo such phrases and sentences are soundbites. Like proverbs and sayings they communicate a nugget of wisdom with power and flair.
Soundbites stick in people's minds
Soundbites convey a profound message in smooth language.
Soundbites often start with an idea – perhaps you want to bust a well-established view point; or you may want to provide a new perspective on an old truth.
A soundbite communicates the core of your idea.
You weed out irrelevant details and exceptions. You strip out cumbersome trains of thought. You force yourself to prioritize and find just the one sentence that's the essence of your blog post. If your readers would remember one thing, then this would be it.
The core of your idea has to be simple. You have to be able to write it down in one or two sentences. If you need more sentences to explain your idea, then you've not stripped it down to its essence yet.
Once you know the core idea you'd like to communicate you can use poetic techniques to make your soundbite smooth and easy to remember. Soundbites often use poetic techniques like contrast, rhyme, repetition, rhythm or metaphors to make them easier to remember. Often they surprise readers to attract attention.
Let's look at an example. The following are the last sentences of a Copyblogger guest post I wrote last year:
Write less. Read more.

Talk less. Listen more.
These short sentences use several poetic techniques to attract attention:
Repetition and contrast both attract attention to certain words. In this case the words less and more conThe Gigantic Power of a Tiny Word Trick: How to Use Contrast in Business Writingtrast with each other; and both are repeated, too.
When you write long sentence after long sentence, you slowly lull your readers to sleep. A few ultra-short sentences interrupt flow and rhythm. They wake your reader up to pay attention.
Most advice for writers says that you have to write more, but I recommended the opposite: Write less. When you make an unexpected statement, you jolt your reader into paying attention. Be careful with this approach — if you bust common advice, you need to justify it in your post.
You don't always have to create your own soundbites.
Let's be honest … sometimes others have written the perfect soundbite.
When someone has written a soundbite so powerful and memorable, you can't improve it, simply include it as a quote with a credit to the author.
How to use soundbites in your blog posts
Don't bury your soundbites in the middle of a paragraph.
Use them as a killer last sentence or make them stand out as one-sentence paragraphs. You can highlight your soundbites by adding a border or background color; and add a tweet this link to increase tweets:
Soundbites are the desserts of writing. Their taste lingers in your reader's mind. (
tweet this
)
Click to tweet is a free service that allows you to create tweet this links – it's easy.
How to master the art of soundbites
You could read advertising slogans. Or you could listen to politicians sharing their soundbites during interviews and debates.
But you might enjoy picking up a book with sayings and proverbs more. Read the phrases aloud and pay attention to word choice, metaphors, contrast, rhyme, rhythm, and repetition.
Don't put yourself under too much pressure. You don't have to become the next Shakespeare or Emily Dickinson to inspire your audience with your advice, your tips, your writing.
Just keep writing. And have fun.