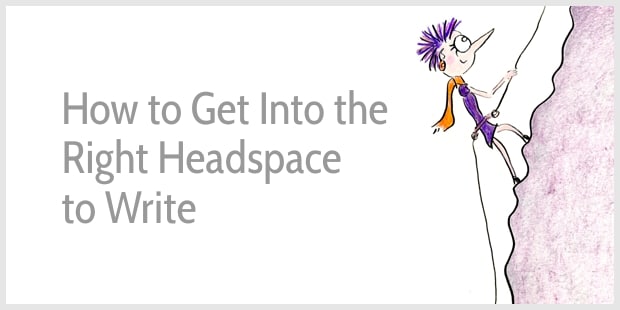 Writing can be tough, right?
I've been there, too.
I used to think of writing as a struggle.
I'd wrestle to get my thoughts on paper. I'd fight with my inner critic. I'd beat myself up.
Come on! Get that first draft done! Don't be a sissy!!!
But that has changed.
Shall I explain?
How to get in the right headspace
I realized how much my approach to writing has changed when I read Anna Fleming's book Time on Rock.
Yes, that's a book about rock climbing. But I found some of the similarities between rock climbing and writing uncanny.
Fleming describes how doubts and ambition fight for her attention:
The ego wanted me to perform well; it also wanted me to stay safe. Climbs could be torturous. An internal chatter of self-doubt might set in (Should I do this move? Can I do this climb? What if I can't?) Reaching a hard move, I became embroiled in a battle between performance and self-preservation. In these circumstances I backed off many climbs, self-esteem in tatters.
I've rarely abandoned a piece of writing.
But in the past, first drafts, second drafts, and even third drafts often felt so bad that I didn't think I could turn them into decent writing.
It took a lot of energy to push aside those doubts so I could edit my work.
Sound familiar?
A more Zen approach
Fleming used to think she'd had to beat fear and doubt into submission.
But she learned a more Zen approach:
We conceptualised this Zen state by contrasting two famous climbers: Adam Ondra and Chris Sharma. Ondra is an expressive climber who screams, grunts and shouts under pressure. Sharma is the archetypal stoner dude who describes climbs in gentle mellifluent tones. Ondra became our battle-cry mindset; Sharma was our Zen master. At Luke's prompting, I tried to be Sharma: cool, collected and at one with the rock. 'Love the rock, don't smash the rock,' became our mantra, playfully voiced in American stoner drawl.
With practice, she finds a way to be calmer and more meditative on the rock:
When the rock ceased to be a dangerous antagonist, climbing was no longer a battle; it was an encounter.
When I started writing, my ego felt quite precious, too. Was my writing good enough? How did I compare to others? How many comments would I get? Would my guest posts end up in annual overviews?
Over time, my ego softened. Writing has become about turning up and being here in conversation with you. It's also a conversation with myself, figuring out what matters to me, what I'm thinking.
Writing has become more playful, more joyful. The difficulties of writing are still there, but that's okay. I trust my process, and the challenges don't frustrate me anymore.
Writing is what it is. Sometimes hard, mostly joyful. The words will come when they come—as long as I'm attentive and patient.
How confidence grows
After a relationship break-up, Fleming finds herself grieving. It brings her a new openness and a greater focus on climbing:
My motivation was stripped back. I did not expect to enjoy myself. I was not there to prove anything. That summer, I sought total immersion. In the vertical space between the ground and the top of the route, everything else fell away. I sank into the rock. Through this changed approach, something crystallised. I began to lead-climb with greater confidence.
When the ego softens, confidence grows. I've noticed that, too.
Confidence doesn't come from fighting. Confidence comes from letting go and learning to be.
When I started writing, I was worried about what you might think of my writing and of me. I wanted to be safe. I preferred hiding myself.
And now?
You may think this is a weird post but that doesn't worry me anymore.
I want to learn and I want to share what I'm learning with you.
Practice feeds intuition
Fleming writes how practice and competence lead to a more relaxed awareness:
[…] climbing is not just about the hands. The work invites a fluidity across the body—drawing many nerves and senses, muscles and limbs into play. On the rock, at some level, a climber is conscious at all times of where everything is, keeping tabs on the peripheries, noting which piece of matter each part of the body is leaning, resting, pulling or pushing against. Where once this intensity of body-knowledge was all-consuming and overwhelming, through practise and growing competence, I have learned to relax into this mode of awareness and have come to discover that this approach brings a distinctive understanding of place and self.
Just like climbing, writing is multi-faceted.
We think about the big picture and structure of our writing. We step into the shoes of our readers and consider how they may interpret our words. We consider grammar, and rhythm, and word choice. The more we practice, the more intuitive that process becomes.
I'm far from perfect. There are still days when my doubts rule over me.
But mostly, I let go and trust that the words will turn up, that I'll see how to improve a piece, that I'll learn what it really is that I want to say. I just have to keep working at it.
A way of looking
Fleming comes to see rock climbing as "an artistic practice—a way of looking, questioning and opening up the world."
Writing is so similar—a way of listening, of paying attention, of questioning and opening up, too.
It's a way of being.
How lucky I am to have undertaken this journey, to have learned how to write, to have found my voice, to have found a way to be more Zen—in writing and in life.
And how lucky I am that you found me here, too.
Thank you for reading.