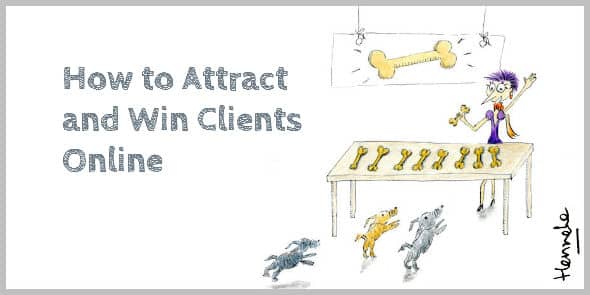 The stories sound great, don't they?
The four-hour workweek. The 6-figure blueprint. The roadmap to overnight success.
But when you start marketing your business online, you soon feel overwhelmed.
You look at achievements of others…. How each tweet gets retweeted a billion times. How a rather sucky blog post gains hundreds of likes and 100+ comments. How some people seem to generate an endless stream of inquiries, and charge ridiculous fees.
Winning a client online may feel unachievable.
But it's possible, even for a newbie.
Because we all start at zero.
Zero followers. Zero web visitors. Zero email subscribers.
Three years ago I was a total newbie
I had no website. No email list. No Facebook account.
I had a dormant LinkedIn account. And I was stuck in a corporate job, I hated.
In October 2011, I joined Jon Morrow's course to learn how to gain traffic by guest blogging. This was a year before I quit my job.
Never before had I taken an online course. I felt lost in the crowded forums. I took longer than most to pluck up the courage to submit a draft post at the end of the course.
But once I had my first guest post published, I was hooked. Without having my own audience, I was gaining feedback on my ideas. I learned what resonated with people. I loved the interaction in the comment sections.
And I stumbled upon my first copywriting clients. Completely by accident.
How?
I thought guest posting was a tool to drive traffic and build an email list, but my second guest post on KISSmetrics also generated several business inquiries. At the time, I had no website–no home page, no about page, no contact page. Just one landing page to subscribe to my list.
Potential clients signed up to my list so they could email me to ask for a quote.
But I didn't know that would happen.
When I wrote the post, I didn't think about winning clients. I didn't think about ranking in Google. I simply wanted to write something that would be popular with KISSmetrics readers. I wanted to solve their problems.
To win clients online, think about this:
What problem can you solve for who?
When you consistently solve people's problems with helpful content, you win clients online. (tweet this)
Focus on what you know
When you review what others do online, do you notice how much they seem to know?
And do you get disheartened because of how much you DON'T know?
You probably think that you need to learn more, master more, research more.
I'm the same. I'm slowly learning it's impossible to master everything. And that's okay; I'm allowed to suck at a lot of things. I don't know anything about Facebook, and I'm not good at Pinterest either. I can't butter up influencers to promote my posts. I'm a poor networker. I'm not a sales person. I'm not …
For quite some time, the things I didn't know stopped me from moving ahead. I was scared about launching my business blogging course, because I was afraid of being found out as a fraud. Despite having written popular articles about business blogging for Copyblogger and KISSmetrics, I worried about the questions I might not be able to answer.
But focusing on what you DON'T know is a sure-fire way to self-doubt and business failure.
To market your business online, you need to focus on what you DO know. How can you help others?
As a social media specialist, you might not know much about Google Plus yet, but you might be a master at networking on Twitter. That's where you can start.
As a SEO specialist, you might not know how to do SEO for large ecommerce sites, but you do know how to drive traffic to local companies. That's where you can start.
As a marketing coach, you might not know how to help people market themselves online, but you might know how to turn inquiries into business. That's where you can start.
What skills and knowledge do you already possess that you can share with others? To solve their problems?
Stop looking for the perfect blueprint
Marketing your business online IS overwhelming.
But the only way to move ahead is to get started.
Stop looking for the magic trick, the foolproof method, or the roadmap to a six-figure salary while working 4 hours a week.
Get started. Anywhere.
Focus on what you know. Solve people's problems.
Keep moving ahead. Step by step.
Recommended reading on building an online business:
How to make money from a blog
How to beat Quiet-Blog-Syndrome
How to build a thriving blog community