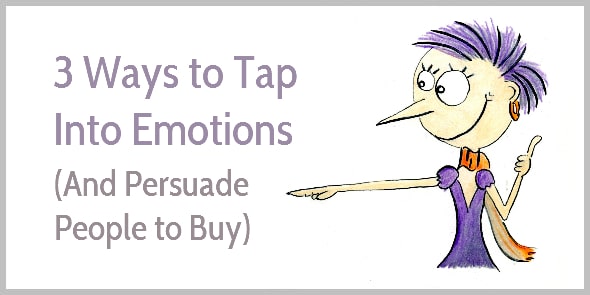 You've probably seen traditional sales pages, dripping with persuasive tricks.
This week, you can lose 2 stone.
Next week, you can triple your online income.
They promise to reveal their so-called secrets.
Does it make you feel icky? Do you hate the idea of having to sell?
Sonia Simone (of Copyblogger fame) suggests two approaches exist to writing sales copy: The harpoon and the net.
The harpoon pushes people towards a buy. Often buyers arrive "from the cold." They don't know who you are; they don't know what you do; and you get only one shot at persuading them to buy. If you miss your shot, the fish swims away.
In contrast, the net pulls people slowly closer to you. By sharing free content on a blog or in an email series, potential buyers get to know and trust you; and once you've built your credibility you offer them your product or service.
[T]he fish are a lot easier to catch when you've been keeping them happy in your content net. ~ Sonia Simone
The net offers a softer approach to selling, but you still need to write sales copy nudging people to buy.
Want to know how?
Feel their pain
Empathy can be a powerful driver.
Once readers believe you understand their problems and feel their pain, they start to think you may be able to solve their problems, too.
Here's how Ramit Sethi, author of the bestseller I Will Teach You to Be Rich, uses empathy to sell a course about starting a side business:
We've all talked about wanting to start a business. "One of these days," we say, "I'm going to do it. I just need to figure it out."

And months pass…then years. How many of us know someone who's been talking about starting something for 10 years? They'll say, "I had that idea years ago!" And yet, they're still dreaming.

It's not just that we WANT to start a business.

It's that we don't know where to START.
Winston Sieck (who participated in last year's Enchanting Copywriting course) takes a similar approach. Before pitching his course on study skills, he empathizes with parents who worry whether their children are doing well enough at school:
Do you wish your teen would take school more seriously?

Is it a hassle to get them to do their homework?

Are you worried they won't be ready to meet the demands of college?

Many kids drift through high school. And float off unprepared.

They're taught core subjects at school. History and biology. English and physics. But they don't get a study skills course. Nobody teaches them how to digest difficult material, how to avoid procrastination, how to take ownership of their learning.

Your teen can learn how to learn.

They can learn how to start schoolwork on their own, grasp difficult concepts, and ultimately be ready to take on college.
Once readers feel you understand their problems and struggles, they're hooked—they want to find how you can help take away their pain.
Dan Kennedy refers to this as the PAS copywriting formula: Problem – Agitate – Solution. You show readers you understand their problem; then you agitate by commiserating with their pain and frustrations, and lastly you offer them your solution to getting rid of the pain.
"When you understand that people are more likely to act to avoid pain than to get gain, you'll understand how powerful this first formula is. (…) It may be the most reliable sales formula ever invented." ~ Dan Kennedy
Are your customers afraid of losing?
You've hooked your readers—they want to listen to your advice. Now it's time to pitch your offer and describe both features and benefits.
When discussing the benefits of your offer, you can use two approaches:
Appeal to people's unfulfilled desires and dreams
Appeal to their fear of missing out, their aversion to loss
Let's look at an example …
To promote its credit card reader, PayPal appeals to people's desire for easy payment processing:
Get paid the easy way.
By card or contactless.
Quickbooks takes the opposite approach and appeals to the fear of missing out:
Never miss a sale with mobile credit card processing
Want to look at another example?
In the sales copy for their conference, ConversionXL promotes the positive appeal of boosting your profits by learning how to optimize:
This event will make you money. It's like conversion optimization in person. Our hand-picked speakers will teach you optimization processes that you can model, and boost profits on any website you work on.
In contrast, Kissmetrics appeals to the fear of missing out when promoting their software:
Fix Every Leak in Your Business: There are areas throughout your website where visitors don't complete the step you want them to take. This drop-off means fewer customers and less revenue. Quickly identify what's draining to your growth.
Neuromarketer Roger Dooley suggests that appealing to people's fear of losing can often be a winning strategy. In other words, people's aversion to loss is often stronger than their desire to win.
But you don't need to choose between the two options. You can mix them. Websynthesis appeals to our desire to have a website that loads fast:
Superior uptime and page load speed: When sites move to Synthesis and our efficient NGINX architecture, they can sustain twice the traffic and consume about 1/8th of the resources.
But they also appeal to our fear of missing out:
What if some social media big shot tweets your content, or a major website links to you, and your site goes down in flames. You'll look like an amateur, to the extent anyone can see you at all (which is not at all).
The power of regret
You've empathized with your readers, and you've shown them how you can fulfill their desires and get rid of their pain.
But how do you persuade them to actually buy?
The most critical time to persuade is when you're asking for action. Always feature deadlines to discourage response-killing inertia. ~ Drew Eric Whitman
Regret is a powerful emotion. We fear missing out. What if we don't take up this offer, will we regret it next month because we need to pay more? What if we don't buy today, and the limited edition is gone, will we regret it?
When I launched my guide for writing About pages, I sold a lot of copies on the launch day because people were looking forward to the guide's launch and excited to buy. However, on the last day of the launch promotion I sold even more because even more people were afraid of missing out.
Creating scarcity for your product fuels a fear of missing out. I don't advocate an artificial kind of scarcity. As an ethical marketer, you give people the right information to make up their mind, and then gently nudge them to take action.
Email marketers Appsumo are masters at using scarcity, for instance, by indicating time limits for their offers:
24 hours left to save $450 on this popular WordPress lifetime deal
Or they create a sense of exclusivity by limiting the number of seats or products available:
Less than 50 spots left to get $100 off Monthly1k
A similar approach can be used in services, too. Eric Drew Whitman presents this example in his book Ca$hvertising:
Steve is finally available to accept three more clients. But hurry! Because once his roster is full is services won't be available for another three years.
Don't exaggerate how scarce your services are because you may regret it later. Once you've told people you won't take on new clients for a year or two, you can't offer them your services at a discount in a few months' time. It's the same with those "last chances to get a discount." A last chance should be a last chance. Otherwise you lose your credibility fast.
How to sell without feeling icky
Writing good sales copy starts with sneaking into your customers' minds to understand their pain, their struggles, their frustrations, their unfulfilled desires, their dreams.
Get to know them as well as your best friends.
And then offer to take away their pain.
That's how you can sell in an ethical way. Without feeling icky.