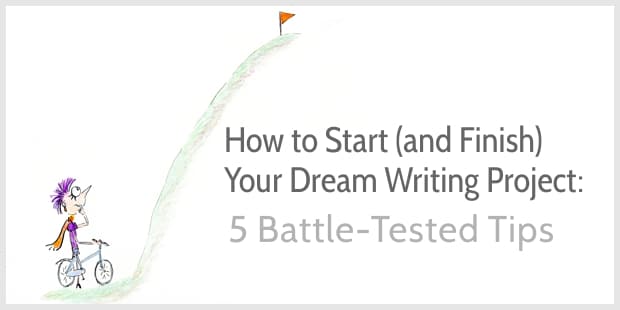 Is an idea singing around in your head?
Perhaps you'd like to write your dream book or course. Or maybe you finally want to start a blog because you're passionate about helping people.
Deep in your heart, what would you like to write? What piques your curiosity? What makes your heart dance?
Two years ago, I committed to my biggest ever writing project.
At the time, I briefly wondered whether I was crazy. Why would I commit to an ambitious project when I struggle with low energy? Didn't I have my hands full with teaching my writing courses? Wouldn't it be smarter to take an easier route?
The project was uncertain. I hadn't seen anything like it before. Could I pull it off???
Fast forward to today, and thanks to a little magic, I'm nearly at the finishing line.
Want to know how to accomplish your biggest writing challenge, too?
1. Connect with your heart
The only way to jump into my project was to ignore the rational arguments against it and to listen to my heart.
I am passionate about helping people write. Yet, in my blogging courses, I discovered that teaching people writing techniques isn't enough to help them commit to a regular blogging habit.
Many people have good ideas to share but something is holding them back—whether that's lack of energy, self-doubt, perfectionism, an overwhelming to-do list, procrastination, or a rickety writing process.
I knew I wanted to help more people nurture a writing habit so they could express and share their ideas. Writing has made such a big difference to me. Through writing, I've connected with wonderful people across the world. I've made new friends. I've learned to think better and to express my ideas more clearly. And by writing about my inner critic, I even learned to be more at peace with myself.
Rationally, embarking on my big project may have seemed crazy.
However, emotionally, I knew this was the project I wanted to do most desperately. I knew it could help many people get unstuck. Plus, I felt more excited about it than any other project. I was curious.
So, I decided to follow my heart.
2. Embrace your naivety
Overthinking kills many writing projects.
The more we dream, the grander, more beautiful, and more encompassing a project becomes. And as an idea grows in our minds, our resistance to getting started and implement our idea seems to grow even faster. The project becomes terrifying.
Of course, there's a benefit to letting projects simmer for a while—to see whether your excitement lasts.
But don't let ideas percolate for too long.
Mihaly Csikszentmihalyi, a psychologist who has studied creativity and the principles of flow, suggests that creative people are both smart and naive.
So, to start your project, embrace your naivety.
Don't think for too long. If your idea feels good after a short period of percolation, jump in. Take the first step to bring your dream into reality. And discover where your inspiration leads to.
3. Focus on doing the work (and ignore everyone's advice)
An online marketing veteran once told me how easy it is to write a Kindle book …
10,000 words is enough for a Kindle book, and you can write that in a weekend.
Excuse me?!?
My first book is just over 10,000 words. I can't remember exactly how long it took me to write it, but I think it was somewhere between 6 and 12 months.
Some people write incredibly fast. They might even write a whole novel in one month.
But we all run our own race.
And each writer, each project is different.
If you thrive on big challenges and hairy goals, go ahead. Be audacious, and sprint to the finish line. If that doesn't work for you, focus on doing the work, tiny step by tiny step.
It took me two years to create my upcoming course on writing habits and joyful productivity. I created most of the course by writing for 50 minutes a day—in two chunks of 25 minutes. By simply doing a little work on most days, I got an amazing amount of work done. I even surprised myself.
Don't underestimate the power of tiny steps and steady progress.
4. Expect strong headwinds
Last September, I cycled along the Canal du Midi in France. The route is completely flat, so the easy pedaling appealed to me.
But one day, the weather forecast was mean: Gusts of up to 40 miles per hour.
And the worst thing?
Our first 10 miles would be straight into the wind.
Oh my.
As I climbed on my bike, I was worried. Could I cope with the wind? Would I make it to our next stop?
Somehow, I decided to stop battling myself, to stop worrying and to take it one yard at a time, or rather: one pedal push at a time. I decided to enjoy the ride, no matter how rough it would be.
I'm not sure whether the forecast was a little exaggerated.
But I made it.
And I still remember how good it felt to let go of my worries.
The same mindset applies to working on big hairy projects, too. Each project has its ups and downs—sometimes you experience a tailwind and you write almost effortlessly, as if everything falls into place.
But then you turn a corner, perhaps you start revising or you begin a new chapter and, at once, strong gusts are blowing into your face and you feel like you're blown off track. Oh my. You hadn't thought of this. What a nightmare! This is never going to work!
The trick is to let go of your worries. Don't battle yourself, instead focus on getting unstuck. What's going on? Why does it seem hard? How can you make a little more progress?
Don't feel disheartened when a project gets tough. Every project has its ups and downs. Embrace the hard work and keep going, tiny step by tiny step.
5. Find a magic wand
In my latest project, I was lucky.
I didn't write this project all on my own. Kathy Keats helped me structure my project, gave feedback and generously shared her experience and knowledge.
Kathy and I have different backgrounds. She's a high-performance coach and I'm a writing coach. Working together allowed us to pool our knowledge. Plus, every time I got stuck, she helped me get unstuck.
When you collaborate with a person you trust, navigating headwinds becomes a lot easier. It's like Kathy had a magic wand to let the wind die down 🙂
Start your dream project this week
Life is too short to let ideas sing around forever. Life is too short to leave your dreams unrealized.
So, take action to implement your best idea.
Start small.
Take a tiny step.
Can you take one tiny step this week?
As a Chinese proverb suggests:
A journey of a thousand miles begins with a single step