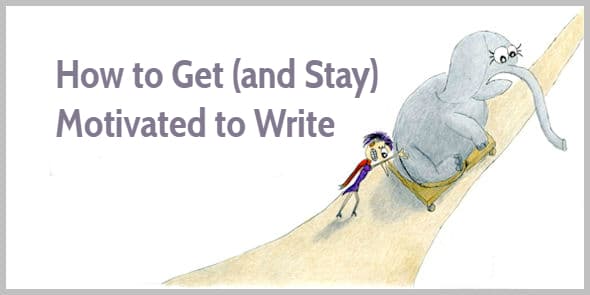 Do you know the feeling?
You love writing, but sometimes … you wonder why you torture yourself so much.
Creative endeavors seem full of doubts and frustration.
Will this be good enough? Will people like it? Will I ever be able to finish it? Is it worth all this effort? Do I seem silly? Do I sound boring?
Why does writing feel so hard?
Since I started writing 4 years ago, I've had a love-hate relationship with writing.
I explored different ways to write. I've racked my brain to understand why the journey feels so hard. Slowly, I learned three surprising lessons about my motivations to write and how I could enjoy my writing more.
Want to know how I learned to love writing?
1. Write for yourself
Am I contradicting myself?
I've written quite often that we should write for our readers… to help, guide, and inspire them.
But I don't think writing for your readers means you should not write for yourself.
The opposite might be true: you can only write well for your readers if you also write for yourself.
In his book "Drive: The Surprising Truth About What Motivates Us," Daniel Pink explains the difference between extrinsic motivation, such as money and status, and intrinsic motivation, such as the enjoyment of performing a task. He suggests that intrinsic motivation stimulates creativity, but extrinsic motivation may hamper creativity.
Writing supports my business. When I publish more blog posts, I get more traffic, my email list grows, I sell more books, and my writing courses sell out faster. But these are not the only reasons I write. I also write for myself:
Writing brings clarity—it improves my thinking
Writing gives me a creative outlet
Writing improves my writing skills—each year my writing gets better and my voice evolves
Writing can be therapeutic—blogging and drawing about my self-doubt, for instance, has made me more confident
Writing nurtures curiosity—every week I learn more (about writing or myself)
When I think about these personal benefits of writing, I stop getting upset about being a slow writer. I get less frustrated. I procrastinate less. And I enjoy my writing more.
I still keep track of business metrics. But I try not to let them spoil the joy of content creation.
2. Focus on the process rather than your goal
You may want to write a bestselling novel or a blog post that goes viral. You may want to generate more leads, double your traffic or get ranked number 1 in Google for your most important search term.
But you cannot completely control the success of your content.
That lack of control sucks and increases anxiety.
But we can't let that lack of control take away the joy of writing.
This is true for any creative process. In his book "101 Things I Learned in Architecture School", Matthew Frederick, recommends:
Recognize as normal the feeling of lostness that attends to much of the process.
And:
[Remove] yourself from prideful investment in your projects and [be] slow to fall in love with your ideas
Even a celebrated artist like Claude Monet hates painting, as Ross King writes in his book "Mad Enchantment:"
[Monet] loved to paint and, indeed, he lived to paint—and yet he claimed to find painting an unremitting torment. "This satanic painting tortures me," he once wrote to a friend, the painter Berthe Morisot. To a journalist he said: "Many people think I paint easily, but it is not an easy thing to be an artist. I often suffer tortures when I paint. It is a great joy and a great suffering.
We tend to think everyone else finds writing easy; and we worry we're the only ones struggling with motivation. We think we lack willpower, commitment, or confidence.
But this is not the case.
Many of us have to find ways to deal with anxiety and nurture the right habits, so we can achieve our writing goals.
Start with accepting that it's okay to worry. Then focus on making your content better step by step. Celebrate each sign of progress … a first draft of a blog post written (yay!), an understanding of a difficult concept finally reached (yay!), an hour spent eliminating the dross from your content (double yay!).
Look back and realize how much you've learned and how much work you've done.
3. Tame your elephant
Have you ever committed to write every day or to exercise more?
And how did you do?
Over the past few years, I've often failed to keep up my commitments. Whether it was trying to work less, going to bed earlier, spending more time to write my next book, I struggled to keep up my good resolutions.
Why are we often so powerless—even if we really REALLY want to do something?
In his book "The Happiness Hypothesis," Jonathan Haidt explains:
The mind is divided into parts that sometimes conflict. Like a rider on the back of an elephant, the conscious, reasoning part of the mind has only limited control of what the elephant does.
The rider may want to write more, but the elephant has other ideas. The elephant includes our "gut feelings, visceral reactions, emotions, and intuitions." The elephant is a worrier and a pessimist. He's resistant to change—we need to coax him slowly to pick up new habits.
The best way to tame my elephant has been to draw my inner critic and write down how she was undermining me. When you start recognizing the thoughts undermining you, it becomes easier to deal with them. It's the basic principle of cognitive therapy.
Since I understand how my inner critic works, I can enjoy my writing more and slowly nurture the habit to write more.
How is your elephant undermining you? How can you coax him to cooperate?
How to get motivated to write
Even in the best marriages, life isn't always plain sailing.
A good marriage requires "work"—a willingness to seriously listen, to look at ourselves and to be open to change. A good relationship is dynamic, not fixed.
Developing a healthy relationship with writing is a similar task. Don't ignore your elephant or inner critic, don't fight with him all the time. Be willing to listen, be patient, and find ways to coax him to let you write more.
Nurture your intrinsic motivations to write.
Get more writing done.
And enjoy your writing more.