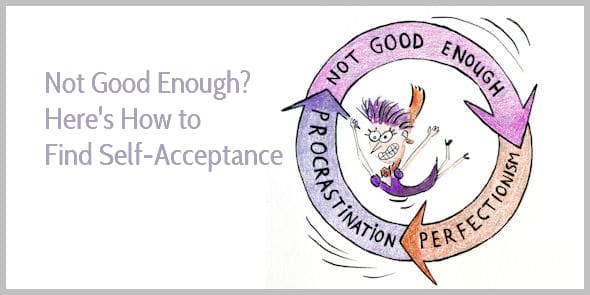 Ever feel like you should do more?
Do you wonder whether you're missing out?
When working online, it's easy to get trapped in a cycle of not feeling good enough.
The internet conspires against us. Always telling us to do more. And showing us how well everyone else is doing. It's easy to get trapped in a cycle of feeling inadequate, and thinking you should do more.
When I was running on the corporate treadmill, I thought I was working hard to further my career.
But I over-prepared every presentation, every report and every meeting. I worked harder than anyone else.
The idea of starting my own business was to find more balance in my life. Less work. Less stress. More freedom.
But I took my bad working habits with me.
The destructive cycle of not feeling good enough
Here's what might happen when you don't feel good enough:
You start fussing about details that don't matter
You get busy with unimportant stuff
You procrastinate on important tasks—being busy is your excuse
You get frustrated because your to-do list only becomes longer
You get exhausted because you work to hard
Exhaustion and frustration fuel your feeling of inadequacy
Breaking through that cycle of not feeling good enough, perfectionism, and procrastination is hard.
We're scared of slowing down. We're scared of focusing on the things that matter. We fear that slowing down makes us less productive, and less successful.
But the opposite is true.
Slowing down was my key to breaking through the destructive cycle of not feeling good enough.
Get rid of the dross
This year, I learned to schedule my work. Instead of cramming more items onto my to-do list, I decided how many hours I could work and estimated what I could do in those hours. I focused on a small number of tasks:
When I struggled to keep up, I reduced my blogging schedule temporarily. I also have been drawing less than I had hoped to do.
My not-to-do list was as important as the short list of tasks I wanted to focus on. I quit copywriting projects. I massively reduced my guest posting commitments. I switched to electronic book keeping so I could stop messing around with an Excel spreadsheet. I shelved my plans to set up Instagram and Facebook accounts. I stopped creating SlideShare presentations. I spent less time on Twitter and Google Plus.
Before you plan next year, think about this:
What can you do less?
Which few essential things need to be done?
The internet conspires against us. We always feel we have to do more. We feel we're missing out.
But don't set yourself up for dissatisfaction and failure with over-ambitious plans for the next year. In 2016, each day still has 24 hours. A week is 7 days. A year still has only 52 weeks.
Beat procrastination and get important things done
When you reduce your list of tasks, it becomes more difficult to escape from important tasks:
Make a difficult task the first thing to do in the day
Ignore social media, email and the news until you've worked for an hour on an important task
Decide the evening before what you'll start working on the next day
Use an online timer to focus attention
Getting started on difficult tasks is hard. I learned to focus on doing the work rather than on results. When I agree with myself to put in an hour of solid work, I get in a flow. I get more done this way than when I try desperately to finish that video or that blog post.
In 2015, I worked about 25 hours on average per week. That's probably less than half of what I used to do. But I feel I have achieved as much as other years. Perhaps even more.
I learned how to work stress-free
Stress used to fuel my work. Stress seemed a condition to getting work done.
But thanks to my whiplash injury, I changed my attitude completely and I now work virtually stress-free. I mostly know how long things take me to do. I don't over-plan my day. I take more breaks. I'm focused.
I feel more in control. I get more done, and I'm more relaxed.
Once I broke through the cycle of procrastination and perfectionism, it also became easier to deal with my inner critic, with not feeling good enough.
She (my inner critic) and I now get on alright. I've learned how to interpret her nagging. She helps me slow down and warns me when I need to take a break.
I've learned to take care of my inner critic, and to be kind to myself.
And you?
Wishing you a year full of kindness!
PS Special thanks to Sonia Thompson who inspired this post.