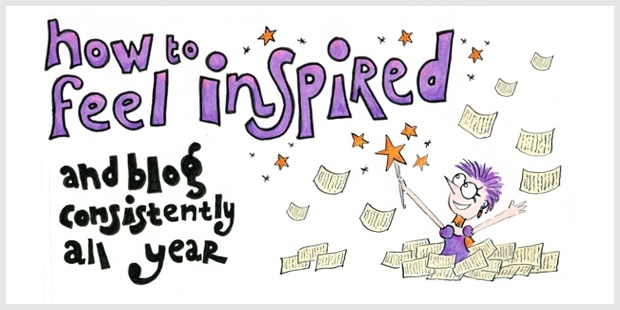 A new year.
And a new opportunity to commit to writing consistently.
But we all know how it goes, don't we?
Fast forward a few months, and staying committed to writing feels harder and harder.
New Year's resolutions are notoriously difficult to keep.
Whether it's writing a book, exercising more, or quitting smoking, most people don't keep up their new year's resolutions. According to the Statistic Brain Research Institute, only 38% of people in their twenties achieve their resolution each year, and that figure drops to a disappointing 16% of people over 50.
I'm not a disciplined person
The opposite is true.
I hate routines. I like to rebel.
And when I started my blog in November 2012, I had no idea how I'd keep blogging for over 5 years.
I struggled coming up with each blog post idea. And I excelled as procrastination champion.
But here I am. I've kept my blog alive for over 5 years.
How did that happen?
Over the years, I somehow managed to keep my creative spark alive, and I learned how to keep a steady stream of ideas flowing. Writing became a habit, a part of my identity. If I don't write for more than a couple of weeks, I feel lost.
So, how did a procrastination champion learn to blog so consistently?
What science tells us about willpower and grit
A large part of the self-help industry likes to tell us to set ambitious goals and develop grit to achieve what we want.
But for many of us this doesn't work.
Big goals are daunting and can cause anxiety. And when we get anxious, we procrastinate and feel like we'll never reach our goals. We don't feel good enough.
And telling ourselves to be gritty? Research by psychologist Greg Miller shows it can make us feel more stressed and miserable.
You might also have read that we have a limited source of willpower, and we have to apply it carefully to the goals most precious to us. But recent research has quashed the idea of limited willpower. Even telling ourselves we lack willpower can demotivate us.
So, instead of relying on willpower, discipline, and grit, what can you do to become a prolific writer?
Connect with your "Why"
The "secret" to summoning our muse and getting inspired to write, is connecting with our values—our reasons for writing.
In her book "Emotional Agility," Susan David describes how we're more likely to achieve our goals if we connect our goals to our values and want to rather than have to do something. This is as true for eating healthy food and exercising more, as it's true for writing.
When we forget our real reasons for writing, writing becomes a chore. And who likes doing chores? Instead, examine why you want to write and make writing a positive choice.
I love formulating my thoughts and sharing my ideas with you. I learn from every blog post I write. I also love playing with words—there is an intrinsic pleasure in writing. I enjoy making each piece of writing the best I can.
Why do you write?
When you know why you want to write, you turn a writing chore into a pleasure. As business coach Pamela Wilson once wrote on my Instagram feed, she rubs her hands and tells herself: "Today, I get to write."
Aren't we lucky?
Make idea generation a habit
When I started blogging, I struggled to come up with ideas.
But after blogging for five years, I have more ideas than ever.
How come?
Ideas breed ideas. It's like idea sex.
A blog post is never a definitive analysis of a problem; it never answers a question completely. There's always a loose end that can be turned into a blog post another time.
Occasionally, I dedicate half an hour or an hour to generating ideas and coming up with a fresh list of questions I can answer. I keep a notebook of ideas, topics, and questions. When I start on a new blog post, I pick the idea I feel most excited about.
When you make idea generation a habit, you never run out of inspiration to write.
Where do you find your best ideas?
Follow your curiosity
When I started blogging, I visited forums to find out what my audience was talking about. I read other blogs and comments, and noted down the questions people asked. I kept track of emails about writing challenges people were struggling with.
But after some time, the same questions kept popping up, and I had answered them already.
So, I had to dig deeper and find new ways to come up with blog post ideas. More and more I followed my own curiosity, and answered my own questions. I experimented with off-topic posts. When I got bored with blogging about writing techniques, I started to blog about the writing process, creativity, and writer's block. By going off piste, I wrote some of my best posts.
What makes your heart sing? What feeds your soul? What sparks your creativity?
Find the sweet spot between what you love to write about and what would help your readers. That's the best way to find your own unique niche and develop your voice.
Chop up the writing process to beat procrastination
Does blogging feel like an insurmountable task to you, too?
When I started blogging, each blog post felt like an enormous project. And the more difficult it seemed, the more I procrastinated.
That changed when I found out about the power of small steps.
When you chop the writing process up in doable chunks, writing a blog post instantly becomes easier. And when you spread the work over a number of days, you nurture a regular writing habit. Writing becomes almost as automatic as brushing your teeth.
For instance, this blog post was written as follows:
On Thursday, I picked an idea and wrote a short outline (in less than 10 minutes)
On Friday, I wrote one half of the first draft (in 25 minutes)
On Saturday, I felt stuck because this post didn't seem special enough for a first-of-the-year post
On Sunday, I felt energetic and decided to create an infographic; I wrote the remainder of the first draft in less than 20 minutes and drew over half of the illustrations
On Monday, I edited and formatted the text (in 30 minutes) and finished the drawings (I thought I could draw an infographic in two days as I find drawing quite meditative. But it was a crazy idea—I need another week off!—and next time, I'll go back to drawing one illustration a day)
On Tuesday, I added the section about science at the beginning of the post, edited a little more and proofread the text (just under an hour)
My writing process differs a little from post to post. Often a first draft takes longer. Sometimes I spend less time revising.
But by spreading the work over a number of days, I find it easier to overcome procrastination. What's more, my content becomes better as I take advantage of the power of percolation. I see more clearly how I can improve a post.
Forget about originality
Because worrying about originality is the quickest way to chase away your writing muse.
Early in my blogging journey, I was lucky to come across Austin Kleon's book "Steal Like an Artist." I can't remember who recommended it to me, but it was an eye-opener.
I learned I could be inspired by other people's ideas and create my own unique mix of sources and ideas. I could find my favorite examples and share my experiences to make each blog post unique.
You are unique, too.
And you know that.
You have unique experiences. A unique voice. A unique mix of ideas, examples, and stories.
So, tell the stories only you can tell. Use the words only you can choose.
Embrace your quirks. Be bold. Be YOU.
Happy writing!

Grab the embed code below to display the image on your website:
How to Get Inspired and Blog Consistently All Year, courtesy of Henneke at Enchanting Marketing