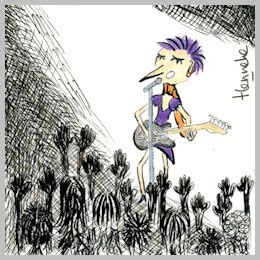 Irritating isn't it?
The feeling creeps up slowly.
Are you perhaps missing a trick?
Sure, you're writing good blog posts. You know your stuff. You're helpful.
But are your posts helping you gain more readers? Do they turn readers into fans?
Or should you perhaps try a different type of blog post?
During the past 3 years, I've studied hundreds of blog posts, and written quite a few, too.
I've tried different formats. Stumbled upon success formulas. And messed it up a couple of times. Who doesn't?
I've found that different blog post types achieve different goals. Some boost your authority. Others get more comments and help you bond with your audience.
Below follow the 6 proven blog post types you should master. To grow your business blog. To bond with your readers. To win more clients.
Sound good?
1. Boost Social Shares With a Long List Post
Ever read a long list post that was mind-numbingly dull?
After tip 9 or 13, you had enough.
Why?
Obvious tips that drone on and on switch readers off. Their minds start wandering. They start thinking about an upcoming trip to Amsterdam. About a cartoon drawing that they can't get right. Or about what to cook tonight.
To write a good list post, you need to do more than brainstorm tips around one theme:
Have a "big idea" as basis for your post. What is your reader struggling with? What's the key message you'd like her to remember?
Break your list up in manageable chunks. Write a seductive subhead. And include a few introductory sentences after each subhead to keep people reading on; remind readers how they'll benefit from your tips.
Scrap obvious tips. High numbers get more shares, but never include so-so tips to reach a higher number. Only share tips that help your readers.
Include links to in-depth posts for readers who want to understand the intricacies of your tip. Write each tip like a soundbite.
When you put more effort into a long list post, you'll be rewarded with more social shares. A long list post I wrote about email marketing, for instance, became the most shared post on Copyblogger in 2013. 9 months after publication, this post still drives readers to my site.
Bonus tip:
Boost your social shares by linking to various authority bloggers, as they may tweet, like, or plus your post.
2. Win Clients With an In-Depth Tutorial
Afraid to share everything you know in a tutorial?
Because you might lose potential clients?
Giving away your best tips can give a huuuge boost to your credibility and authority:
Make your tips so detailed that you feel slightly uncomfortable by telling it all.
Let the fame of a well-known brand rub off on you by using them as a case study.
Further enhance your credibility by guest posting on a well-known blog.
In 2012, I wrote an in-depth tutorial about writing sales copy for KISSmetrics. The post is over 3,000 words, and it took me 3 days to write it. Was the effort worth it? This post has generated more business inquiries than any blog post I've written, because it shows you exactly how to write sales copy.
Don't be afraid to give your best tips away. As Chris Garrett wrote recently: "I have yet to find someone who has given away too much."
3. Prove your value by sharing a detailed checklist
Groceries.
Packing lists.
Web copy.
Who doesn't like checklists? Who doesn't NEED checklists?
Checklists can generate a large number of shares, because people like helping their friends by sharing useful information. Checklists win you brownie points.
To make your checklist more valuable:
Make your list comprehensive
Divide your points into sections to make them digestible for your readers
Add a downloadable PDF, so readers can save your checklist for later, print it out, and tick off items on the list
Looking for an example? My web content checklist generated more shares than any other Enchanting Marketing post this year.
4. Gain search engine traffic with a super-specific post
Getting search engine traffic on generic keywords is tough.
Too much competition.
Instead of trying to rank for a word like "copywriting", write detailed posts about specific topics, such as:
To find good keyword phrases, listen to your readers. Ask them what their challenges are, and what they're struggling with. Pay attention to the words they're using.
Alternatively, research keyphrases with Ubersuggest or Google's keyword planner (requires a AdWords account, which you can set up for free). Find phrases of 3 or more words that get less than 100 web searches.
When you answer specific questions, you have a better chance to gaining relevant search engine traffic.
5. Establish a unique voice with metaphoric posts
You don't just care about traffic and social media shares, do you?
You also want readers to come back to hear your voice, don't you?
Metaphoric posts don't generate loads of shares. They're not particularly good for generating search engine traffic.
But they do make you stand out and get noticed.
They create a unique voice that speaks strongly to your hardcore readers.
When you share in-depth tutorials and long list posts, you become a me-too blogger. Readers can easily swap you for another blogger who's also sharing useful tips in your niche.
But when readers get to know you because of the stories you share, they'll come back to listen to your voice:
Don't write a metaphoric post just to be clever
Have a clear message for your audience
Draw analogies from a limited number of sources that are close to your heart, so readers get to know you
Metaphoric posts help you communicate a well-known message in your own unique way. They make boring topics enchanting. And they allow readers to get to know you and like you.
6. Bond with your audience by sharing your fears or weaknesses
Authority is rather boring.
You don't make any friends by standing on your pedestal, preaching what others should do. Instead, you're increasing the distance between you and your readers.
But when you share your own fears, readers feel closer to you. They're more likely to comment because they recognize your problems, your weaknesses, your flaws. They want to join the conversation. They want to become part of your conversation, your community. My post about being a blogging wimp, for instance, generated more comments than any other post here so far.
"There's a crack in everything. That's how the light gets in." ~ Leonard Cohen
Being an authority doesn't mean you need to be perfect. Building a following requires a careful balance between showing you're human and sharing your knowledge.
The truth about blogging
Imagine yourself on a stage, reading out your posts. Or perhaps singing while playing the guitar.
Have your readers invited their best friends to come and listen to your music? To hear the words of your blog posts?
Are they dancing? Do they go home with your words humming in their head?
Blogging isn't about being useful and sharing your knowledge. That's simply a starting point.
Welcome your readers. Create a unique atmosphere. Inspire your audience.