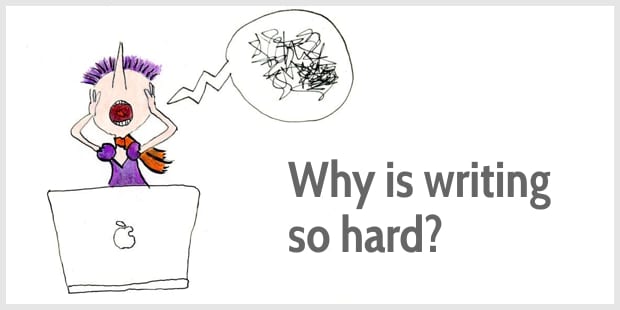 It's one of the most asked questions in my inbox …
Why is writing so hard?
And variations of that question:
What should I do when the words don't flow? How can I get my thoughts on paper? What are the routines that make writing easier?
I always try to help people out.
But my answers by email feel insufficient.
Writing IS hard.
Yet, there are ways to make writing more joyful.
Shall I try to explain?
The big misunderstanding about writing
When writing feels easy to read, it can seem like it was also easy to write.
But the lower the effort of the reader, the higher the effort of the writer.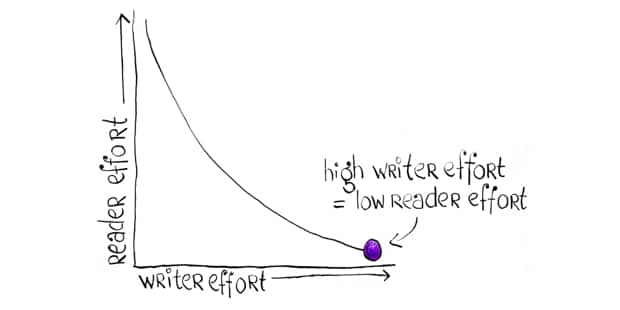 The ideas in our mind may seem crystal-clear but the writing process shows up the kinks and the gaps in our thinking.
So, it's normal when a first draft turns out wonky. It's normal when the words don't flow naturally.
What to do?
Take it step by step. First, write a crappy first draft. Give yourself permission to make it as bad as it needs to be—just to get something on paper.
Next, let your draft simmer for at least 24 hours. Only then, start the revision process:
See what's pretty good already—that's what you can keep
See what's redundant—that's what you throw out
See what needs improvement—that's what you start working on
Writing is not just typing words and sentences.
Writing is thinking.
So, the writing process will improve and clarify your ideas.
The habits that help make writing easier:
Understand that writing is a process, take it step by step, and learn to observe and troubleshoot your own process. What's hard for you? How can you make it easier?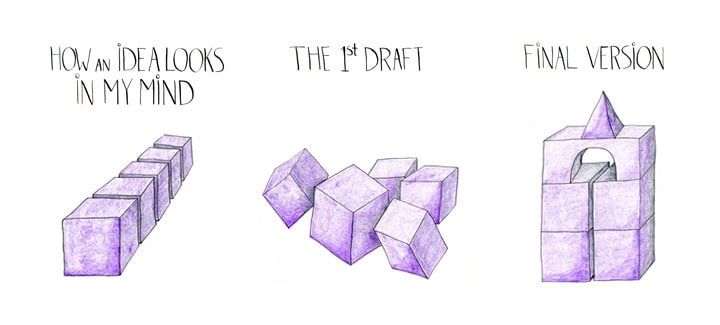 You're not alone
When I started blogging, my writing process seemed excruciating.
At times, it even seemed impossible (well, almost) to start writing. I procrastinated, and I fought with my inner critic.
That struggle felt lonely.
Much later, I learned that I'm not alone. The blank paper is daunting. Until we try, we don't know how the ideas in our mind will turn out once we commit them to paper. That uncertainty is scary.
As I write this, I haven't written a blog post for two months. I had Covid again. My energy has been low, and I needed my limited energy to support my paying students. (Have I told you my new course Stories in Miniature is fun?)
I've never written every day. I am a daily-ish writer, and I can deal with short gaps.
But not writing for two months is a long time. It felt like an eternity, and my doubts came roaring back …
Have I lost my knack?!!???
Is this a stupid idea???
Man, I soooo much want to write again. And I soooo much do NOT want to write again.
In my 10+ years of writing I've learned that sometimes doubts and fears recede, and at other times they roar back.
I can try to fight or ignore my doubts but my doubts will only get louder. So, I've learned to coax myself gently. I've learned to dance with my fears.
I wrote the first draft of this blog post in sessions of 9 to 12 minutes. I reminded myself that I've been here before. I can do this.
And I'm reframing my fears. They're not a sign that I'm a crybaby. No, my fears are a sign that I'm doing something that matters to me.
This blog post matters to me. I'm writing this because I want you to use your voice and share your ideas. I believe in you. I want you to write about what matters to you, too.
The habits that help make writing easier:
Invite your inner critic for tea, listen to their concerns, and learn that your inner critic is trying to protect you from failure and critical feedback. Then, write on despite your fears.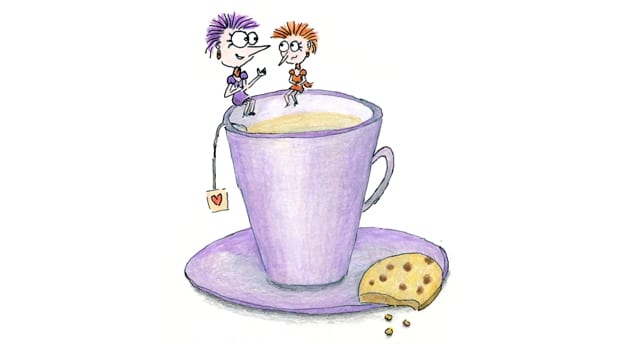 The scary gap
You want to write better, right?
But sometimes, do you despair at seeing how well others write?
And then worry your writing isn't good enough?
We often compare our work harshly with others. It fuels existing insecurities, confirming the negative ideas we already have about ourselves.
Before I seriously started improving my writing skills, I could only see how well others could write, and I didn't think I could improve my own skills.
But instead of comparing my work harshly, I learned to model my work and evaluate what I can learn. What do I like about other people's writing? Is it the rhythm? The word choice? The clarity of their ideas? The stories?
There's a gap between where we are as writers and where we want to be.
No matter how much you improve, that gap will always be there.
Because there's always more to learn.
So, here's how I now think about the gap: First, I remind myself that acknowledging the gap is good. At least I can see how I can improve. I know what good writing is.
Secondly, I might not be where I want to be. But I can improve. It might not always be obvious to me but each year, my writing gets better.
The habits that help make writing easier:
Adopt a growth mindset. We might not be as good as we want to be, but we can all learn and get better by emulating good writing.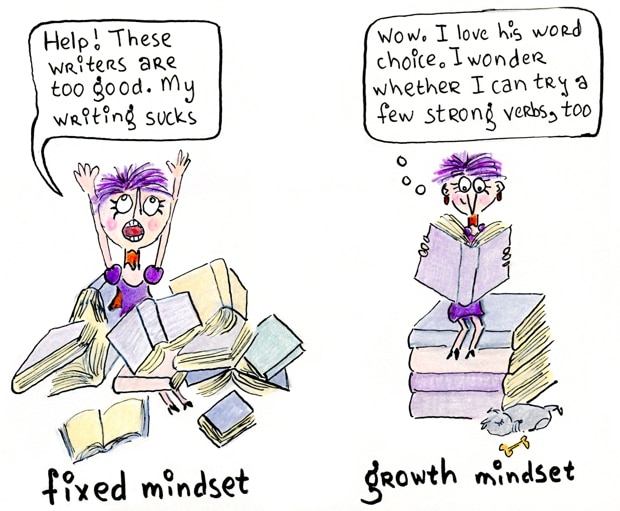 Be curious. Be playful. Be gentle.
Study your hero writers, and be curious about what makes them good.
Next, adopt a playful mindset. Try to experiment and have fun trying different techniques in your writing.
Improving our skills takes time, and it usually takes longer than we think.
So, be gentle with yourself, my friend.
Happy writing!
PS
I'm planning an exclusive webinar for participants in my new course Stories in Miniature on Thursday 25 May 2023.
So, this is a good time to jump into this self-paced course …
Learn how to captivate your audience, make your messages more memorable, and build your brand: