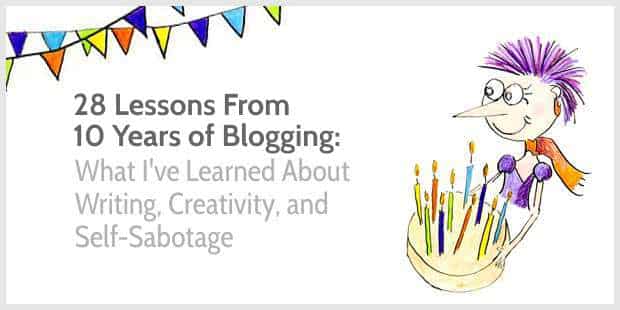 You know, it feels crazy.
10 years ago, I started Enchanting Marketing. To be exact, I published my first blog post here on 2 November 2012.
My plans were hazy.
I didn't even know what my next blog post would be about.
Even worse, I didn't see myself as a writer and I didn't feel I had enough expertise to share. I was full of self-doubt.
But isn't it weird how you become a writer when you keep writing? And isn't it amazing how a body of work grows when you keep showing up?
Below follow my 28 biggest lessons from 10 years of blogging …
1. Ideas breed ideas—it's like idea sex
I used to be nervous about running out of ideas.
But the more I wrote, the more ideas I got.
For instance, each blog post has a loose end—a question unanswered or a detail worth exploring, which can spark a new blog post.
As Maya Angelou said: "You can't use up creativity. The more you use, the more you have."
2. An empty creative well doesn't exist
We simply lose our ability to tap into our creativity.
So, look after yourself well and do the work, and your muse will return.
3. Rewild your attention
When we read the same as everyone else, we'll produce similar content.
So, follow your curiosity.
Read something wild, and see where it leads to.
4. The best writing is personal
When you show up in your writing, readers sense your presence, and your writing feels more alive.
So, write about what fascinates you.
Share what you're learning. Answer your own questions. Tell your stories.
5. We all self-sabotage
Negative thoughts swirl around our minds, spoiling the fun of writing.
Thoughts like: I'm not creative. I'm not a real writer. My life is too boring. I'm not good enough.
I learned to observe my negative thought patterns and change them. That's how writing became a true joy.
6. Talent is overrated
What's required to become a good writer is:
An understanding of your audience
A good process to generate ideas
Another process to turn tiny ideas into valuable blog posts
A grasp of reader psychology so you can captivate people and entice them to read your writing from your first to your last word
We can all learn how to write better. (Start here.)
7. Writing is uncertain
The thoughts in your mind never quite flow onto paper as you expect.
But when you establish a solid writing process, you can turn any crappy draft into a decent blog post.
I learned to trust my process.
8. Take breaks
Breaks are a creative super-power.
Your brain will continue processing your ideas (even when you sleep!) so you can make fresh connections and come up with new ideas.
9. Writing is thinking
Writing down your thoughts shows up the flaws in your thinking.
That's one of the reasons why writing can be so hard.
10. Learn as you blog
You don't need to be an expert to start a blog; you become an expert by blogging regularly.
On this blog, for 10 years, I've simply been sharing what I've been learning.
11. Dive deeper
I found a real joy in challenging myself to understand a topic more deeply, to get to grips with the nuances of writing.
12. Avoid writing chores
When writing becomes a chore, your writing voice becomes more monotone and a touch of dreariness sneaks in.
So, make writing a choice, not a chore.
13. You can't just write for your readers
You also have to write for yourself.
Find out what sparks your creativity and write from your heart.
14. Don't worry about finding your voice
Instead, focus on communicating your ideas clearly, study good writing, and your voice will appear as if by magic.
15. Set a timer
When I started to set a timer and challenged myself to focus for 25 minutes before taking a break, I became a lot more productive.
16. Fix details later
When you try to fix details while writing a first draft, like adding an example or looking up a quote, you risk losing your train of thought.
17. Don't write until you're empty
Leave some enthusiasm in your tank, so getting started tomorrow is easier.
As Hemingway said: "The best way is always to stop when you are going good and when you know what will happen next."
18. Embrace shitty first drafts
You can't revise messy thoughts in your mind, but you can edit crappy writing.
So, give yourself permission to write badly.
Then get to work editing your draft.
19. Dance with your fears
Your fears are a sign that you're stepping out of your comfort zone.
You're writing something that matters to you.
So, don't fight your fears.
Instead: Dance with your fears.
20. No perfect writing process exists
Each time I thought I'd found the perfect process, I hit a new stumbling block.
So, the key is this:
Don't get frustrated.
And learn how to get yourself unstuck.
21. Chop up the writing process
When each writing task feels more doable, you're less likely to procrastinate.
22. Get to know your inner critic
When I drew a picture of my inner critic, I finally learned how to work with her.
23. It's okay to obsess about details
Perfectionism only turns ugly when you worry that others may criticize you.
24. Mistakes are rarely as bad as we think
I've done it all. Published blog posts with typos. Duplicated emails by accident. Sent emails to the wrong people.
I've learned to forgive myself.
We're all human.
25. Avoid creative ruts
Writing on auto-pilot kills the joy of writing.
So, I've kept tiptoeing outside my comfort zone. I learned how to use metaphors. I tried narrative writing. I wrote about the tiniest topics. I dared to be vulnerable.
Creativity thrives on adventures.
26. No perfect blueprint exists
The best bloggers are passionate about their subject matter.
They write from the heart.
And you can't figure that out in a spreadsheet.
27. Hold your plans lightly
The key is to get started, and then adjust as you go.
I adjusted my plans often.
In my first year, I changed my target audience. I also narrowed down my blog topic. I tried consultancy, freelance writing, coaching, and courses.
But here I am, still blogging, and enjoying it.
28. Writing is magic
When I write, I feel most alive.
Writing for you has been an honor
Thank you for reading. Thank you for being here.
And thank you for cheering me on.
Here's to the next 10 years!
PS
A shorter version of this post was published on 23 October 2018; the expanded version was published on 2 November 2022 to celebrate the 10th anniversary of Enchanting Marketing.
Reader Interactions