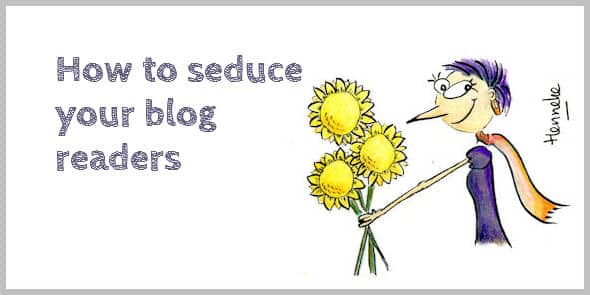 At last, you've finished your next blog post.
Another late night.
You quickly look for an image on Flickr. You format your post in WordPress.
You wait with hitting publish, so you can proofread one more time. You'll do that tomorrow. With fresh eyes.
Blogging is hard work.
And sometimes you wonder … does all this blogging pay off?
Do you simply need to keep going to win more clients? Or are you fooling yourself? And wasting your energy?
We all wonder sometimes whether we're missing an important trick. Can we seduce more readers to buy?
Follow today's checklist to turn more blog readers into buyers.
Sound good?
Start with sneaking into your reader's head, and review whether you're enticing him to read your post.
How to make your blog post irresistible
Your headline arouses your reader's curiosity because it mentions a benefit he's looking for or a mistake he's anxious to avoid.
Your introductory paragraph makes him feel you've written your post especially for him because you empathize with his struggles.
Your blog post delivers the promise you've given in your headline and opening paragraph. You always want to deliver on your promises, don't you?
Your subheads entice him to keep reading because you arouse his curiosity or promise a benefit.
Your closing paragraph inspires your reader because it takes away a key obstacle to implementing your advice.
Your last sentence keeps humming around in your reader's mind–just like a soundbite.
To sell more, forget about selling for a moment. Put your readers first.
Enchant your readers with helpful advice. Charm them with comprehensive checklists. Sweep them off their feet with an in-depth tutorial.
Because that's how you build trust. And that's how you earn an opportunity to start a conversation and sell.
How to start a conversation on your blog
You know the feeling when you talk to your best friend?
She listens to you. She smiles. She asks questions.
She makes you feel she cares about you.
What about creating that same feeling with your blog readers?
Below follow 6 tips to make your readers feel comfortable, get them to comment on your posts, and email you to inquire about your services:
Engage your reader with questions in your blog post. The most enchanting questions include the word you.
Get at the same wavelength, using the phrases he understands, and the type of humor he appreciates; avoid gobbledygook.
Don't ramble on. Don't waste your reader's time, because that's a big turn off. Stamp out wordiness to show you appreciate your reader's time.
Vary your sentence length to make your voice more enthusiastic.
Allow readers to get to know you by sharing itty-bitty stories about yourself.
Add a dash of personality by making bland sentences sparkle.
In writing, you can't use body language to engage your reader and convey your emotions.
To engage your readers, scrub all blandness from your writing. Make each word shimmer. Make each sentence sparkle.
How to make it easy to get along
Writing seductive content isn't enough to seduce your readers.
You also have to make yourself look good. Welcoming. And charming.
Format your blog posts for easy reading:
Use one-sentence paragraphs to make reading your post seem effortless.
Avoid boring your readers with incessant chattering. Break up blocks of text that run over 6 lines.
Introduce pauses in your conversation. Increase white space by using bullet points where you sum up 3 or more points.
Don't make them squint. Make your font size at least 16px–the font you're reading is 18px.
Keep their gaze. A line length exceeding 75 characters makes it hard for readers to focus.
Add a dash of personality with a unique image.
Does your blog design invite your readers to join your conversation?
How to let desire grow over time
When you want to date someone, you find a way to stay in touch, don't you?
You email, text, or call. You drop by for a chat. Perhaps you even hand-write an old-fashioned postcard.
Find ways to stay in touch with your blog readers by following these tips:
Entice blog readers to join your email list, because that's the best way to develop your relationship.
Give readers a good reason to sign up. Tell them how you'll make their life better when they join your list.
Make it easy to join your list by having forms at the right locations–your home page, your about page, in your side bar, and below each post. Consider a two-step opt-in.
Handpick posts for your popular posts section in your side bar. Select posts that convert readers into email subscribers.
Consider using LeadBoxes in your most popular posts to further increase subscribers.
Remove your RSS link from the side bar, because getting readers on your email list is more valuable.
Welcome new readers with an email sequence–allow them to get to know you when they're most enthusiastic about learning more.
List your services in your email footer, on your about page, and on dedicated web page about your services.
Include hints in your blog posts to remind readers what you offer–link to the books you've written, or refer to a recent client.
Don't be too anxious about sending promotional emails. Your readers want to know about special offers. When you genuinely help them week in week out, you earn your opportunity to sell.
Always encourage feedback. My email footer says Would you like to get in touch? Just hit reply. I'd love to hear from you.
Building a relationship requires a fine balance. You don't want to be pushy. But you don't want to be too distanced either.
But when you put your readers first, you'll find the right balance.
The truth about seducing your readers
When you sneak too many sales messages into your posts, you erode trust.
When opt-in popups block the view of your content, you upset loyal readers.
Readers sniff a whiff of sleaziness, a sign of insincerity.
Boosting your business starts with a genuine commitment to help your readers. To make their life better. To have fun together.
Don't focus on selling. Be a good egg.
And you'll sell more.
Recommended course:
Enchanting Blog Writing
Learn how to engage, educate, and inspire your readers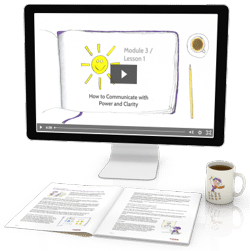 "I'm a copywriter who has bought maaaany courses. This was one of THE BEST courses I've EVER bought. No doubt about it. The countless examples and activities make this blog writing course killer. Henneke breaks down everything you need to know to write incredible blog posts."
~ Esat Akan

"Easily digestible and inspiring"
~ David Ferrers